Roughly 650 pieces of legislation were introduced this year at the Capitol
Environmental factors, geography could play a role in limiting the neurological illness
Hunters are fundraising, sharing knowledge and doing restoration projects to protect wildlands
GUNNISON – At a tiny airport surrounded by mountains, a three-person crew takes off for the inaugural flight above the headwaters of the Colorado River to measure the region's snow by air. U...
Groups express despair and elation, but acknowledge ruling would have limited impact in Southwest Colorado
Ben and Cristi Dozier remodel properties throughout Southwest Colorado while making the region home
Leaders emphasize abortion access will be protected in the state
Laws require people, groups behind political text messages disclose who they are, but that seldom happens
Multiday simulation includes mock evacuations of hospital, subdivisions
CANON CITY – An equine influenza virus is the likely cause of a respiratory disease outbreak that has killed about 100 wild horses at a federal holding facility in southern Colorado. Bureau...
DES MOINES, Iowa – A Colorado prison inmate has tested positive for bird flu in the first recent confirmed case of a human infected with the disease that has resulted in the deaths of millio...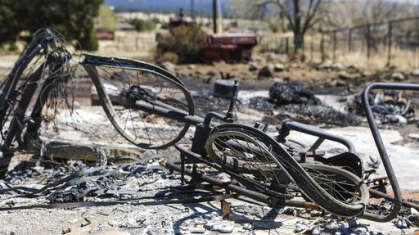 ALBUQUERQUE – More of the dry, windy weather that helped fan rare spring wildfires from New Mexico to Nebraska is expected to threaten the progress that firefighters have made in controlling...