Panthers overwhelm New Mexico opponents
DATE: Sep 17, 2021 | CATEGORY: Sports
Clair, 14, enters world championships as No. 1-ranked amateur
DATE: Sep 17, 2021 | CATEGORY: Sports
Third grade team gets third straight shutout
DATE: Sep 16, 2021 | CATEGORY: Sports
Montezuma-Cortez's Thayer Plewe shoots a 65 to win at Hillcrest
DATE: Sep 16, 2021 | CATEGORY: Sports
Panthers prepare for stretch run
DATE: Sep 14, 2021 | CATEGORY: Sports
Cortez rider benefits from strong riding, Roczen crash
DATE: Sep 13, 2021 | CATEGORY: Sports
The inaugural Lake Nighthorse Sprint Triathlon took place on Saturday, challenging competitors with a 750-meter open water swim, a hilly 20K bike ride and then a 5k run featuring even more c...
DATE: Sep 11, 2021 | CATEGORY: Sports
Bayfield spikers charged up for Lewis Palmer Invite
DATE: Sep 9, 2021 | CATEGORY: Sports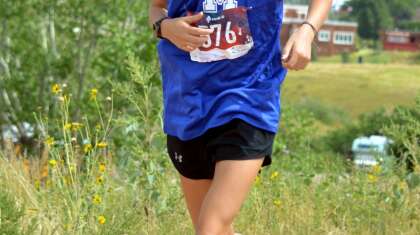 Teagan Archer paces Bluejays with a 12th-place finish
DATE: Sep 6, 2021 | CATEGORY: Sports
COLORADO SPRINGS – Mancos cross-country anchor Edgar Hernandez on Friday placed in the top 10 at the prestigious Cheyenne Mountain Stampede. But he's still not satisfied. "I slowed down quit...
DATE: Sep 6, 2021 | CATEGORY: Sports
M-CHS defense shines in victory
DATE: Sep 4, 2021 | CATEGORY: Sports