Jacob Klopfenstein
Position: Staff reporter
Terry Jennings named parks manager
CMS seventh-graders explore on first annual trip
City manager cites obstacles
A Montezuma-Cortez High School teacher is proposing a dormitory-style development program for high school students. Deb McVicker, who teaches media, computers and math at M-CHS, t...
Cortez Sanitation District board members appointed Terri Thomas to the board at their meeting Monday. Thomas is serving the remainder of former board member John Stramel's two-yea...
Mancos residents Fred Harden and Margie Connolly have had their eyes on the skies for 20 years for the National Weather Service. Harden and Connolly recently were recognized by th...
Two years ago, administrators revamped the honors diploma program at Montezuma-Cortez High School to focus more on preparing students for college. This year, six seniors were on t...
Shawn Bittle, Cortez Fire Protection District's new assistant fire chief, is excited to get back to his roots and focus on the community in Southwest Colorado, he said Wednesday. ...
A Mancos man was arrested this week in connection with a vehicular homicide case resulting from a fatal crash on Montezuma County Road 31 on March 30. James Ellis, 27, allegedly w...
A manager is on-call at all times, co-owner says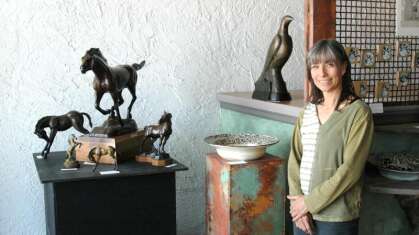 Mancos gallery showcases furniture, interior design
Shop displays antiques, collectibles and metal art