Weekly market will run through October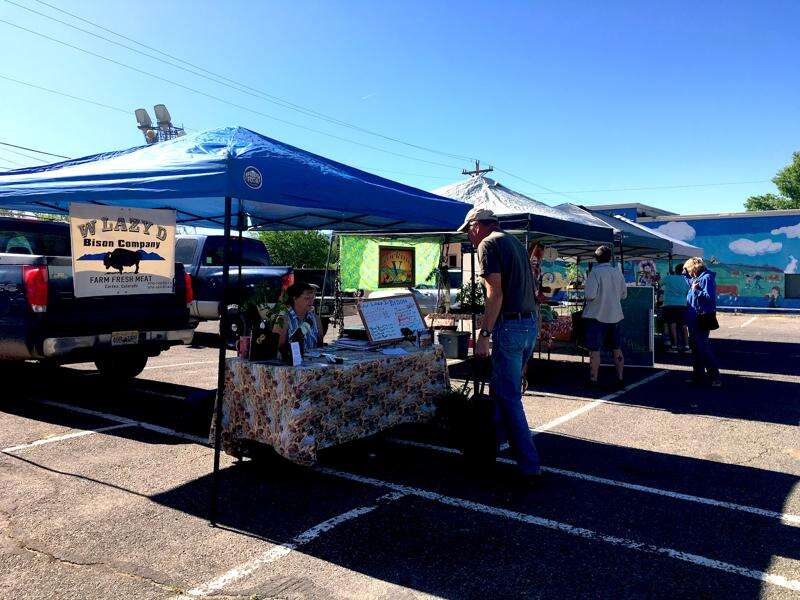 The Cortez Farmers Market opened Saturday morning with sunny skies and dozens of produce vendors.
Although many produce vendors won't participate in the market until their harvests come in later this year, there were more than 20 booths in the parking lot at 109 W. Main St., where the market is held. Saturday morning in Cortez was sunny and clear, despite the smoke visible from wildfires near Durango and in New Mexico, and temperatures were in the 70s. Organizers said they were pleased with the turnout and optimistic about the rest of the summer.
The market still has fewer vendors signed up than last year, but co-manager Alan Rolston said the list has grown to 40 from the 36 who signed up in early May. Two spots are still open.
The crowd of shoppers had started to thin by 9:30 a.m., although several dozen people were still lined up at booths manned by popular vendors like The Pie Maker and Summit Roots Farm. Rolston said it was more crowded just after its 7:30 a.m. opening.
"I think the traffic's been pretty good," he said. "In my experience, you get a lot of early birds wanting to get first pick of the veggies."
Most of the producers represented at the market were returning vendors, but there were a few newcomers as well. Cortez residents Cami Lange and Cheyenne Baber debuted the Chimaera Art Collective booth, where they sold landscape prints, greeting cards, incense holders and other handmade items. It was their first time selling their work publicly since they returned from art school in Denver.
"This has been part of the community since I was really, really little," Baber said. "So it's fun to see it become this regular thing that we can then come back and be a part of."
Michelle Martz, co-owner of SongHaven Farm and a farmers market veteran, kept busy throughout the morning at a booth full of lettuce, radishes, garlic, spices and other produce from her Cahone fields.
"I think we're off to a really great start," she said. "There has been a great community outpouring for the farmers market, so it's been busy this morning. That's been wonderful to see."
She said all Montezuma County's farmers have been affected by the ongoing exceptional drought conditions in Southwest Colorado, but she expects small farms like hers to withstand the dry weather better than their larger counterparts. She said smaller farms can be more flexible with their methods and the crops they grow, which can help to make the most of their irrigation water. Both Martz and Rolston said they expect plenty of produce this year.
The farmers market will be held on Main Street every Saturday morning, from 7 to 11 a.m., through Oct. 27. Each week will feature a live soundtrack from a different local musician. Michael Canzona's performance on opening day will be followed next week by Cortez country singer Donny Johnson.