Century-old trees contain apple varieties once thought extinct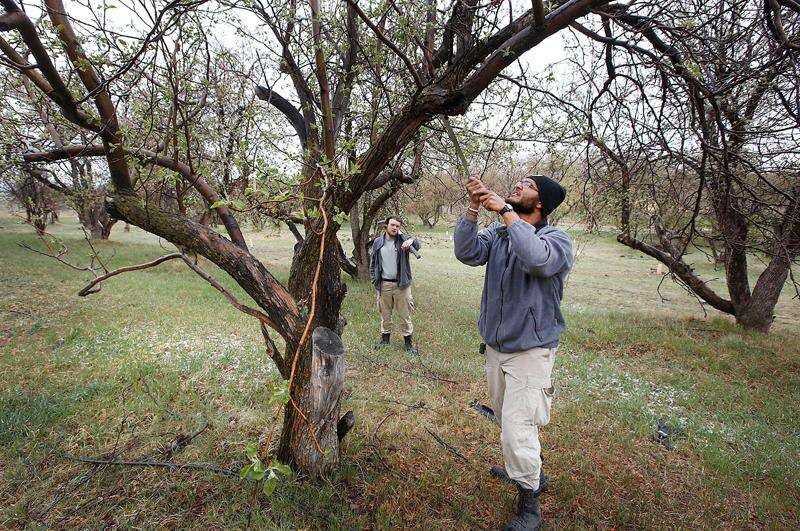 In just a few years, a century-old apple orchard that had been neglected and fallen into disrepair has been made whole again at the Old Fort Lewis campus near Hesperus.
"It's honestly the most thought-out orchard I've ever been to in my life," said Jude Schuenemeyer of the Montezuma Orchard Restoration Project. "And to think it could have been plowed over years ago, and we would have lost all that history."
The history of the apple orchard at the Old Fort is a bit of mystery.
From 1880 to about 1891, the site of the Old Fort was home to Fort Lewis, which served as a station for about 600 men posted about 25 miles southwest of Durango to protect Western settlers.
For about two decades after that, the Old Fort became a boarding school for Native Americans. Then, from around 1910 to 1934, the site was the location of Fort Lewis High School.
Around this time, it's believed the orchard at the Old Fort was planted. But Schuenemeyer said no one is really sure about the history of the orchard or who organized the intricate planting style.
Researchers dug through tons of archives to no avail. Schuenemeyer said some think the orchard was used to experiment with different varieties of apples to see what kinds could withstand the region's cold climate and high elevation.
"We just have not been able to find anything on it," he said. "We hope somewhere the documentation still exists in a box someplace."
Yet, there's no disputing that the orchard is one of the region's unique and innovative plantings, Schuenemeyer said.
Farmers tended to plant apples in rows at a 25-foot spacing. At the Old Fort, the apples trees are planted in an offset pattern, resembling how the stars are aligned on the American flag.
And, whoever planted the orchard took the time to include a terrace and use innovative irrigation techniques, indicating the site was using permaculture years before permaculture was a regular practice, Schuenemeyer said.
All this was discovered about 10 years ago when researchers took a renewed interest in the orchard.
"People started telling us about it, that it wasn't in great shape and needed something done with it," Schuenemeyer said. "We held a pruning workshop there about six years ago, and we've been back ever since."
In the last few years, a plan to restore the 4-acre orchard to its former glory truly took hold.
About 60 to 70 trees exist from the original planting. This past spring, however, efforts from Fort Lewis College and crews from the National Civilian Community Corps planted another 100 trees, grafted from the original trees.
"If we have the ability to restore these trees, it would be really important to our region in trying to … find varieties that do well in higher altitude," said Beth LaShell, coordinator of the Old Fort for Fort Lewis College.
Recently, through a U.S. Department of Agriculture grant, organizers with the orchard sent off hundreds of samples from trees at the Old Fort to be DNA tested to find out what types of plants were growing there.
The results, which came back in the last few weeks, found the orchard contained many rare species of apple plants, many of which are known for being hearty and withstanding cold weather, both important traits for an area at about 8,000 feet.
Some DNA tests, a relatively new technology that was a vast improvement from the old way of identifying apples by sight, showed apples at the Old Fort that were previously thought to be extinct.
"If that orchard would have been plowed over years ago, those are varieties that would be extinct," Schuenemeyer said.
Going forward, organizers with the orchard hope to use it as an educational place for students. They would also like to see the apples sold at markets, or perhaps more opportunistically, sold to the new cider company in Mancos.
"There's a lot of potential for it," LaShell said.
As for the lost history of the orchard, Schuenemeyer holds out hope.
"Apple orchards are really unique in agriculture because these trees were here a 100 years ago, and they can be there a 100 years later, and that's a continuity in agriculture that nothing else has," he said.
"And that's the beautiful thing about orchards. They tie us to a place."
jromeo@ durangoherald.com