Fire makes short runs through trees as fire weather returns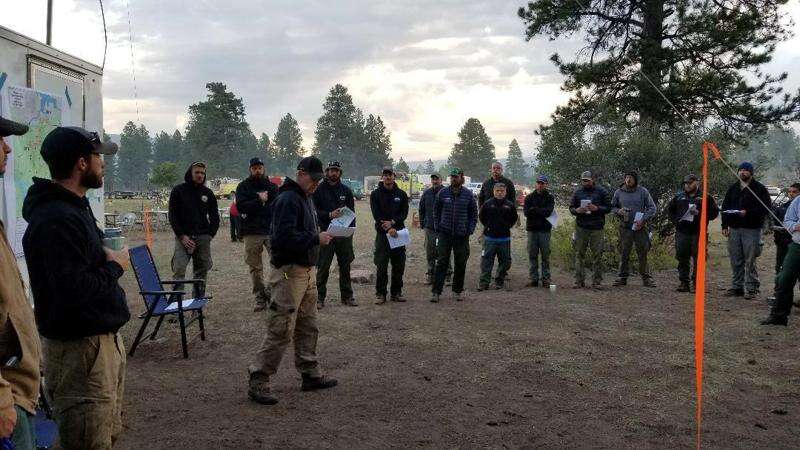 The Plateau Fire intensified on Monday, growing to 5,750 acres as the fire made short runs through crowns of trees and torched groups of others.
The fire also moved down canyon with northerly winds, low humidity and higher afternoon temperatures. That warming trend was expected to continue, along with low humidity.
The fire has burned since July 22 about 13 miles northeast of Dolores. Containment was estimated at 15 percent on Monday, with full containment expected on Aug. 30.
On Thursday, the San Juan National Forest announced that it was expanding its boundary of road closures east to the Dolores-Norwood Road and south to House Creek Road, near the eastern dock of McPhee Reservoir. The two roads are still open.
Access to the lake shore from McPhee is allowed, and the northern and western closure boundaries were unchanged.
The fire began to pick up on Saturday as hot, dry and breezy weather returned to the Plateau area, causing an increase in the ignition of single and multiple trees.
Crews aided by a helicopter continued to conduct back burns and to prepare additional areas for burns along the east side of East Fork of the Plateau drainage out to FSR 524A and south to Anderson Reservoir. Crews also prepared for burns on the west side from canyon rim west to FSR 523A1 and south to Trimble Reservoir.
Smoke continues to settle into the Montezuma and Dolores valleys. The most vulnerable residents are those with heart disease or respiratory illnesses and the very young and the elderly.
Apparently caused by a lightning strike on July 22, the Plateau Fire is burning conifer fuels in the steep and rugged terrain of Plateau Canyon.
On Thursday, calmer winds and higher humidity helped moderate fire behavior, said public information officer Rob Kopack.
The fire was 15 percent contained as of Thursday, and full containment was estimated for Aug. 15.
The Plateau Fire was discovered on July 22 after smoke was reported near Salter Y. By the next night, it grew to 1,000 acres, though much of the fire's early growth was attributed to controlled back burns and burn-offs.
There is no private land in the Plateau Fire burn area.
About 146 personnel are working on the Plateau and West Guard fires, which are about 13 miles apart and burning on the San Juan National Forest in Dolores County. Both are being managed for full suppression, and equipment has included five engines, a water tender, a helicopter, and a heavy-duty brushcutter.
The West Guard Fire, west of the Glade Guard station northwest of Dolores, has scorched 1,412 acres, up from 100 acres last week. It was 90 percent contained on Monday.
Kopack said West Guard crews were mopping up and monitoring the fire, and felling hazardous trees. The fire was described as "smoldering."
The West Guard Fire was discovered on July 22 by a helicopter working on the Plateau Fire, a press release from the San Juan National Forest said.