Blaze erupts at park's border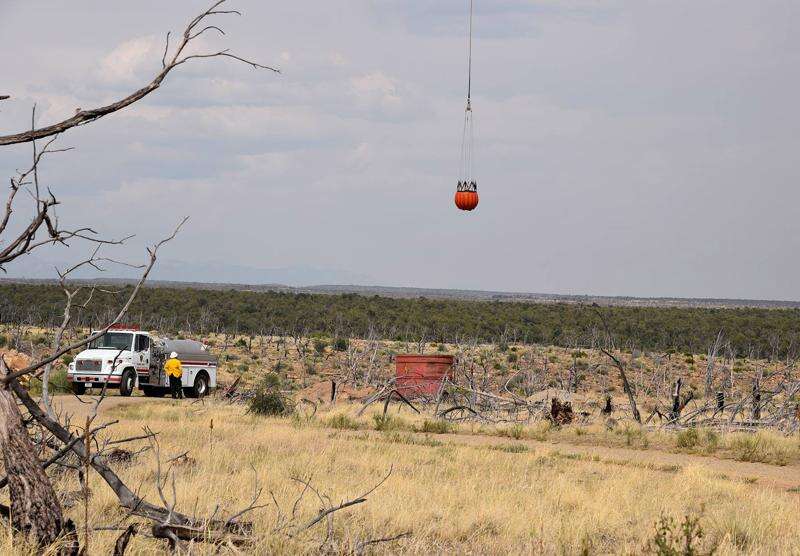 The Moccasin Mesa Fire, burning near the far southeast boundary of Mesa Verde National Park, remained at 185 acres on Monday, according to the incident command team.
The fire was burning in steep terrain and on the mesa top and presented challenges where it was burning into a tributary of School Section Canyon, according to the command's post on InciWeb.
A map based on satellite data from the U.S. Forest Service and NASA showed hot spots on Mesa Verde and Ute Mountain Ute land. The fire's point of origin has not been disclosed.
The fire was reported by Park Point Lookout about noon Saturday, said park public information officer Cristy Brown. On Monday, it was 10 percent contained, said public information officer Kelly Coughlin.
A local Type 3 incident command team, from Durango, assumed command of the fire on Sunday.
According to the incident command, led by Richard Gustafson, about 80 personnel were working on the fire from Mesa Verde, Canyon de Chelly National Monument, Canyonlands National Park the Bureau of Indian Affairs, Fremont County and Pike National Forest. Equipment included fire engines, a Type 2 and Type 3 helicopter, air attack and single-engine air tankers.
Their objectives on Monday included building containment lines and maintaining a strategy of full fire suppression, with a direct attack.
Previously burned areas on Moccasin Mesa, including the Balcony House Complex (2003) and Moccasin Mesa Fire (1972) have aided in slowing the fire's advance, said park information officer Cristy Brown.
The park is open, and services on Chapin Mesa are available; however, the Chapin Mesa Picnic Area, the large parking lot near Park Point (B Cut Parking Lot) and areas of the Visitor and Resource Center parking lot have been closed and will be used for firefighting operations.
The park reminded visitors that fire personnel have the right of way and asked that visitors do not stop in the roadway. Drones are prohibited in the park.
On Saturday, the park announced on its Facebook page that the fire was "in the park on Moccasin Mesa" and was at 75 acres. A post stated that two canyons separated the fire from the main park road, park headquarters, the museum, Cliff Palace and Balcony House, without providing the fire's precise location. Brown also reported that the fire grew to 185 acres by Sunday morning.
Moccasin Mesa Road runs north-south through the park and continues in Ute Mountain Ute tribal land just east of the park's most southern boundary.
A Durango Herald article in 2017 described the fragile nature of the park's vegetation and explained how previous fires have had long-lasting impacts.
From 2000 to 2003, a series of wildfires ripped through Mesa Verde National Park, burning about 24,000 acres – nearly half the park's old growth forest. Now, almost two decades later, park managers and biologists are concerned that the piñon-juniper woodland is showing virtually no signs of growing back.
A severe drought in the 1990s caused perfect fire conditions – dead, dry trees – so when a lightning strike hit private property near the entrance of Mesa Verde at about 1:30 p.m. July 20, 2000, it wasn't long before a fire spread, ultimately consuming 19,607 acres within the park.
Though this fire, called the Bircher Fire, consumed the greatest amount of forest, several other fires in the ensuing years, notably the Pony and Long Mesa fires, also took their toll in the park. Both were also caused by lightning strikes.
"If you fly over, there's fire scars everywhere," said Steve Underwood, park fire-management officer. "You're seeing these forests change, and it's very startling. And it's happened not just over the course of my lifetime, but my career."
Piñon and juniper woodlands thrive in high-elevation deserts, usually between 4,500 to 7,500 feet. And while the hardy plants can survive a mere 7 to 25 inches of rain a year, they are terribly ill equipped to deal with wildfire.
"These trees evolved not to deal with fire," said Renee Rondeau, a conservation biologist with Colorado Natural Heritage Program. "They can go without fire and it would not affect them, which tells you the places they grow did not, historically, have a lot of fires."
The Durango Herald contributed to this report.
Moccasin Mesa Fire footprint (PDF)