June Head leaves a legacy of research and stories; decades of work culminated in new Heritage Museum in Cortez
Montezuma County historian Dorothy June Head not only documented the history and people of Southwest Colorado she lived it for 93 years.
She died Nov. 18 in Cortez and leaves behind a legacy of historical research and storytelling that stretches from the pioneer days to the present.
Her passion for local history was instrumental in the restart of the Montezuma County Historical Society, the new Montezuma Heritage Museum, and the saving of the Caulkins Building.
Head, who went by her middle name, June, wrote the popular "Looking Back" column for The Journal. The hundreds of columns explained in vivid detail the past events and people that shaped the area.
"She was an excellent researcher and writer. If June put it in an article, you knew it was right. She researched until it was perfect," said Ann Brown, chairwoman of the Montezuma County Historical Society and longtime friend of Head's. "She will be greatly missed. June is really irreplaceable. She was here for so many milestones in our community."
"June was a treasure of information and a treasure of a person," said Trent Stephens, her editor at The Journal. "In telling Montezuma's history, she became a big part of it, and she left an unforgettable impression."
Head lived her entire life in the Cortez area and was officially recognized as the county historian in 2000. She earned a reputation for her accuracy and dogged determination to document historic families, important events from the region, and the characters that brought it all to life.
"If June said something, you could believe it, totally honest and above board, no stretching the truth," said Charles Grasse, a longtime friend and historical society board member who served with Head.
Head helped to edit and publish the four-volume Great Sage Plain to Timberline: A Pioneer History. The books chronicle the history of Southwest Colorado.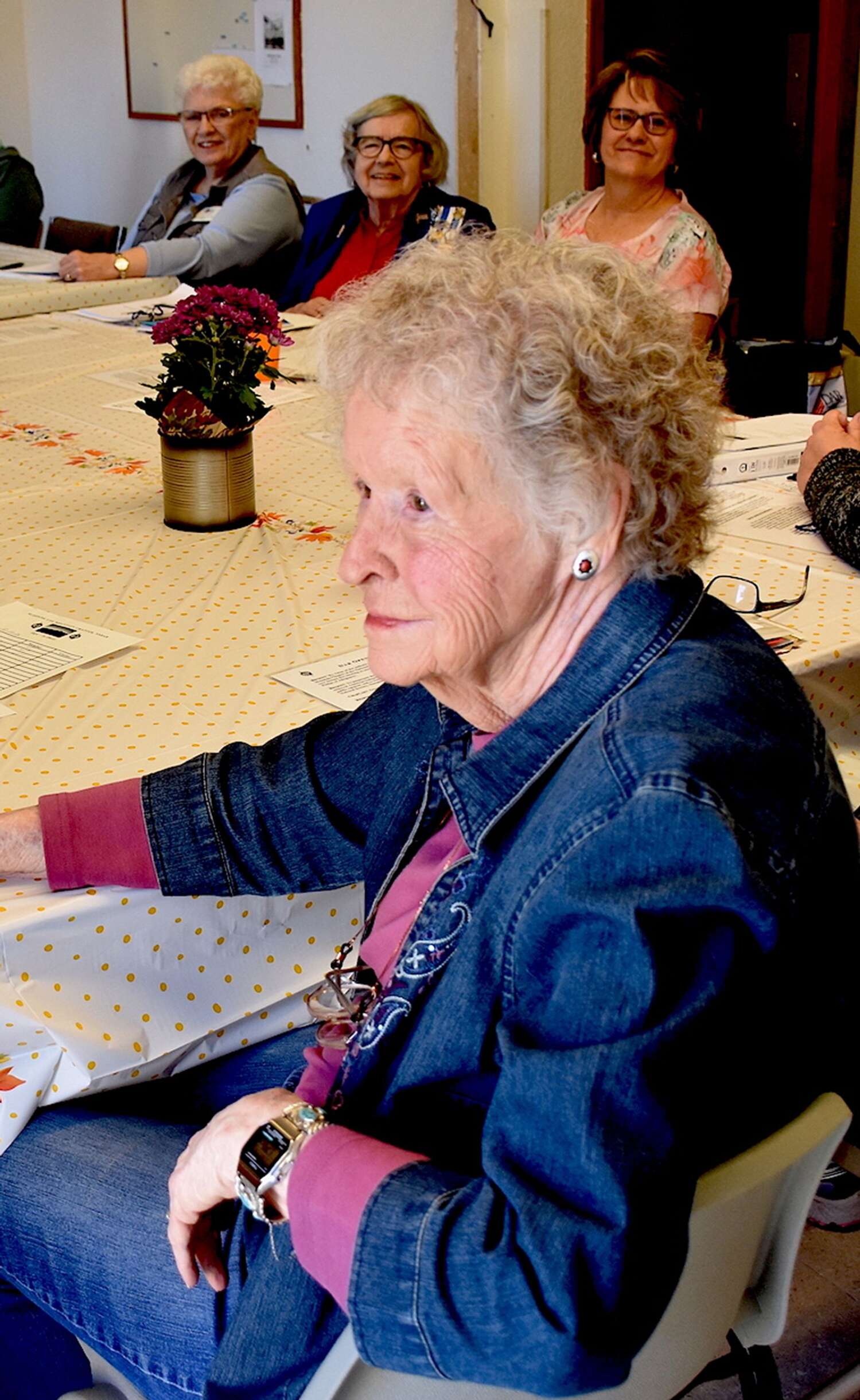 Colleagues said her amicable and caring personality as a child carried on into adulthood, and served her well when interviewing families and people about the past. She especially made it a point to keep in touch with pioneer families and those in military service, Brown said.
"As kids, she would not ignore you, she never forgot you," Grasse said. "When I was in the Korean War, she sent me and others sweet letters about what was going on at home. To get a letter from June was like 'Wow!' She really cared. It took you out of the cold and misery of war and sent you back home for a bit."
The creation of the new Montezuma Heritage Museum was a dream come true for Head, something she advocated for the past 25 years after the previous one lost its space.
In 2015, the Montezuma County Commissioners donated a building for the museum. The needed kick-start led to a valiant effort by the historical society team to raise $475,000 for the museum remodel and exhibits. It opened in November to a crowd of more than 200.
Head donated much of her research, photos and library of books to the museum. The June Head Research Room will be dedicated during a ceremony in January.
File cabinets are full of Head's white envelopes, each with clippings and information of a particular local family. Shelves are lined with her meticulously organized and labeled notebooks of her research.
"She has notebooks on each community and town, on each pioneer family," Brown said.
The archives will be available for viewing by researchers and families looking for information, Brown said.
Daughters of the Revolution
Head was also a founding member of the Sleeping Ute Chapter of the Daughters of the American Revolution.
The DAR is a nonprofit organization dedicated to historic preservation and patriotism made up of women who trace their ancestry back to the American Revolution.
So far, 56 residents from Montezuma and Dolores Counties can trace a relative back to the Revolutionary War.
One of Head's favorite research topics was tracking down Revolutionary War relatives, which included traveling to museums and libraries in other states.
Members of DAR are supposed to track down a relative from that war to honor them, and as the registrar, June was the person they turned to, Brown said. She was very involved in visiting cemeteries as part of her research and served on the Cortez cemetery board.
The DAR genealogy library is also housed at the Heritage Museum, and will be available for viewing by appointment.
Favorite stories
Head lived and breathed local history, and was always eager to share what she found out.
She honed her favorites stories. Like the one about a Galloping Goose train getting stranded in 10-feet of snow near Rico and the passengers waiting for a rescue by an airdrop of supplies by a plane from Cortez.
"She love the stories like that, the ones showing the community rallying to help one another," Brown said.
Other examples are the building Dolores Tunnel in the 1890s that brought Dolores River water to the Montezuma Valley, and people organizing in 1945 to build a new hospital in Cortez.
Head favorites also included the ragtag early tourism industry that guided people up to Mesa Verde National Park on horseback before it became a park in 1906.
Or the raucous mining days of 19th-century Rico when there were 5,000 people living there and a dozen of saloons were filled every night.
Friend and colleague Linda Towle, president of the Cortez Historic Preservation Board, also praised Head's generosity.
She shared her knowledge of the homes on Montezuma Avenue, which led to a walking tour for residents and tourists, Towle said.
Head narrates a podcast about the history of Montezuma Avenue. It is available on the city of Cortez website.
Head followed that up by providing the preservation board with the history of Ash Street and that led to another popular walking tour.
"Without that information, we could not have pulled those tours together," Towle said.
Head's dedication to reviving the past inspired Cortez Historic Preservation Day held every May for the past 13 years.
Even in her 80s, Head was leading historic walking tours in Cortez, Towle said.
"She knew so much, when someone wanted to know about this family or that one, June probably had the answer," she said.
Her donated photos of early Cortez are on display at the First National Bank and at City Hall.
There is always one more story to tell, now it is up to the community to follow Head's dedication to keeping local history alive, colleagues and friends said.
"She would like to be remembered as someone who cared, as the historian of Montezuma County and for her "Looking Back" columns," Brown said.
Obituary
According to her obituary, Head was born in Cortez, the first child of Dorothy Bernadine Dunning and Clarence Ray Smith. Her brother, Richard Ray "Dick" Smith, was born in Cortez in 1934 and died in 1999.
June's childhood during the depression and the Second World War was spent at home with summers spent with her Uncle Louie at Barlow Creek between Rico and Telluride. She had fond memories of traveling on the Galloping Goose narrow-gauge train from Dolores to Barlow Creek and then riding mules to the mines.
She married William (Bill) Henry Head in Aztec, New Mexico, on Oct. 30, 1947. They had one child, James (Jim). She was predeceased by Bill in 2010. June worked for doctor offices, local banks and real estate companies.
Her pastimes included trips throughout the Southwest with the Four Corners Jeep Club, elk hunting, at Uncle Louie's cabin in the "high country" and after retirement, traveling the Midwest and Eastern U.S. doing family genealogy.
June is survived by her son, Jim (Virginia) of Volcano, Hawaii, nephew Rick (Linda) Smith of Cortez, Colorado, grandniece Jennifer (Roger) Trembly of Dolores, Colorado and grandniece Amber (Eric) Jaworsky of Highlands Ranch, Colorado.
Per June's request, there will be no services, and her ashes will be spread at Barlow Creek. A donation can be made in June Head's name to the Montezuma County Historical Society, P.O. Box 218, Cortez, CO 81321.
jmimiaga@the-journal.com