Rifle Republican made headlines contesting election results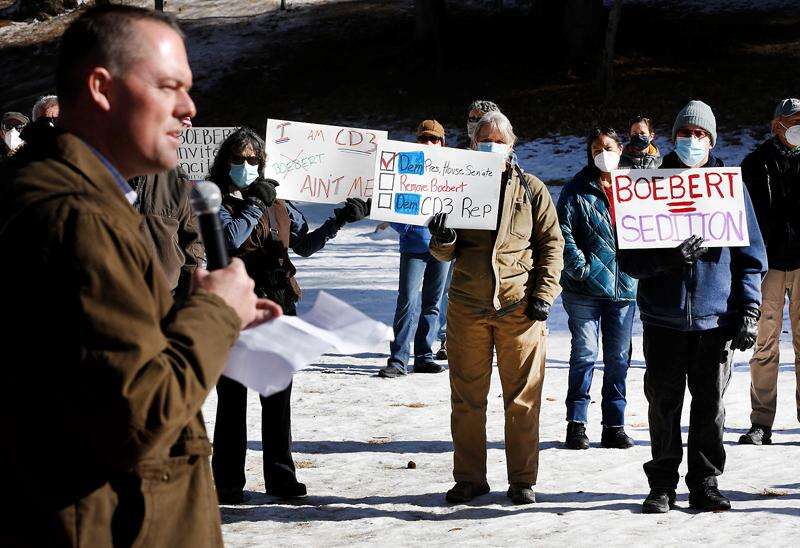 Activists and residents rallied Friday in Durango's Buckley Park to protest Rep. Lauren Boebert's objection to the results of the presidential election and her comments prior to Wednesday's violence at the U.S. Capitol.
They also began efforts to mobilize voters in the 3rd Congressional District ahead of the 2022 election.
The rally, billed as "Stop the Sedition," was organized by Indivisible Durango. It is one of many loosely organized activist groups across the country formed in the aftermath of President Donald Trump's election to resist many of the messages Trump was advocating.
Durango's was one of several protests held Friday across the sprawling 3rd Congressional District to oppose Boebert's comments, particularly a tweet she sent Wednesday morning that read "Today is 1776," a reference to the American Revolutionary War that some interpreted as a call to violence.
Boebert's office did not respond to requests for comment.
The rally featured speakers from the community, including Benjamin James Waddell, a sociology professor at Fort Lewis College, and Finn Bridgham, a student at Animas High School. They spoke against Boebert's comments and outlined hopes for the coming years, particularly the goal of increasing enfranchisement and eventually seeing Boebert defeated in the 2022 race.
Speakers and organizers of Friday's protest said a key to changing the 3rd Congressional District vote lies in persuading populations that historically do not turn out in high numbers to participate in elections, including Latinos, Native Americans and others.
Bridgham, who plans to vote for the first time in 2022, spoke about how youth turnout could be increased."I feel like the best way for you to have a voice is to be more active in the political sphere," Bridgham said.. That can include running for office, campaigning, lobbying – any sort of form of activism."
Other protests occurred throughout the 3rd District on Friday, including in Pueblo and Grand Junction. The organizers called for Boebert's resignation or expressed interest in seeing her recalled, but Indivisible Durango did not advocate for those outcomes.
"I don't think she's going to resign," said Karen Pontius, an activist and organizer who is part of Indivisible Durango.
She also acknowledged it was unlikely Boebert would be removed from office, because although controversial and seemingly inflammatory, the representative's statements had not explicitly violated her oath of office.
Instead, Indivisible Durango and other community activists hope to hold Boebert accountable for statements she makes and things she does during the next two years in Congress.
"I think that what one needs to do is convince voters that there are better options out there," Waddell said.
John Purcell is an intern for The Durango Herald and The Journal in Cortez and a student at American University in Washington, D.C.