Bull riders and bullfighters draw loud cheers during 'world's most dangerous event'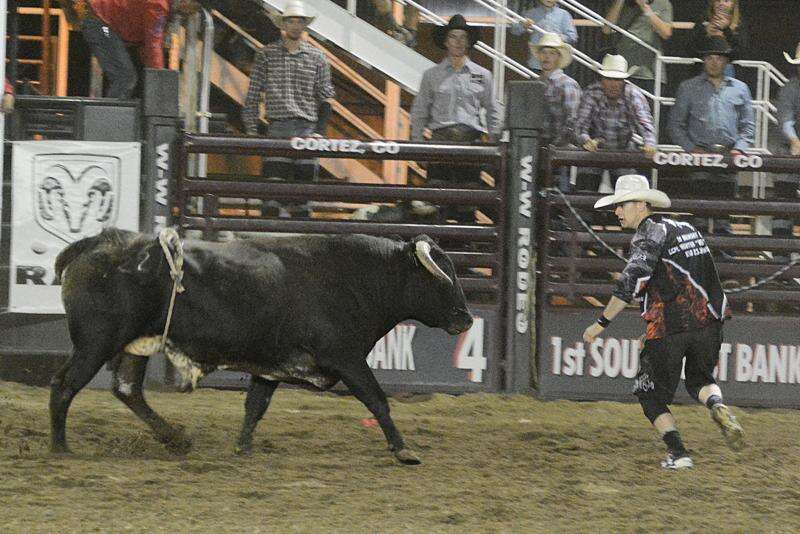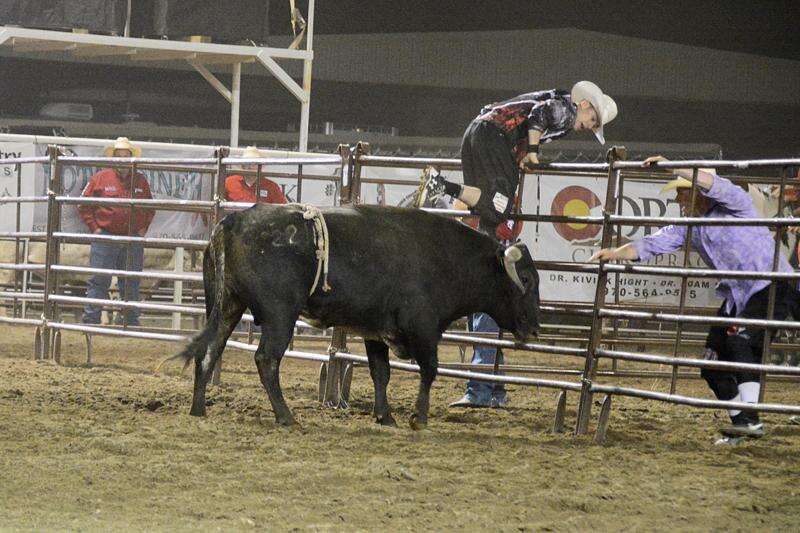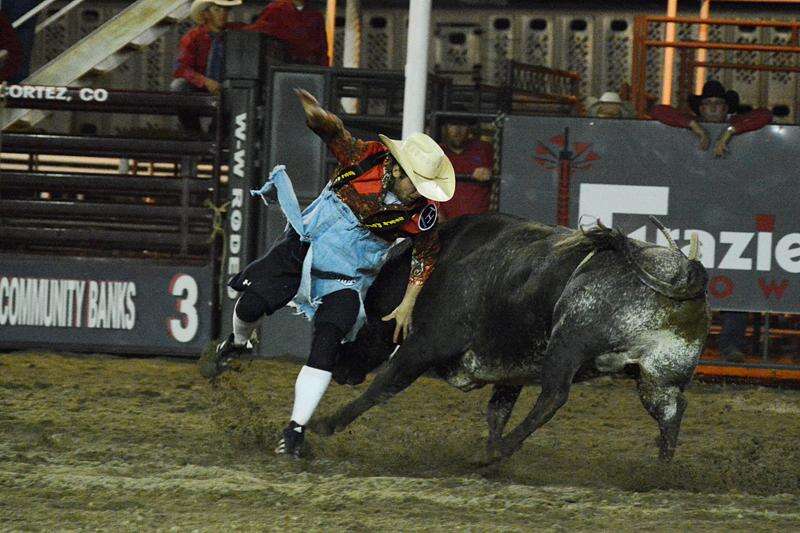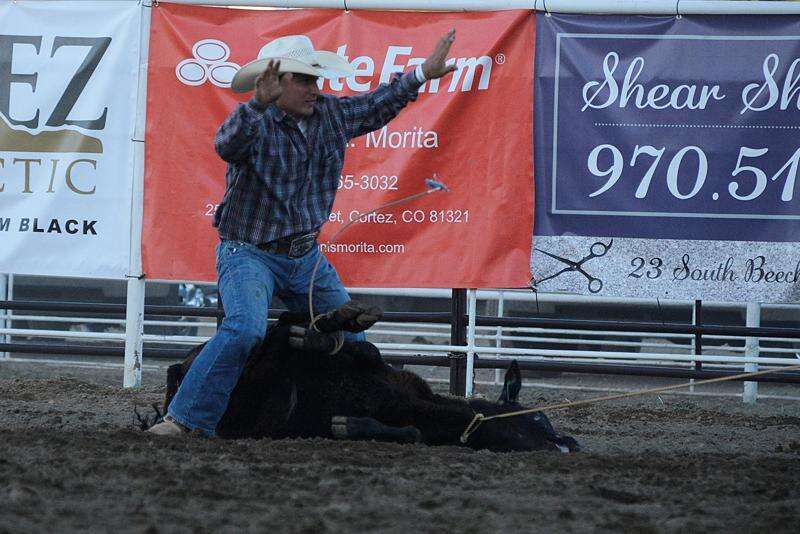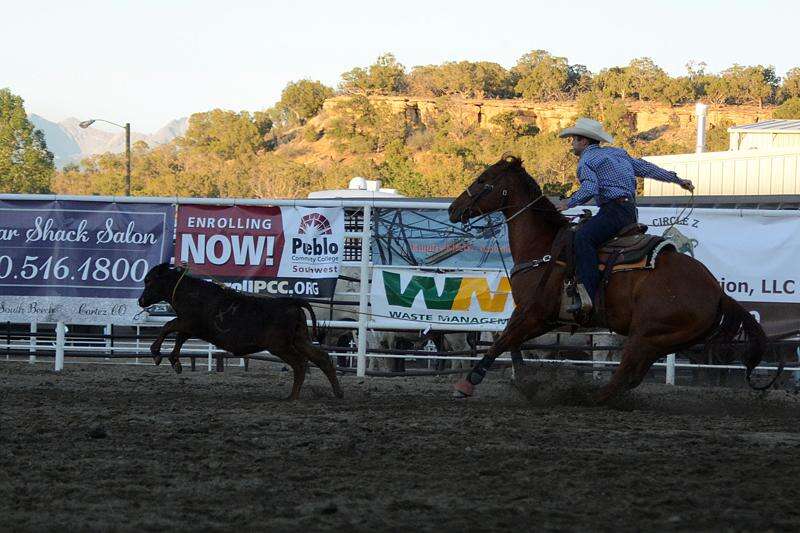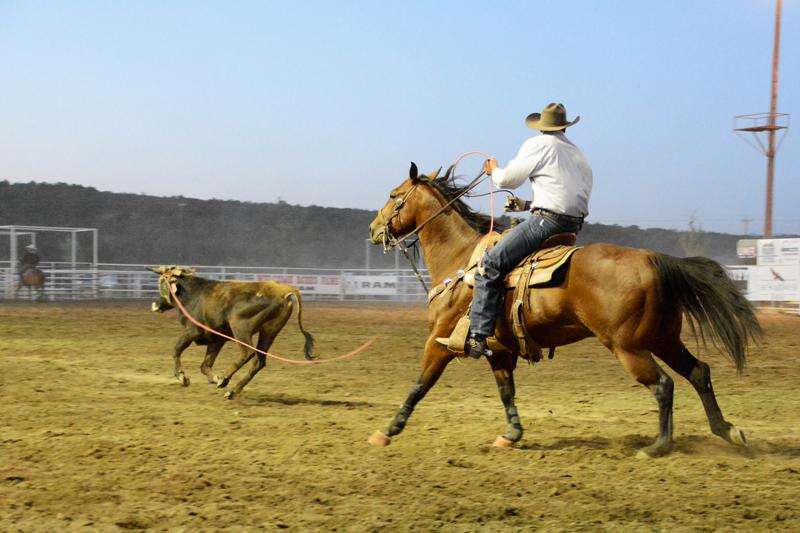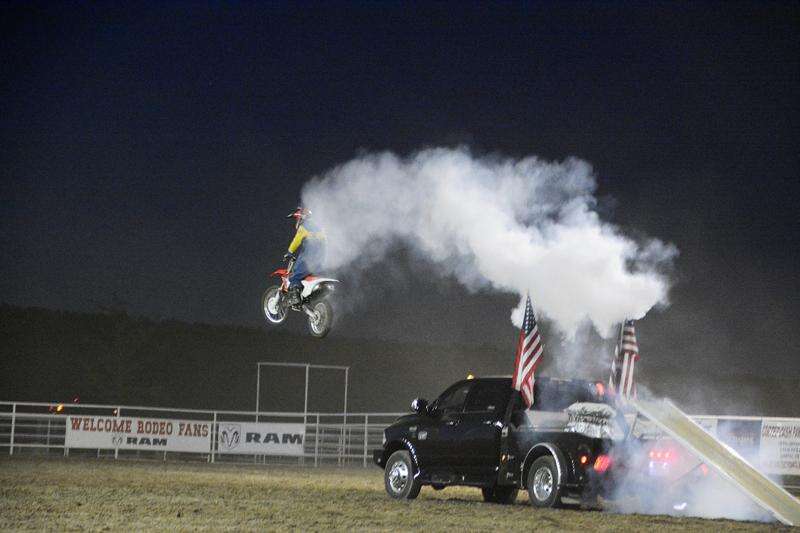 Stepping into an arena with an angry bull is not a task fit for the faint of heart. Just ask bullfighter Eli Sharkey, whose face and body came painstakingly close to the horns of one of the angry bovines on the second night of the Ute Mountain Roundup on June 8.
After the 23-year-old bullfighter from Ainsworth, Nebraska, narrowly escaped danger, fans packing the grandstands at the Montezuma County Fairgrounds collectively roared their approval.
On a night wrought with danger and near disaster, the performances delivered by bulls and the men brave enough to battle them stood out and reminded everyone attending one of Cortez's most exciting annual events of how exciting the sport of rodeo can be.
Bullfighters steal the show
Prior to this year's Ute Mountain Roundup, rodeo organizers expressed excitement when asked about the inclusion of American bullfighting for the first time in the rodeo's 88-year history.
Described by rodeo announcer Jody Carper as the "world's most dangerous event," the bullfighting event pits unarmed cowboys against angry bulls in what often appears to be a dance of death.
Unlike Spanish bullfighting, which requires matadors to kill their bovine opponents, American bullfighting rarely results in bloodshed, as bullfighters are charged with avoiding their bulls for at least 45 seconds.
A maximum score of 50 points is awarded to the bull based on aggression, and a maximum score of 50 points is awarded to the bullfighter based on his ability to keep the bull close. The bull's score is combined with the bullfighter's score to formulate a total score.
"The bull is scored on how hot he is ... and the bullfighter gets points based on how he controls the animal," Sharkey said. "(The bullfighter) gets more points for jumping and things like that."
First into the arena during the Ute Mountain Roundup's second night of bullfighting, Sharkey began by evading a charging bull with several stylish twists that allowed him to evade harm by a few inches.
The 23-year-old bullfighter then climbed onto a barrel in the center of the arena and attempted to jump the charging bull, but lost his footing and found himself caught between the bull's horns. After being tossed to the ground, Sharkey was butted and trampled as stunned audience members gasped and fellow cowboys and cowgirls held their breath.
"My bullfight went really well up until the end," said Sharkey. "I was going to get on (rodeo clown) Troy Lerwill's barrel and jump over (the bull), and that bull got there a little quicker than I thought he would. I was late getting my feet set. He hit the barrel, and I fell on top of him and he hit my chin a little bit."
After judges rewarded Sharkey's effort with an evening-best 78 points, the world's No. 1 ranked bullfighter, Kriss Furr, entered the arena and attempted to evade a bull known as Voodoo King.
The bullfighting event concluded with a gutsy performance by Caden Harper that saw him get trampled and mauled and left sprawled on the rodeo dirt clutching what could very easily have been several broken ribs.
"(The bullfighting) was kind of rough tonight, but we're all walking, that's what matters," Sharkey said. "The crowd really got into it, and they were excited about it. (The fans) were awesome."
Barrel racers headline performances
Combining with the evening's bullfighting to produce a memorable night were several stellar performances by cowboys and cowgirls across a full slate of Pro Rodeo Cowboys Association sanctioned events.
In the bareback event, Zach Wilber, Luke Creasy, and Kyle Charley all turned in scores of at least 80 points with Wilber leading the way with a score of 84.50.
Cody Pratt, a resident of Pueblo, paced the steer wrestlers with a time of 5.1 seconds, and Colton Kofoed, a resident of Bear River, Wyoming, led the tie-down ropers with a time of 10.1 seconds.
Saddle bronc riders were paced by rodeo legend Taos Muncy, who scored 83 points. George Sims was the only bull rider to register a score when he stayed on for eight seconds and received 67 points.
A group of talented barrel racers may have produced the most impressive marks of the evening as several competitors broke the 18-second barrier and Prescott, Arizona, resident Sarah Kieckhefer turned in a rodeo-best time of 17.53 seconds.
Pedro Egurrola and Bruce Reidhead turned in a rodeo-best time of 5.5 seconds in the team roping event.
With two nights of the Ute Mountain Roundup now in the books, fans have one final chance to witness the event's exciting action on Saturday. Event will begin at 7 p.m., and tickets can be purchased online at utemountainroundup.org or at the gate.
The second night of the Ute Mountain Roundup begins Friday at 7 p.m., and the third night of the three-night event begins Saturday at 7 p.m.
Tickets can be purchased online at
utemountainroundup.org
or at the gate. The Journal plans nightly rodeo coverage at
The-Journal.com
.
Friday
7 a.m.:
Breakfast and signup for Rob Yates Memorial Cowboy Golf Tournament at Conquistador Golf Course. Call Marti Spitzer at 970-739-0447 or Micah Rudowsky at 970-565-9208 for information.
8 a.m.:
Tournament begins.
5-11 p.m.:
Carnival opens.
7 p.m.:
First Responder Night rodeo begins.
Saturday
1 p.m.:
Rodeo parade begins on Montezuma Avenue, Cortez. Entry forms are available at the Colorado Welcome Center. The deadline for entries is June 8.
5 p.m.-12 a.m.:
Carnival opens.
7 p.m.:
Rodeo Heritage Night
Sunday, June 10
1-6 p.m.:
Carnival opens.