Plus, 92-year-old alumna Mildred Brumley shared her secret to living a long life.
The five-year Dolores All School Reunion took place this weekend alongside Escalante Days.
After a 2020 pandemic cancellation, attending alumni were finally reunited, beginning with a barbecue at the Dolores Fire Station Friday evening.
More than 300 alumni showed up to the barbecue, event organizer Angela Randall Salazar told The Journal.
"It brings back a lot of memories of going to school here," she said. "We can all come together as a family."
And come together as a family they did.
Old friends, as well as members of different classes just meeting each other for the first time, fondly exchanged memories and "Do you remember whens".
One attendee joked that the bubblegum he chewed all those years ago was probably under the bleacher he currently sat on.
While sound difficulties delayed the start of the presentation, the buzz of nostalgia and excitement coursed through the gymnasium of Dolores High School Saturday afternoon.
Keaton Broderick, Class of 2003, delivered a welcome speech.
A slideshow flipped through pictures, mainly in black and white, of old school photos.
The moments in time elicited strong emotions from the alumni — particularly a photo of the old Hollywood Bar, which received fiery cheers from the crowd.
Those who served in the military were honored, and then superlative awards were announced.
This year's award winners are as follows:
Oldest: Mildred Brumley, 92, (Class of 1946) and Victor Sundquist, 101, (Class of 1938).
Youngest: Nicole Kabel (Class of 2016) and RJ Cross (Class of 2008).
Farthest traveled: Jacqueline Munera-Mason from Tampa, Florida (1643 miles).
Longest married: Marjorie Branson (74 years).
Shortest married: Carolyn Barker (1½ years).
Most attendance: Class of 1965.
Most spirit: Class of 1967.
Mildred Brumley (maiden name Webb), was thrilled to be back in Dolores after not visiting for five or six years, she said.
Now living in Albuquerque, it's her and her two cats after her husband's death two years ago.
This event was an opportunity for her to have her own reunion with her family, including her granddaughters, she said. One shares the same birthday as her.
Her secret to living so long?
"Good health, good family, good friends and living in Dolores, Colorado," she told The Journal.
She warmly recalled riding the Galloping Goose to Ridgway to get to college.
Marjorie Branson, who graduated in 1947 and has been married the longest of the attendees, had her own secret to share.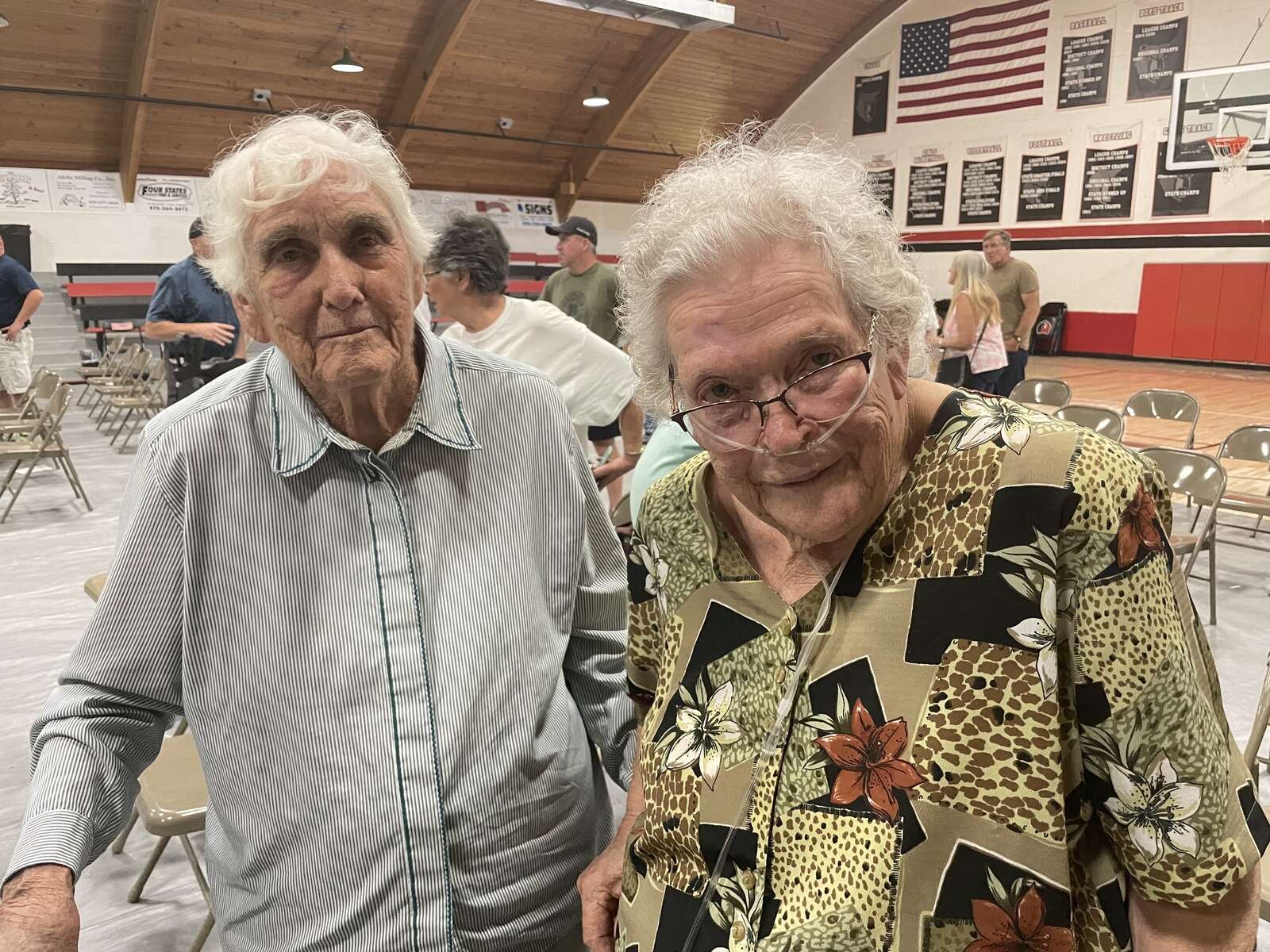 When asked what kept her marriage going for so long, she jokingly replied, "Keep your mouth shut and listen to your husband."
Eva Ruth Patton Allen and Patty Goldsworthy Davis were cheerleaders together, and classmates for first through seventh grade.
"Every one of our teachers was fantastic," Goldsworthy Davis told The Journal. "I can't remember anything crazy — just walking through the snow to get to school."
Patton Allen remembered riding the bus to school with a Mr. Ore.
He was strict about the riders being quiet so he could remain cautious while driving, she said.
She liked her bus much better than the rowdy one, she said.
All School Reunion is now a nonprofit, said Salazar in a speech.
All leftover donation money will be used to fund scholarships to Dolores High School students, she said.
She also hopes to see more participation from more recently graduated classes in future reunions.
"Our goal is to get the younger generations interested," she said. "They need to be the next ones up here."
This article was republished Aug. 17 to correct the age of Mildred Brumley.