Commissioners' resolution declares county would be exempt from state law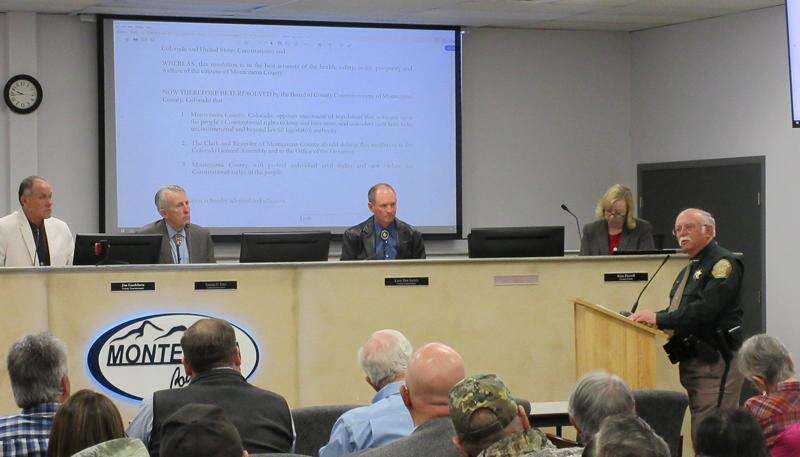 In anticipation of possible new gun-control laws, the Montezuma County commissioners are leaning toward a resolution to declare the county a gun rights sanctuary exempt from a proposed state law.
The Colorado Legislature is considering House Bill 1177, a "red flag" law meant to control possession of guns by individuals exhibiting extreme risk of hurting themselves or others. Eighty residents gathered for the 9 a.m. public comment period, which lasted two hours during the commissioners' regular meeting on Tuesday.
The resolution is titled: "Opposition to Infringement Upon the Constitutional Right to Keep and Bear Arms."
The commissioners' resolution claims the proposed state law would violate citizens' right to bear arms and is therefore "unconstitutional" and "beyond legislative authority." The document resolves that the county will protect citizens' rights and will not violate those rights.
HB 1177 creates the ability for a family member, household member or law enforcement officer to petition the court for a temporary extreme risk protection order. The petitioner must present evidence under oath that a person poses significant risk to self or others by having a firearm in his or her custody.
The court must hold a temporary protection order hearing on the day the petition is filed or the day after. If the court issues the order, the person shall surrender all his or her firearms and concealed carry permit.
A second court hearing must be held within 14 days to determine whether the protection order should be continued for up to 364 days, during which time the person is prohibited from possessing a firearm. The court must provide an attorney for the person under the protection order during the hearing.
The person can motion the court once during the 364-day order for a hearing to terminate the protection order. The respondent has the burden of proof at a termination hearing.
At the meeting, 23 residents supported the commissioners' resolution, and six were critical.
Sheriff Steven Nowlin wavered as the discussion turned to talk of a sanctuary operating outside the law.
He supported the commissioners' original draft resolution, which contained language "opposing" the proposed gun law and said he was willing to sign the document. But when commissioners pushed for language that declared the county a gun rights "sanctuary," he was less definitive about signing on because of his elected duty to uphold Colorado law.
The commissioners requested that county attorney John Baxter redraft the resolution to include sanctuary language. A special meeting will be held at 6:30 p.m. Thursday to review the revised resolution and consider its adoption.
The county expects a big turnout for the special meeting on Thursday to further review the proposed gun-sanctuary resolution, said county administrator Shak Powers.
In case of an overflow crowd, a live feed will be broadcast at the County Annex building, 107 N. Chestnut St. A speaker phone will be set up for people watching at the annex to participate in public comment.
Residents weigh in
Some residents who spoke up at the meeting were concerned that the proposed gun law might be unconstitutional and a threat to freedom and that it might unjustly target gun owners.
Others spoke to the need for gun control in mental health emergencies to prevent gun violence or suicide. They noted that the right to bear arms is not unlimited.
"I feel this (red flag) law is an attempt to take away our constitutional rights," said Tom Seymour. Laws already on the books address the issue of when guns should be confiscated, he said.
Mary Dodd objected to declaring a gun sanctuary and said "the extreme risk protection orders" in red flag laws only confiscate guns in dangerous situations under a court order, and save lives.
She said HB 1177 law is an improvement over past red flag law attempts because it provides more due process and legal representation to the defendant who faces claims they are an extreme threat to themselves or others.
"Reasonable restrictions on categories of people permitted to have guns is not in conflict with constitutional rights," Dodd said.
Eddie Kaiser said the red flag law was ripe for abuse.
"Someone can get mad at me, call the sheriff and say I am a risk, then they come and take away my guns," Kaiser said. "Yes, I can get them back when I prove them wrong, but how much money is that going to cost me?"
Amanda Winter was also concerned that red flag laws could be unfairly used and that they pave the way toward assuming people are "guilty until innocence is proven" and that is not what the country is founded on.
"It could be manipulated to label people," Winters said, and may unjustly target veterans because they may have post traumatic stress disorder. "I think the law is unconstitutional and could target innocent people."
Others were concerned that HB 1177 is the first of many gun control laws the Colorado Legislature will consider, and were upset in general about any gun control laws.
"We need to let them know that Montezuma County will be a gun sanctuary, and we will not have our rights trampled on," said Dean Cunningham.
"A gun is the best self-defense weapon an honest citizen has, and to take that away affects the honest citizen's ability to defend themselves," said Richard Kipp.
Wade Foster supported the resolution opposing the proposed gun law but was concerned about potential problems of the county ignoring state legislation under sanctuary language.
He said gun control laws can be "slippery slope, but putting the county in a position of refusing laws is also a slippery slope."
Much depends on sheriff
Nowlin said he protects the right to bear arms. He was critical of HB 1177 and supported the commissioners resolution opposing it.
Nowlin said current laws allow for guns to be seized as physical evidence when they are used in the commission of a crime. But he did not agree with taking someone's firearm under a red flag law when it was not suspected to have been involved in a crime.
"To ask us to take someone's property because of a (red flag) finding is unconstitutional. That is where I stand," Nowlin said.
Nowlin said the Sheriff's Office would not request the temporary protection orders under the proposed red flag law.
But he said that if HB 1177 passed, it could put his office "between a rock and a hard place" because his oath of office includes upholding Colorado laws.
"If I get a court order and do not follow through with the order, I will be in front of a judge for a show cause hearing and found in contempt," he said.
Baxter said the first draft of the resolution was a political statement and assertion against the red flag law.
But if the sanctuary phrasing is added in the resolution, "it is telling the citizens" that HB 1177 law will not be enforced in Montezuma County when and if it is passed, he said.
Baxter said that without Nowlin signing onto it, the county "legally doesn't have a lot of ground to stand on." He thinks the commissioners do not have the authority to make Nowlin, an elected official, enforce or not enforce a law without his signature.
Creating a gun rights sanctuary that defies state legislation might lead to litigation, Baxter said. It was noted that the county resolution does not involve the Cortez Police Department or the Mancos Marshal.
Commissioner Larry Don Suckla said based on majority public comment in support of keeping additional gun laws out of the county, he supports passing a gun sanctuary resolution.
"If the sheriff feels it is not appropriate, he can take his name off," he said.
Carolyn Landis said the HB 1177 bill is still being developed and urged the commissioners to not give up on the legislative process to draft a law that more people may support. The Colorado House Judiciary Committee approved the bill last week on a party-line vote of 7-4.
The Fremont County Board of Commissioners on Tuesday approved a resolution declaring itself a Second Amendment sanctuary county, according to the Denver Post.
The board's resolution pledges its support for the county sheriff to not enforce any unconstitutional firearms law against any citizen and states that it "will not authorize or appropriate government funds, resources, employees, agencies, contractors, buildings, detention centers or offices for the purpose of enforcing law that unconstitutionally infringes on the right of the people to keep and bear arms."
Nowlin said he "stands behind responsible gun ownership whether we are a sanctuary or not."
Other law officers weigh in
At a City Council workshop Tuesday night, discussion about the proposed law came up.
Cortez Police Chief Roy Lane said he doesn't want to be responsible for confiscated guns with no place to store them. He said Cortez is not like Denver, and people are more possessive of their guns here.
The Cortez Police Department will enforce the red-flag law if it passes, Lane said Wednesday, because law enforcement officers are obligated to follow state statutes.
Mancos Marshal Justen Goodall said he has concerns about the proposed law.
"My concern is how the wording of the bill will protect Second Amendment and Fourth Amendment rights of citizens," he said. "I've been watching the bill closely."
Asked whether he would enforce the bill if it passes, Goodall had no comment.
22nd Judicial District Attorney Will Furse said he preferred that the Colorado Legislature push for additional mental health services and funding than make a red flag law a priority.
"Red-flag laws don't advocate for the needs of the mentally ill as well as other ways could, so it seems like a missed opportunity by the legislature," he said.
Mental health problems contribute to criminal behavior that ends up in the courts, Furse said. There is a large backlog of inmates and defendants waiting for mental health care, but the service is not sufficiently available locally.
"Access to treatment is a more effective mechanism than having law enforcement suddenly injected into somebody's life under a red flag law," Furse said.
He added that the language in HB 1177 of a "clear and convincing" evidence standard for a judge to issue the extreme risk protection order is a high standard.
A motion by Montezuma County Commissioner Jim Candelaria to pass the county resolution without the sanctuary language died for lack of a second.
Commissioner Keenan Ertel supported a resolution that includes sanctuary language.
"This whole thing is about our disagreement with what the state legislature is about to put on us," he said. "This House bill if passed in the form it is in, will be a conflict to state and federal constitutional rights. It is an opportunity for us to stand our ground on constitutional beliefs."
The issue was tabled until Thursday to allow Baxter to redraft the resolution with the sanctuary language for commissioner review.
jmimiaga@ the-journal.com
County to meet Thursday night on gun resolution
The Montezuma County Board of County Commissioners expects a large crowd for a special meeting on Feb. 28 at 6:30 p.m. to review and consider adopting a resolution to make the county a gun sanctuary.
In case of an overflow crowd, a live feed will be broadcast at the County Annex building, 107 N. Chestnut St. A speaker phone will be set up for people watching at the annex to participate in public comment.
The Journal will provide updates of the meeting at
the-journal.com
The Journal