Flint places fourth to lead Durango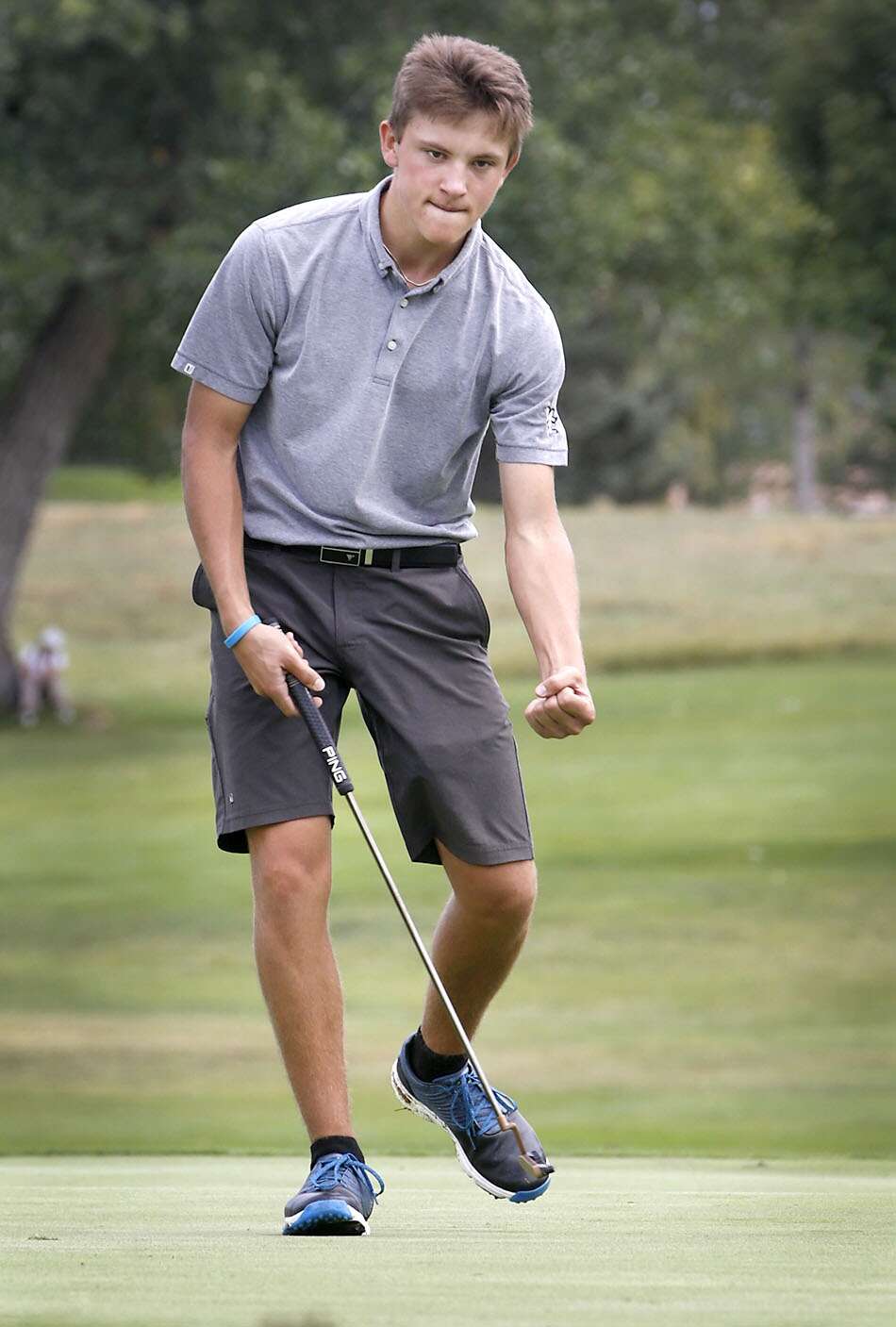 Montezuma-Cortez's home golf tournament was a little bit bigger this year as teams came for a preview of the Conquistador Golf Course before it hosts the regional championships in a few weeks.
The extra competition at this year's Panther Invitational, however, didn't prevent Cortez's Thayer Plewe from winning the tournament for the third year in a row. Plewe, a junior, sank six birdies and bogeyed only three holes to shoot a 3-under 69 and claim the crown.
"It's always nice to shoot well on your home course, especially in a tournament setting," Plewe said. "But you have to treat it like any other tournament so you don't put too much pressure on yourself."
One of his highlights came on hole No. 14. Plewe drained a putt from about 40 feet to birdie the hole. "That was a good momentum changer," he said. "On the front nine, I was striking well, but I wasn't making a lot of putts. That gave me some confidence and gave me some positivity."
Plewe birdied the next hole as well and finished his round with three pars to win the tournament by nine strokes.
Fruita Monument's Ky Korte shot a 78 to take second while his teammate, Kade Hayward, shot a 79 to finish third. Durango's Anthony Flint also shot a 79, but finished fourth in a tie-breaker. Three other golfers shot an 80.
"I played pretty solid," Flint said. "The course was playing tough, but that was definitely the best I've hit the ball this year."
Flint's scores have progressively improved throughout the season, and his round Thursday was his lowest score of the season.
"It was big breaking 80," Flint said. "Now I've gotten over that hump, so I just have to keep that momentum rolling."
Rain also fell on the golfers for the first hour or so of the competition and the wetness slowed the course down for the rest of the day.
"Looking back, it was kind of fun," Plewe said. "It's not always going to be great weather, but that's just golf. Everyone has to play in it."
"It was definitely a different challenge; it's a lot longer of a course when it's that rainy," Flint said.
Cortez head coach Todd Plewe credited the course's ground staff for they work they did. "They did a fabulous job getting the course playable," coach Plewe said.
In the team race, Fruita Monument finished first with a 237. Cortez shot a 246 to place second, three shots ahead of Gunnison. Durango shot a 255 to place fourth, one better that fifth-place Grand Junction. Pagosa Springs (265), Telluride (267), Alamosa (281), Del Norte (285), Cedaredge (288) and Central Grand Junction (311) also competed in the tournament.
Freshman Vince Lopez was Cortez's No. 2 golfer, shooting an 84, while another freshman, Gavin Frost, rounded out the team's score with a 93.
"Vince did OK, but I know he's capable of a little more," coach Plewe said. "Gavin shot a 93 – for him, that's a good round. It was good to see some freshmen stepping up in the home tournament. Overall, I'm a little disappointed in our team score. We can do better."
Senior Ryan Sanders shot a 96, and sophomores Kaden Huff and Airoughn VanGrandt both shot 98 for Cortez.
For the Demons, freshman Bailey Burke had the team's-second best round with an 86.
"That was Bailey's first varsity start," said DHS head coach Kirk Rawles. "To come out and shoot an 86, that was a really good round."
Junior Cole Ulrich shot a 90 for Durango, junior Mason O'Brien shot a 92, and freshman Owen Muraro shot a 94.
Durango was also without Nicholas Best, who was sick. Best led the team at the Pagosa Invitational last week with an 87 and a third-place finish. Flint shot an 88 to place fifth in Pagosa, while Plew won it with a 68.
"Best has been our most consistent golfer," coach Rawles said. "All of his rounds have been in the 80s."
Several junior varsity athletes from Cortez and Durango also played. Durango was able to get 12 golfers some competition.
"It's a little different this year – we're looking at 42 golfers," Rawles said. "We'll give them an all an opportunity." The coach said the team will do some match play this next week, playing one-on-one nine-hole matches with the winners moving on.
"That will help us get focused and will be fun internally," Rawles said. "They want to beat each other."
For Cortez, Thayer Plewe said a "team mindset" is the biggest thing as regionals approach in a couple of weeks. He emphasized that every stroke is important for the team score.
"I'm hoping to find that groove for our team and I'd love to see those good days become even better," Plewe said. "I know we have better in us and I cant wait to show it at regionals."
Scoring another individual title on his home course, meanwhile, "feels great," he said.