Family farmers join forces to provide fresh, local food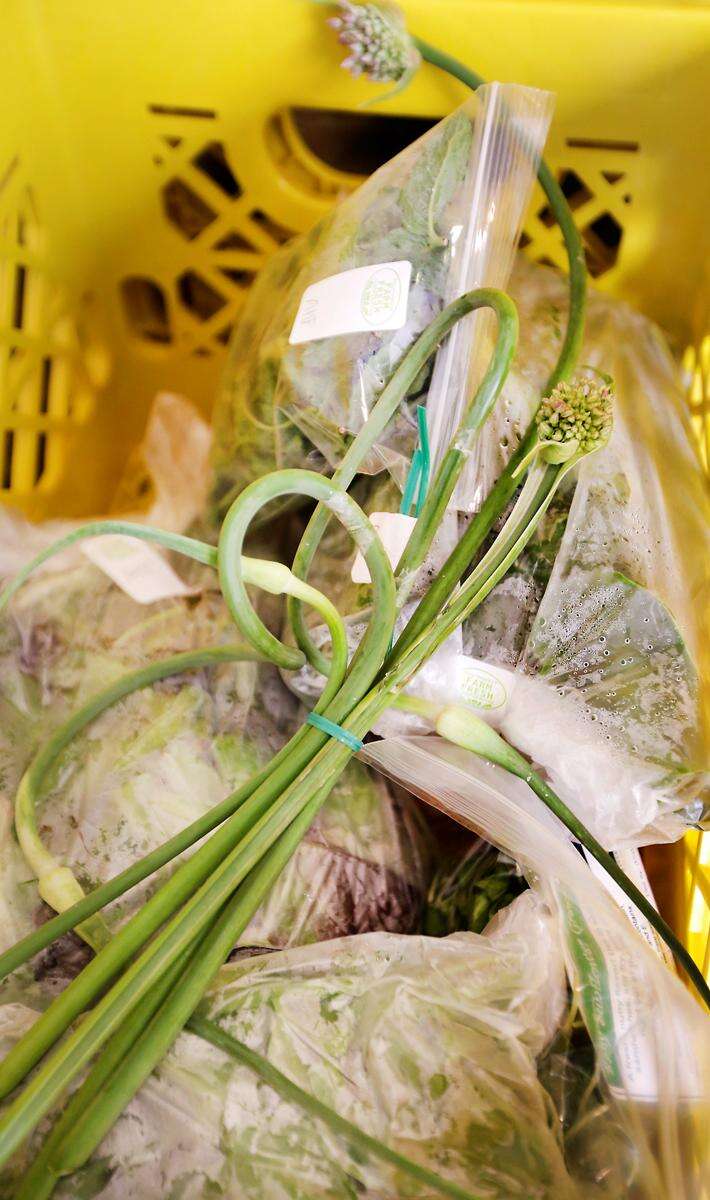 A cooperative of small, regional farms is bringing diverse produce to the Four Corners area – and hoping to make family farming in the area a more viable pursuit.
The Mancos-based Southwest Farm Fresh Cooperative, which began serving wholesale customers in 2014, generated $100,000 of produce sales in and around Montezuma County last year.
This year, the co-op is offering Community Supported Agriculture subscriptions to the Durango area. Participants receive produce from nearly 20 different member farms around the area. For consumers invested in eating local, involvement in the coop is a way to access a variety of regionally grown food while supporting numerous small family farms.
"An individual CSA member or a restaurant that buys from the co-op can feel like they're supporting the entire local food scene," said Linley Dixon, owner of Adobe House Farms in Durango. "The co-op helps new farmers get established. It's a way to help everyone all at once."
The co-op's general manager, Ole Bye, said the goal is to serve as a food hub for the region. "Not everyone grows everything. Some farmers just want to grow a few things," he said. "It became clear to me that this kind of work needed a group of people. We couldn't do it alone."
"Members act like shareholders, said Bye. "The farmers control the business. The co-op operates on behalf of farms. Its goal is not to make a profit, but to break even."
As manager, Bye talks with customers in the winter about their projected weekly needs for the summer. Bye presents these demands for produce to local farmers, currently about 20 of them. The farmers then plan and plant their crops according to the projected need. Twenty percent of revenue is retained by the co-op; the other 80 percent goes directly into the pockets of the farmers.
Participating businesses in Montezuma County include Stonefish, Pepperhead, the Farm, FB Organics, Olio's and Zuma in Mancos, Open Sky Wilderness Program, and the Mancos Brewing Company all purchase food from the coop. Other customers include Southwest Memorial Hospital and the Cortez and Mancos School Districts. It also delivers to the Durango Public Schools and to various restaurants.
In addition to their standard veggie box, the co-op offers meat, cheese and bakery add-on subscriptions, so customers can get much of what they need for their weekly menus, all from the co-op. In Durango, they distribute each Thursday from the Smiley Building parking lot.
"Customers get the diversity, along with access to things we can't grow here, like Palisade peaches, apples, maybe corn," said Mike Jensen, owner of Homegrown Farm in Bayfield. "It's good that we all pull together and work together instead of competing."
Bye said he understands that for many CSA members, knowing their farmer and where their food comes from is a main motivation for participating. Through the co-op, members can connect with many different farmers, including those just starting to get established. Their goal is to have one or more of their member farmers present each week at distribution, so CSA subscribers can still feel that sense of connection and understand the number of families they're supporting.
There are more direct ways of being connected, too. Homegrown Farm offers volunteer opportunities and work shares, and "willing and helpful folks" are welcomed at their Bayfield location for weeding projects. "And we're happy to teach too," Jensen said. "It's not just showing up and doing a bunch of work."
The co-op handles marketing and distribution for their member farms, allowing them more time to do what they do best – grow things.
Alone, many of the co-op's farms don't have the acreage, manpower or time to grow enough produce or enough variety for both a CSA and wholesale clients. Together, with production planning (certain farmers agreeing to focus on growing specific products, based on their particular abilities and interests) the co-op produces the necessary quantity and diversity.
"The co-op keeps farmers farming," Dixon said. She knows too well that being a farmer in Durango can be difficult. Adobe House used to offer its own CSA but last year lost its lease on its largest plot of land off 32nd Street. Without the space required to grow enough variety or a place for subscribers to come on-site and pick up their weekly boxes of produce, Adobe House opted to discontinue its CSA and join the co-op. Like so many other local farms, access to affordable land and a way to distribute produce are constant challenges.
The power-in-numbers approach of the Southwest Farm Fresh Cooperative may help small farmers and newcomers gain a stronger footing. "The outlook is a lot longer for the sustainability piece, with a local food co-op business," Bye said, because the co-op is still grant-supported. "But this is not just a fun branding exercise. It has the real potential to provide long-term grown for the farm economy. That is what we are trying to promote."
For Dixon, the goal is simple. "We want to have this community-based farm. We want to grow food in Durango. We're stubborn," she said. "The co-op is something I believe in."
To learn more or to check availability of CSA subscriptions for the 2016 season, including a possible fall CSA offering, visit www.southwestfarmfresh.com or call (304) 640-5442.
The Journal contributed to this story. Have an idea for a local food story? Reach Herald food writer Bobbi Maiers at bobbi@durangoherald.com.
A food hub for Southwest Colorado
The ultimate goal of the Southwest Farm Fresh Cooperative is to become an established food hub for southern Colorado. According to the National Good Food Network, a regional food hub is "a business or organization that manages the aggregation, distribution, and marketing of food products from local and regional producers to strengthen their ability to satisfy wholesale, retail, and institutional demand."
In short: it's a bridge between consumers and food producers.
There are examples of such systems with humble beginnings really taking off. Organic Valley, www.organicvalley.coop, producers of dairy products distributed nationwide, began as a small cooperative in western Wisconsin in 1988, when a handful of farmers disenchanted with the state of America's industrializing of agriculture met at the county courthouse to discuss how to they could work together and respond. Now the organization, still cooperatively run, has more than 1,800 family farms in 37 states in their network. You can find their products in most of Durango's grocery stores; the closest Colorado farms in their network are in Del Norte, Trinidad and Calhan.
Closer to home is the La Montanita Cooperative http://lamontanita.coop/aboutus/ with a number of locations throughout New Mexico. Established in 1976, it's now the state's largest community-owned market.
Southwest farm fresh cooperative: www.southwestfarmfresh.com
national good food network: www.ngfn.org/resources/food-hubs
healthy food access portal: www.healthyfoodaccess.org/retail-strategies/food-hubs