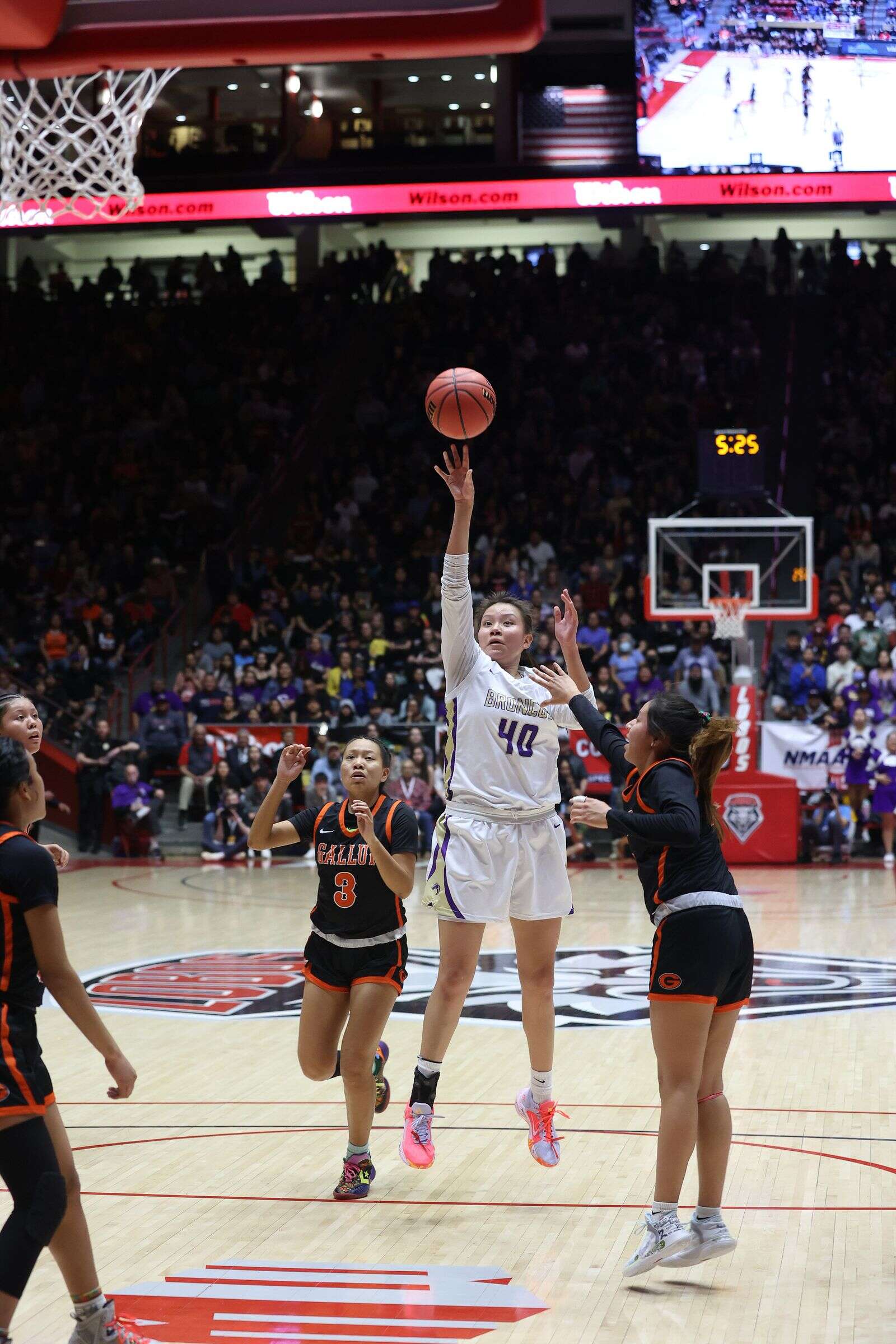 New rules regarding fouls and free throw attempts aim to quicken games
FARMINGTON – The game of high school basketball, particularly in San Juan County is fast-paced and sometimes a bit physical.
Those attributes may be altered one way or another thanks to a new set of rules regarding personal fouls and free throw attempts at high school basketball games when the new season gets underway this year.
The National Federation of State High School Associations announced this week it will do away with the one-and-one free throw. In addition, the organization also changed rules regarding foul limits before opponents begin to shoot free throws.
The news of the rule changes was announced in a statement released by the NFHSA.
Instead of seven fouls before opponents shoot one-and-ones and 10 fouls leading to two free throws in each half, games will have a quarterly foul limit in which opponents will begin shooting free throws when a team commits its fifth foul.
In addition to awarding two foul shots for all common fouls, teams will reach the bonus when their opponent commits five fouls in each quarter and team fouls will reset at the end of each quarter. Previously, teams were awarded the one-and-one bonus when their opponents committed seven fouls in a half and two foul shots when 10 fouls were committed each half.
Lindsey Atkinson, NFHS director of sports, said in a news release the association's basketball rules committee studied data that revealed a higher injury rate in rebounding situations. The rule changes should "reduce opportunities for rough play during rebounds."
The announced rules changes was met with mixed reviews from coaches across San Juan County.
"I love the rule," said Bloomfield boys basketball coach Dominique Richardson. "The pace of play will improve because of this rule. I will miss the one-and-one bonus pressure at the end of games, but the game is progressing, and I'm here for the change."
The rule could alter the way coaches prepare for potential late-game situations, both defensively on which players to foul when an opponent has possession, and offensively on which players to make sure have the ball in key moments down the stretch.
Some coaches don't necessarily believe the rule changes will speed up the game or change the physicality around rebounds at all.
"To me, it will create more free throws and potentially more rebounds," said Navajo Prep head coach Matt Melvin. "The clock will stop now not for one free throw but for two. I think games will be pushing two hours now."
Other coaches are in favor of resetting the foul counter at the end of each quarter, but also question the reduction of physicality.
"We try to play with some physicality, and we usually commit fouls," said Larry-Don Chitty, head coach of the Farmington High School team. "I don't like the idea of getting rid of the 1-and-1 free throws because it makes it that much harder for teams to catch up at the end of games."
The rule changes may also bring about some wrinkles to how girls basketball games are played.
"It definitely will be different," said Farmington Scorpions girls basketball coach Tom Adair. "I think in some ways it will be better, but I definitely need to do a better job teaching my girls not to foul."
The changes also serve as a reminder for some coaches on one proposed rule change that hasn't come to the state of New Mexico.
In 2021, the NFHS announced that states could implement a 35-second shot clock in basketball – if they so desired. New Mexico schools have not yet adopted this rule change. There was a proposal for a national rule mandating a shot clock, but that was not approved.
New Mexico Activities Association's executive director Sally Marquez said at that time the first order of business was to get feedback from the state's approximately 155 basketball-playing schools on what they'd like to do.
Among the reasons cited for not adopting a shot clock rule in New Mexico was the cost of the shot clocks, particularly for smaller districts and smaller schools.
Also, high school officials around the state would require training to allow for the addition of the shot clocks, as well as personnel to operate those shot clocks, separate from the person who runs the main game clock. Extra personnel means extra costs at home games.
"I really wish the state would adopt the shot clock," said Kirtland Central boys basketball coach Brian Dowdy. "It keeps getting voted down which is surprising to me."