Bike parade held at Buckley Park to celebrate star cyclist, who also signed autographs
A mass of cyclists and spectators descended on Buckley Park Thursday for a homecoming celebration for professional cyclist and 2023 Vuelta a España champion Sepp Kuss.
Durango community events administrator Ellen Babers said there were about 2,225 people at the park before a bike parade began that afternoon, and more people were still pouring in. The parade went down Main Avenue, took a left at Fifth Street to East Second Avenue and looped back around to Buckley Park.
So many cyclists participated that Babers and her colleagues were worried the front of the parade would reach the park before the back of the parade had left, but the parade concluded without issue.
People queued for autographs of Kuss. There was a line stretching out of Buckley Park and north down Main Avenue toward 14th Street.
Catherine Bower, who moved to Durango from Philadelphia in December 2022, said it was great to see the community turn out for Kuss.
She has been cycling 10 years and her friends know Durango is Kuss's hometown, so it's nice to "rub it in" a bit, she said.
"It's just really great to see everybody come out. It really showcases how special this place is," she said.
Mayor Melissa Youssef read a letter congratulating Kuss from Gov. Jared Polis, and said the next world cycling champion could be someone in the crowd at Buckley Park that afternoon.
Youssef said Polis congratulates Kuss "profusely" in his letter, saying Kuss is an inspiration to Coloradans and that he highlights the state's "exceptional" cycling community.
Reading Polis's letter, Youssef said, "He goes on to state, 'Your humility, outstanding character and championship spirit have brought the Colorado cycling community together and brought great joy to both the city of Durango and the state of Colorado. We all share in Sepp's victory. Signed sincerely, Jared Polis, governor of the state of Colorado.'"
Durango Devo executive director Levi Kurlander said the cycling nonprofit changed the trajectory of his life in 2007, the year he met Kuss.
He said his mission with Durango Devo isn't to develop Durango's next successful racer, but to develop healthy people with an emphasis on supporting the community and other people.
"How do you support your teammates? How do you support your friends and how do you support your community? Those are the real things that we value," he said. "We value healthy development in all of our young riders. Not just physical abilities, but we try to develop the kind of grit and determination, discipline, that will serve them in all aspects of their lives."
Kurlander said Kuss wholeheartedly embodies those values.
"It's about building your confidence, creating friendships and most importantly, having fun," he said.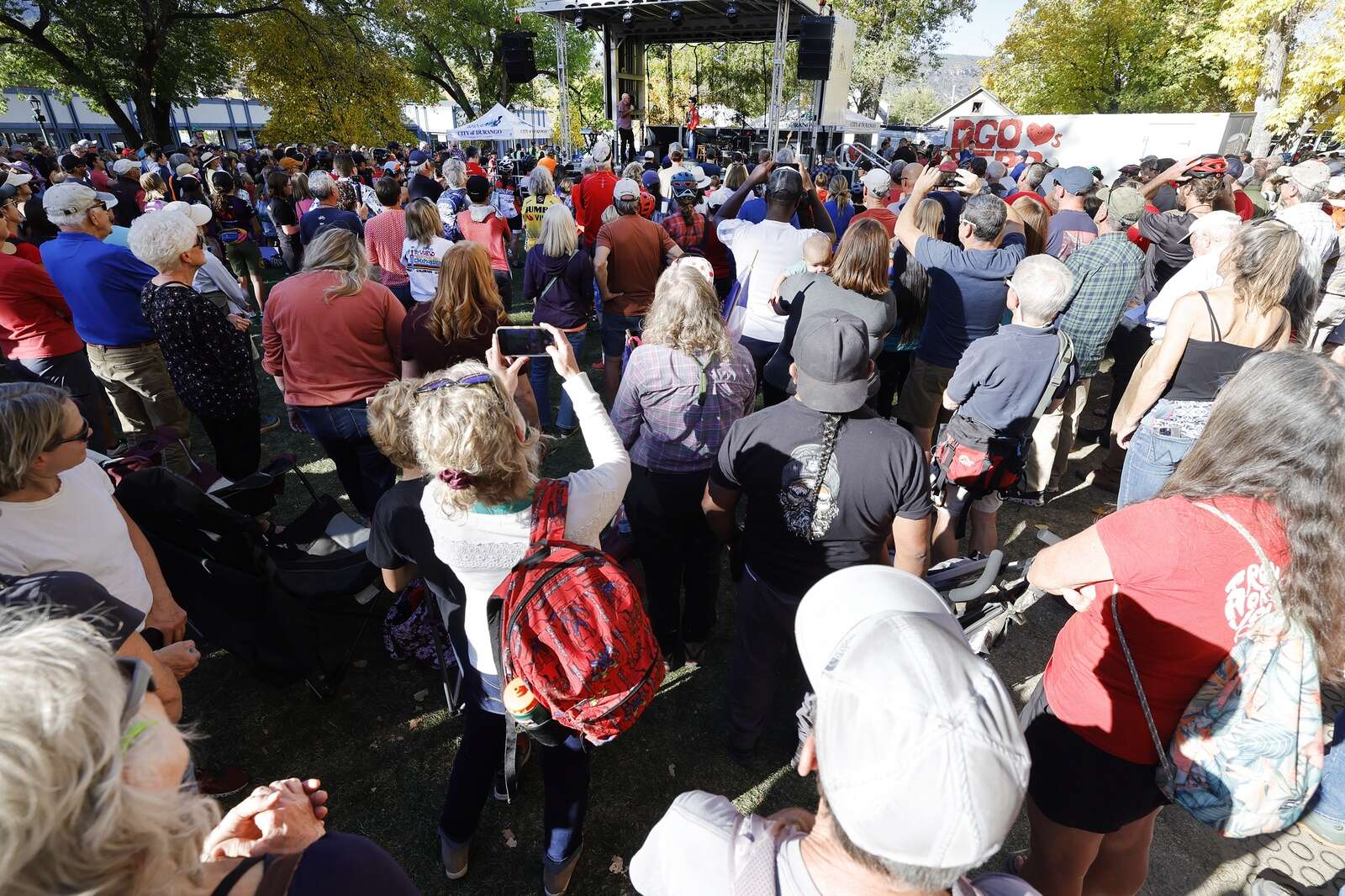 Houston man Bill Vedder said he knew nothing of Kuss until he and his wife watched Kuss in the Vuelta a España.
"I knew nothing about his Durango days," he said. "Everything I learned was from watching the tour and saying, 'Hey, here's an American I can root for. Finally.'"
He said watching Kuss on television and the drama unfolding was incredible.
"When I found out that he was having a day here, 'Honey, we're packing up the car, we're headed to Durango, Colorado,'" he said.
cburney@durangoherald.com