Heritage apple cidery will open Saturday in Mancos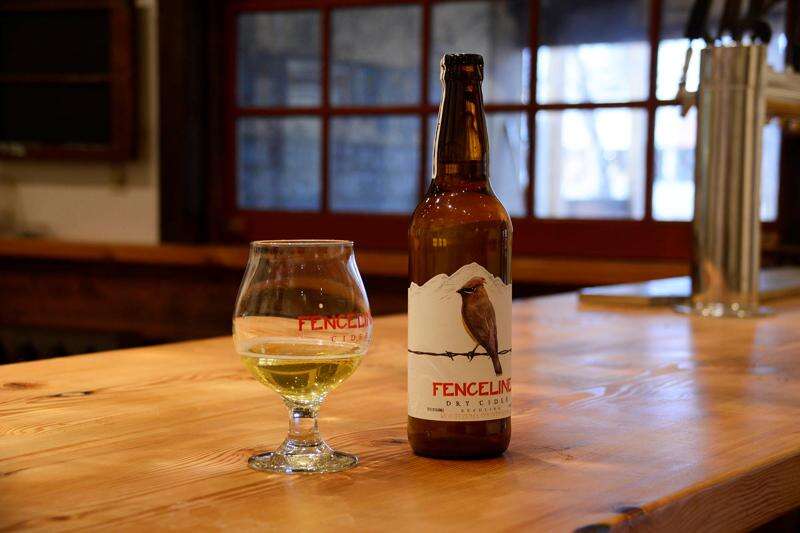 After years of planning, Mancos' new cidery is ready to hold a grand opening on Saturday.
Three Montezuma County entrepreneurs leased a former motorcycle mechanic shop on Main Street last year, intending to turn it into Mancos' newest cidery and tasting room. After receiving a state liquor license in January, Outlier Cellars is almost ready to open for business. The grand opening will start at 3 p.m. and feature local music and food along with the debut of Outlier's Fenceline Hard Cider, made with Montezuma County heritage apples.
Neal Wight and Sam Perry started experimenting with cider about three years ago, along with Sutcliffe Vineyards winemaker Joe Buckel, who has since left the company. Their Fenceline variety is a dry cider made from apples grown in Montezuma County's heritage orchards and harvested in 2016. Outlier also will sell its varieties of wine and pear cider, as well as an oak barrel-aged reserve cider made with crabapple. Wight said he and Perry plan to regularly rotate new varieties through the tasting room, in addition to selling their Fenceline in local liquor stores.
Some Outlier cider is made with the Montezuma Valley Heritage Blend juice made by the Montezuma Orchard Restoration Project in 2016. According to a MORP news release, it was the first local apple juice shipped out of the county since Dolores' Mountain Sun Juice plant closed.
A late frost in 2017 hurt many Montezuma County apple producers, but Wight said it didn't affect Outlier's cider production because the company used apples harvested in 2016. He and Perry are looking for more local orchards to help with the next batch of cider, though.
"We're starting to talk about the harvest already," he said. "We're definitely looking for different apples, looking to work with different people."
Originally, Outlier's owners planned to start selling their product by late October 2017, but Wight said getting their state liquor license took longer than expected. But the wait did give them time to transform their warehouse – like building into a customer-friendly bar. Now furnished with solid wooden tables and decorated with antlers and nature photos, the bar has a distinctly "outdoor" atmosphere, which is helped by a large, garage-style door that will stay open during warm weather. Wight said he's most excited about the lighted patio, where customers can order drinks through a window on the tasting room and sit at a bar overlooking the Mancos River.
"I think it's going to be a great place to hang out in the summer," he said.
Wight, Perry and local contractor Bradley Hoessle did most of the remodel work, using largely salvaged materials from around the Four Corners.
The cidery's owners envision their company as a way to promote other Montezuma County businesses as well as their own cider. Outlier doesn't have a license to sell food, but Wight said he hopes to have a local food truck outside the patio at least once a week. The Dolores-based catering company Sweetwater Gypsies will be serving pizza at the grand opening.
Perry said the company also plans to serve drinks from other local companies, like Teal Cider in Dolores.
"We have 12 taps, so we can sell any wine or cider made in Colorado," he said.
During the grand opening, the store will sell hats and other merchandise bearing the Outlier Cellars logo. The Mancos rock band Afrobeatniks will provide live music throughout the evening, and Wight said it will be a family-friendly event.
After the grand opening, the tasting room will be open for business Wednesday through Sunday.
This article was reposted on Feb. 22 to correct the hours of operation.
Where:
141 S. Main St. Unit C, Mancos
Info:
Hours
Monday and Tuesday, by appointment.
Wednesday and Thursday, 11 a.m.-6 p.m.
Friday: 11 a.m.-10 p.m.
Saturday: 11 a.m.-10 p.m.
Sunday: 11 a.m.-6 p.m.