New store on South Elm Street features craft goods from local artisans
Being immersed in the corporate folds of Denver grew to be uninspiring for Erin Hanson, but she has since found fulfillment in her new store on South Elm Street: Merriweather Home + Market.
Originally from Cortez, she left the Front Range to embrace her roots and start her family.
A stay-at-home mom, Hanson felt she needed a creative outlet after moving back, though.
Enter her homemade jam, baby bonnets and, eventually, honey, that she sold at local farmers markets.
At the markets, she found herself surrounded by artists, makers and bakers – many of them moms, like her – and she was inspired to showcase the local goods in a centralized location.
"I wanted to create a space where we could all gather at one spot and support each other and show the community that Cortez is something to talk about," she said.
One memory sticks out to her in the brainstorming process of her business' eventual conception. She was shopping in Durango when she overhead a woman talking about her plans to visit Mesa Verde National Park. Hanson heard the woman remark that Cortez was nearby, and she asked what was in Cortez. A man said to the woman: "There's nothing in Cortez, you don't want to go there."
"I thought: 'That is so not true,'" Hanson said.
The ideas swirling through Hanson's head began to come to fruition in January 2018, when she purchased the storefront where Merriweather sits today — although it wasn't always a store.
Hanson is proud of the fact that her store, built in 1920, used to be a McPhee home, and, at one point, was used to shoot school pictures for students, she said. Construction began about two years ago to transform the building into the charming storefront it is today.
For her, the store represents a great deal: history, collaboration, local pride and women in business.
Of the store's 17 local vendors, 15 are women. About 75% of the products lining the shelves are sourced locally, she said.
"We have this really awesome girl boss community right now," she said.
Hanson became emotional just talking about the store, and she says others have, too. One woman whose prints are featured in the store witnessed a customer purchasing one, and broke down at the realization that her work was something someone would want to buy.
"They didn't even know that she was just standing right there," Hanson said. "It's those things that really touch my heart because I worked so hard for this. When we had our grand opening, so many people came in support and I just can't even believe that it's real —this little dream of mine."
Outdoor tables encourage gathering outside of the shop, while pastel-yellow double doors set below striped French-style awnings welcome visitors. Inside, shoppers are greeted with walls made to look like lime-washed, exposed brick, adorned with rustic wooden shelves that give the store a cozy aesthetic. Among the store's trinkets are postcards, jewelry, candles, bundles of lavender and other odds and ends.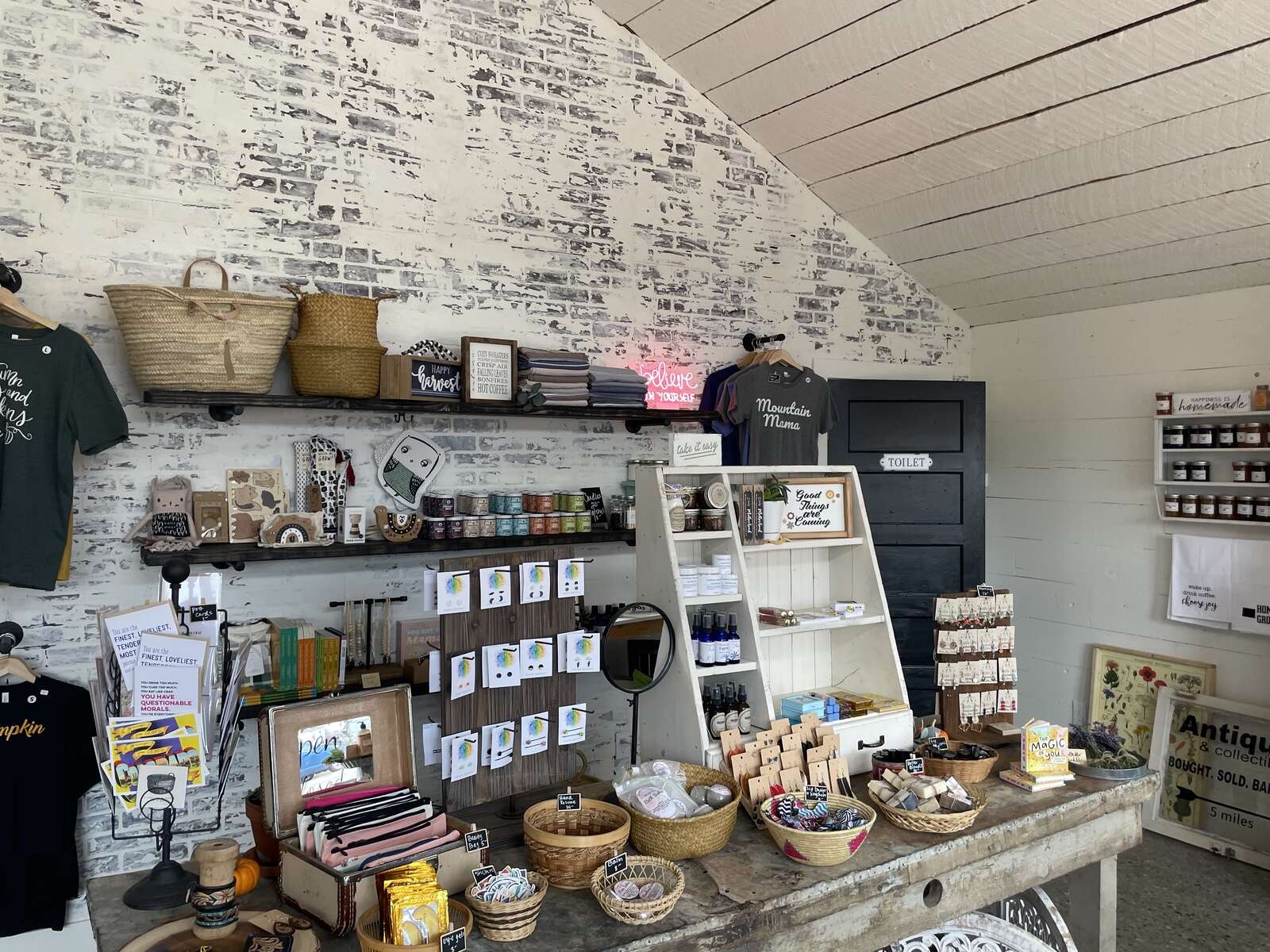 "It's a little hodepodge," Hanson said. "It has a little bit of everything."
Flowers from three local farmers are spotlighted on "Fresh Flower Fridays" at the store, and on Saturdays, Merriweather sells cupcakes from Something Cute Bakery, available in bundles of four.
Sarah Brock of the bakery even created a flavor special for the store: The Merriweather, a marble vanilla and chocolate cupcake filled with vanilla bean cream, topped with dark chocolate ganache and a white chocolate stripe.
Hanson will also soon feature books from two authors: one in Durango, one in Cortez, and she's looking ahead to the summer, when she hopes to host vendor events outside.
The store officially opened Oct. 1, and Mayor Mike Lavey was present for the ribbon-cutting.