Strasburg knocks out Mancos in straight sets
DENVER – When Mancos looks back on the 2023 season, there'll be plenty of smiles and a trophy case full of memories to honor one of the best seasons in program history.
Even with a state tournament run that ended sooner than the Bluejays would have liked, Mancos upheld their commitment that they established from the early summer practices – to play with passion and grit.
Their 2A state tournament losses against Strasburg and Plateau Valley closed out a 23-4 season for a Mancos program that placed Mancos squarely back on the map of small school volleyball powers. A 25-20, 25-16, 25-17 loss to Strasburg followed a heartbreaking five-set defeat to Plateau Valley on Thursday afternoon.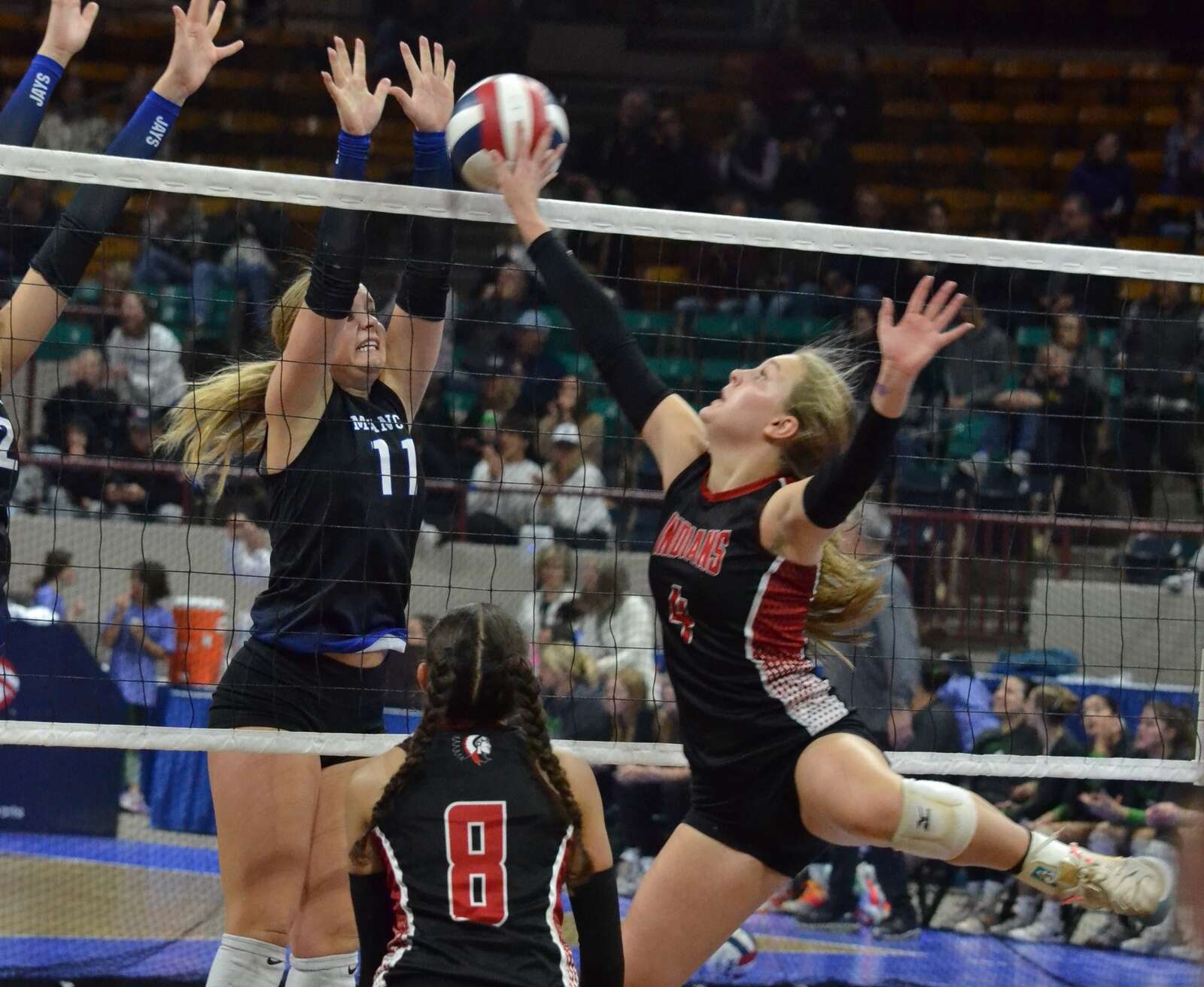 In Friday morning's match against Strasburg (20-7), Mancos battled closely with the Indians in a back-and-forth first set. However, the No. 6 seeded Strasburg rattled off the final five points of the set to not only take the opening set, but also a wave of momentum.
Capitalizing on their success, Strasburg cruised in the second frame, winning 25-16, in spite of a late 6-0 run by the Jays.
Montana State-bound Teya Yeomans made sure that Mancos wouldn't go quietly, however, as the senior thundered down a couple of big kills early in the third set to keep the Jays in striking distance. Trailing 14-7 out of a timeout, Mancos turned to some big serves from senior Haylie Higgins to spark a 5-1 run to close within 15-12.
After trading service errors, the Jays picked up a big point, rallying with sophomore Brooke Jabour on a dig to keep the play alive, before sophomore setter Aysia Mathews placed a set-kill to close the gap to two, 18-16. It would be as close as Mancos would come the rest of the way. Strasburg scored eight of the final nine points to deny the Bluejays any hope of a rally.
Sophomore Claire Goodwin along with freshmen Bailey Beh and Aubree Wyatt contributed to the Bluejay attack while getting their first taste of the state tournament experience. With five underclassmen as part of the regular rotation this past fall, the Jays envision their 2023 trip to Denver will be the first of many to come in the near future.
Yeomans and Higgins guided a program from just two wins in their freshman season to three consecutive double-digit win seasons, back-to-back winning seasons, a regional title, and the program's first league title since '09.
It'll be a season that the Jays and their whole community of support will look back on with pride for years to come.