Webb Automotive Group takes over operations; plans include new name, more inventory, upgraded facilities
Steve Keetch Motors, a west-end business anchor in Cortez for 40 years, has sold to Webb Automotive Group Inc. of Farmington.
The sale between old friends has been discussed for a couple of years, and was finalized Feb. 6, Steve Keetch said.
The showroom and automotive service facility at 127 North Broadway will remain a General Motors dealership under the new name Webb Chevrolet Buick of Cortez.
"It's been a family operation since I bought it 40 years ago. My wife and son worked here for 30-plus years," said Keetch, who was the owner and dealer operator.
He said when the opportunity to sell to the Webbs came up, the Keetch family sat down at the dinner table to discuss it.
"This kind of opportunity does not come around too often in Cortez, and as a family we thought is was the right thing to do, so we did," Keetch said. "I'd like to thank my staff and customer base. It's been a good run."
The sale price was not disclosed.
Webb Automotive operates Chevrolet and Toyota dealerships in Farmington. The original dealership was founded by Perry M. Smoak Chevrolet in 1927.
Smoak's stepson, Marlo L. Webb, became the dealer in 1958, and his son, Perry M. Webb Sr., took over in 1982, and is now president and chairman.
Vice President Perry Max Webb II became the dealer in 2018, and is the new dealer operator for Webb Chevrolet Buick of Cortez.
He said the company was looking to expand, and saw the Cortez market as a good opportunity.
"We are excited to be here and have Cortez join our family. We want to grow this dealership," Perry Max Webb II said in an interview with The Journal. "We are still very local and are looking forward to serving the community."
The Keetch and Webb families have been "family friends forever so it was a good, cordial sale," he added.
The Cortez dealership will continue to operate all of the current services, and the 27-person staff will remain.
"I've met with each staff member, and I'm very happy with the team," Webb said.
GM has committed to increased inventory for the Cortez dealership, Webb said, as long as the dealership increases sales.
"We see the opportunity of increasing the supply (of vehicles) for the people, not just making a lot of money. There will be some good deals," Webb said.
The inventory goal is to have 50 new vehicles and 30 to 40 used vehicles on the lot, up from the current 11 new cars and 25 used.
The merger also will create an economy of scale that lowers the costs of doing business and passes on savings to customers, Webb said.
The plan is to modernize the Cortez dealership and add tire service. Long-term plans include expanding the body shop and installing a lube station.
Ongoing certification training of technicians is a priority for the company, Webb said. Sharing the processes, training programs and experience from the Farmington dealerships are seen as a plus for staff and customers in Cortez.
Internal combustion engines are the norm in Southwest Colorado, and there are no immediate plans to sell electric vehicles at the Webb branch, but they are an eventuality.
The infrastructure and tools investment for sales and service of electric vehicles is "hundreds of thousands of dollars" Webb said.
The next generation is on the horizon, however, as Chevy has plans to be all electrical vehicles by 2030.
Keetch said there has not been much interest in electric vehicles in the Cortez market.
Car business in recovery
The car business is in recovery mode because the COVID-19 pandemic hurt the supply chain, said sales manager Houston Frizzell.
New vehicles were in short supply, and prices for new and used vehicles increased.
When factories shut down in Asia, production of automobiles, control modules, microchips and onboard computers slowed.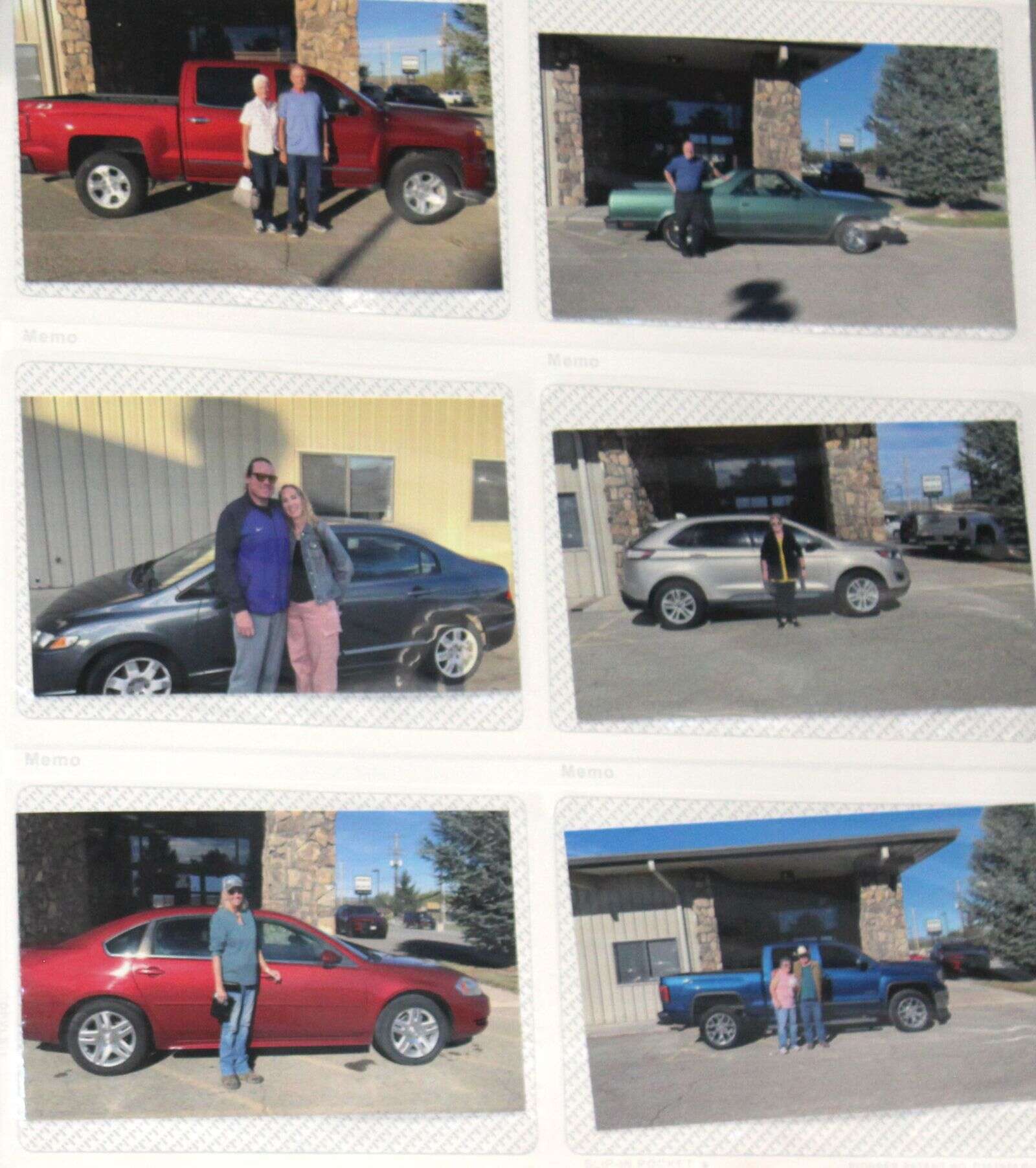 "New vehicles are starting to come back, but not up to the prepandemic levels," Frizzell said. "If you see a car you want, you'd better jump on it. People are realizing you can get a good deal locally without having to travel."
The Cortez market is mostly "truck country," he said, and large and small SUVs also are popular.
The dealership brings in a lot of local customers, but also has reach throughout the Four Corners, in Ute and Navajo Country, and in Montrose, Utah and New Mexico.
"We stand on our own," Frizzell said. "Cortez is a fun, unique market. We are all about taking care of the customer and doing business in an honest way. It is fun helping people get a new car, fulfill a need, making dreams come true."
He said the mood in the shop was optimistic.
The Webb family has been in the business for 97 years and is part of the local community, he said.
"My perspective is what Steve has been doing here the last 40 years to support the community, the Webbs have been doing the same in Farmington, but on a larger scale. I think it will be a very good fit," Frizzell said.
Perry Max Webb has been in the car business for more 20 years, and started out pulling weeds at his dad's dealership in Farmington at age 11.
After going to college in Utah, he returned to the family business and worked in finance, sales and marketing, completed dealership school and moved into management.
The opportunity to expand the company into Cortez is motivating, he said, because of the established business and potential for growth.
"We want the money to stay in the community," Perry Max Webb said. "One of our big things is supporting youth sports, and we want to continue to do that here."
Keetch had 50-year career
Steve Keetch moved to Cortez from Farmington on a "wing and a prayer" at age 35 to start his own dealership in 1983. He bought Friendly Motors on Piñon Street.
He worked with local banker Wayne Glazier and landowner Bob Leighton to buy 10 acres across the street with highway frontage and built the Keetch Motors showroom and service facilities, which opened in 1995.
"It has been very steady for us. Our business increased when we built this building," he said.
The tougher years were the 2008 recession and the coronavirus pandemic, but through it all they did not have layoffs.
Cortez was attractive for its potential and small town community where "you don't have to fight the crowds," Keetch said. The natural beauty, outdoor recreation and fishing also were a draw for the family.
"I wanted to go home every evening and enjoy life," Keetch said, which includes beautiful views of McPhee Reservoir and foothills from his home in Dolores.
One of the Keetch traditions was taking a photo of people posing with their new vehicle. He has stacks of photo albums with customers spanning four decades.
When he started in Cortez, Keetch sold five divisions of GM, including Oldsmobile, Pontiac, Buick, GMC and Cadillac. He signed with Chevrolet in 1997.
Keetch had a 50-year career in the car business, and its ups and downs. The computerization of it all was a big adjustment.
"When I got into the business in 1972, out of every 100 new vehicles sold, 60 of them were GM," he said.
The only other divisions out there were Ford and Dodge-Chrysler, with the Toyotas, Nissans and Hondas all coming later.
He figured Cortez would "bust open" with growth, but that never quite materialized. Drawing in customers from the region helped to support the business.
Letting it go has been a little bittersweet.
"When you raise something from its infancy, it is hard to think you won't have it anymore," he said. "Over the last 40 years, we sold to moms and dads, then sold to their kids, then to their grandkids."
Working with the people of the community was the best part of the business, and is what he will miss most, Keetch said.
"The car business gets in your blood, and you don't want to get out. It has been a lot of fun. It's really all about the people whether, the employee or customer," he said. "Selling vehicles and servicing them was our business, and it sustained us for 40 years."
jmimiaga@the-journal.com