Free throws save DC on mutually bad night at the stripe
DOLORES COUNTY – Not wanting to be benched by a third personal foul but unable to escape that fate, Kylie Gatlin probably wasn't expecting her fellow Lady Bulldogs to weather the last 6:18 of Tuesday night's third quarter and begin the final frame leading 33-25.
Shortly after she took a seat, Ignacio freshman Marissa Olguin buried a three-pointer tying the score at 25 – completing the Lady Bobcats' climb, commenced about three minutes before halftime, out of an early 21-11 hole and giving them their best chance to gain the upper hand since junior Harmony Reynolds' hoop with 0:49 left in the first quarter produced a short-lived 11-10 advantage.
"The cool thing is that we've got other bigs and players, so now you have to find a way to get them the ball," said Dove Creek head coach Julie Kibel. "Kylie … she's an athlete, a competitor, and as a sophomore you can see the fire. That's what I love — her sister's the same, and in a lot of ways, our whole team's geared that way. And tonight, that was huge."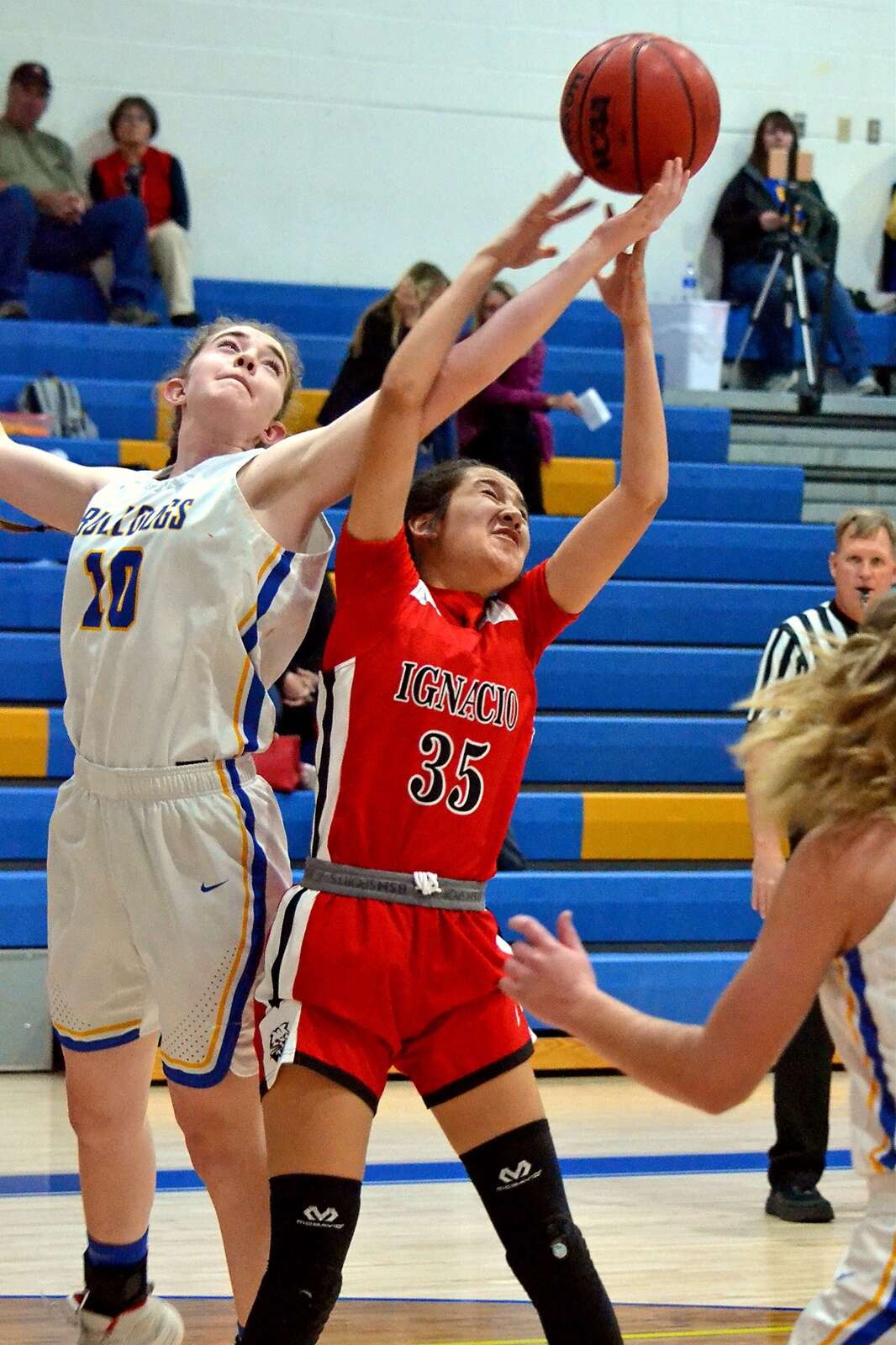 Unintentionally rested, Kylie Gatlin had both the knack and the legs to do what Dove Creek, ranked No. 7 in the latest CHSAANow.com Class 1A girls' poll, couldn't throughout the 2A/1A San Juan Basin League battle.
Dove Creek finished 17 of 37 collectively from the free-throw line, but Gatlin finished 9-of-10, 7-of-8 during the fourth quarter and 6-of-6 within the penultimate two minutes — clinching a 48-40 win inside "The Dawg House."
"We've been doing free throws a lot in practice, so we wouldn't be missing any," she said, having totaled a team-high 16 points despite missing a massive chunk of court time. "So I just came out, shot my free throws … and it was a good win."
"Free throws made the difference," Kibel stressed. "We've worked so much on free throws after our loss to Kit Carson last year; I felt like someone had just ripped my gut open that game, because that's what I want our team to do, to be able to shoot down the stretch."
"We just had so many misses that the kids were getting frustrated," she continued. "And I looked at (Kylie) and said, 'Listen, we've got to have them. Got to have them.'"
Ending up 13-of-20 themselves from the charity stripe, the Lady 'Cats began their last rally trailing 35-25, early in the fourth quarter after DCHS sophomore super-sub Kalie Gatlin, whose third-quarter defense on IHS senior Avaleena Nanaeto and others proved invaluable, knocked down a 14-foot jumper.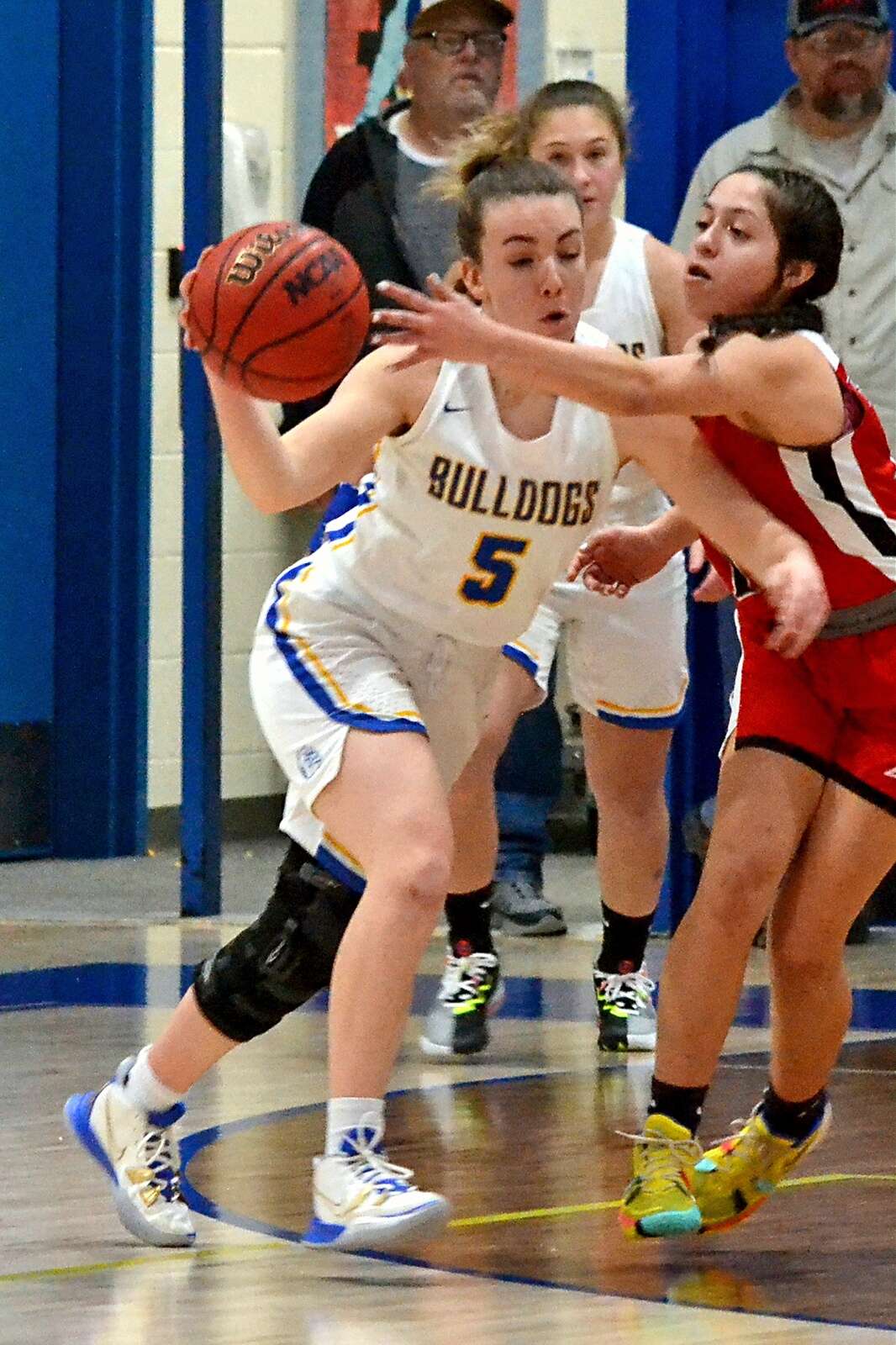 Playing with four fouls, Nanaeto answered with a confident take to the rim, and Ignacio clawed all the way back to 38-36 via a Reynolds trey with 3:25 remaining in regulation. Kibel called a timeout, and Kalie Gatlin promptly canned a long deuce after the Lady Bulldogs began milking the clock. Dove Creek was unable to heavily utilize junior center Lexi Gray (10 points), with IHS looking to prevent a repeat of her 25-point performance from Jan. 6.
"I pulled Lexi aside early and said, 'You know you're going to start getting double-teamed.' They played that box-and-one, then just collapsed on her – doubling her – and I said, 'That's going to start happening a lot,'" Kibel said.
"They were trying to stop our post that's scored a lot, and they did, but we still worked around it." Kylie Gatlin said.
"We've been working on it a lot in practice, to just move the ball around and keep the clock going," said Kalie Gatlin (11 points).
Dove Creek juniors Rylee Hickman and Trista Barnett finished with seven and four points, respectively, as the Lady Bulldogs improved to 15-1 (5-0 2A/1A SJBL, 1-0 1A SJBL) overall before a scheduled Saturday visit from 2A Dolores.
Reynolds racked up a game-high 17 points in defeat and Nanaeto managed 14, but junior Laci Brunson was held to three before fouling out with 29.2 ticks left in the game — one which the Lady 'Cats (6-7, 3-3, 3-1 2A SJBL) wanted to take before hosting 2A No. 2 Sanford on Friday.
"We tried not to foul, but we got more aggressive in there and ended up fouling. That's how it changed, I guess," Nanaeto said. "But we played a different defense and really worked, improved our rebounding so …. I think we did better."
Sanford stood 13-1 prior to a Southern Peaks League showdown Thursday at No. 10 Sargent (12-2).