Sehnert, Showalter each net 16 in SJBL power grab
Benched the entire third quarter on Tuesday, Evan Sehnert of Mancos admitted afterward that he actually enjoyed the view – one a typical player who'd just hit three 3-pointers and totaled 15 first-half points normally wouldn't have seen.
Particularly on the road in Ignacio with the Bobcats, always dangerous at home, having just closed out the first half trimming an 18-point deficit down to a more manageable 13, 35-22.
But the 2021-22 Mancos Blue Jays aren't a typical team, something both the MHS' senior shooting guard – who caught fire almost too easily for someone making only his second appearance this winter – and IHS' coaching staff both realize.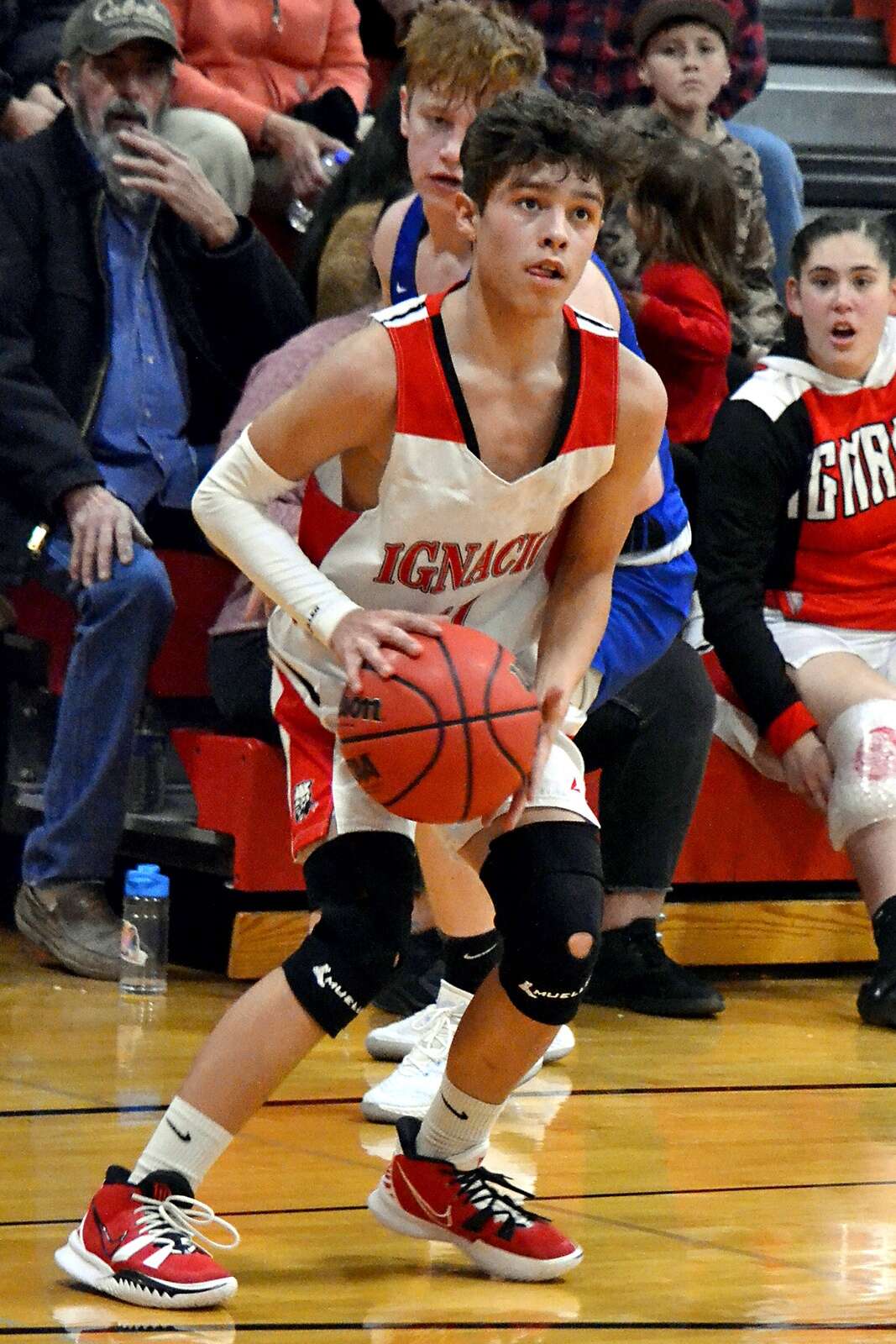 "I was super-excited to be able to come off and just watch what we've been building this whole season. And just see how much we've improved since last year," Sehnert said. "I was excited to see what we can do, and looking forward to see what we can do in the future."
Sehnert's handiwork was too much for the home team to overcome as the Jays coasted to a 63-40 win
"Other than the Limon and Highland butt-kickings we took … the last two years, that's probably the best team I have seen," said Ignacio head coach Chris Valdez. "They're long, they're fast, they transition, they post up, they shoot."
(Assistant coach and former 'Cat) Trae (Seibel) said that they looked like my '09-10 team except without a big 6'9" kid!" Valdez said.
But as anyone who's seen MHS battle IHS for 2A/1A San Juan Basin League supremacy the past few seasons can tell you, 6-foot-4 senior Connor Showalter does just fine as the current Jays' Alex Herrera. With Sehnert chilling after intermission, further resting a still-healing left shoulder, "Show" took center stage and, via an array of post moves, running one-handed floaters and even a long-range jumper, booked nine third-quarter points as Mancos rebuilt their lead to 23 points, 52-29, going into the final frame.
"First half, he wasn't that involved," said 6-foot-3 senior forward Mason Goodwin, who nailed four of Mancos' nine treys. "We know he can score in the paint, so we started to feed him the ball more and he started doing what he does best."
Both Showalter and Sehnert finished with 16 points, and senior point guard Edgar Hernandez registered 13. Goodwin, back in the Mancos Valley after three years at Southern Peaks League force Sanford, also knocked down 13.
"We've got the team to do it," Goodwin said, addressing the obvious question of whether the Blue Jays can (if not will) advance deep into the postseason. "We've got shooters, we've got posts – you know, we've got the whole package."
"I know a lot of us – like Mason – have been shooting a lot more threes this season, and they've just been falling a lot more often. We're, like, a whole lot more confident in our shooting ability," Sehnert said. "I've had a torn shoulder the first half of the season, so I'm still playing … limited, but I'm excited to be back. I just wanted to kind of show (Ignacio) how good our team can really be with all of us."
"A lot of stuff is predicated to defend our interior because we've got some size, and because of that we're able to free up some shooters … and we have a couple," MHS head coach Bob Archibeque said. "We were able to find where the holes were, and were able to knock those threes down."
"We've had teams like that, where you just couldn't guard us," Valdez said. "And that's where our problems are; we can't guard them right now. We cannot guard (Showalter) in the post; that's why we have to try to double him and make them beat us from the outside … and they beat us from the outside."
"Hopefully one of these times they'll be off a little bit, we'll get a little hotter, and it'll be closer," he said. "Plus, we're going to learn how to do some things against their 1-3-1, change our whole direction a little bit. But it is what it is, and hats off to them; they played a great game and they're a great basketball team."
Senior guard/forward Gabe Tucson managed to rack up 15 points for the Bobcats (5-3 overall, 1-1 SJBL, 0-1 2A SJBL) in defeat, while junior guard Eppie Quintana sank two threes and totaled 10. Sophomore point guard Devante Montoya rainbowed in three triples, two optimistically during the fourth quarter, and finished with nine points.
Free throws were sparse; IHS finished 1-of-4, while Mancos ended up 6-of-13. Mancos (7-2, 2-0, 1-0), moved up two notches to No. 5 in the latest CHSAANow.com Class 2A poll – despite a 55-51 loss three days earlier at then-No. 4 Sanford.
"Offensively, defensively, all the kids contributed in their own way, and I'm proud of each and every one of them," Archibeque said. "We couldn't have had a better team effort than we did tonight."
Up next, Ignacio will host Ouray (5-5, 2-1, 1-0 1A SJBL)) on Friday with the JV at 4:30 p.m. and varsity at 6 p.m. Because of COVID-19 problems north of Red Mountain Pass, however, Ignacio will not travel to 2A Ridgway the next afternoon.
Ridgway's Demons, meanwhile, will not visit MHS Gymnasium on Friday, meaning the Blue Jays' next outing will be Tuesday at Dolores.
Mancos reportedly will now attempt to host RHS on Jan. 29; Feb. 4, has been rumored as a potential date for the Bobcats' trip north.