Yamaha ace from Cortez puts on a dazzling display of speed on new bike
Eli Tomac of Cortez on Saturday opened the 2023 AMA Supercross season with a comeback victory in Anaheim, California, after recovering from a crash and overtaking Chase Sexton for the win as the clock wound down.
The race at Angel Stadium, the first of two this season, came after a 2022 season in which Tomac won the big three championships amid speculation that the 2023 season could be his last.
But if fans thought Tomac make this season a dragged-out victory lap to celebrate his storied career, they got a surprise Saturday night. The defending champion, now racing at age 30, set a blistering pace with sub-minute laps and got up from a crash to again charge into the lead in the race's final moments.
After riding fast on a new bike in practice rounds and a qualifying heat, Yamaha's ace also got off to a fast start as the main event got underway.
Justin Barcia went to the lead in the first lap, with Tomac less than a second behind him as they entered Lap 2. Roczen was third, and Stewart and Sexton rounded out the top five.
Tomac hit the gas in Lap 2, with a fast lap of 59.710 seconds to close to within 0.23 second of Barcia. After a brief back-and-forth battle for the lead, Barcia crashed and dropped into 10th place, and Tomac spurted into the lead.
As Tomac and Roczen got some running room, both posted sub-minute speed in Lap 5, but Stewart, riding with Roczen on the Suzuki team, slipped by for second place in Lap 6.
Sexton, meanwhile, had raced from fifth to third place. He began closing in on Stewart.
As the front-runners began to find their form in Lap 9, Tomac crashed on the ramp up the bridge after getting too far back in his seat and losing traction on his front end. He dropped to sixth place, but told Motocross Action Magazine his bike was not damaged, and he realized "the podium was within reach."
He moved up to fourth place with teammate Ferrandis in the next lap after Anderson fell.
By Lap 13, less than 5 seconds separated the top four riders – Sexton, Stewart, Roczen and Tomac. As the leaders bunched up, Tomac took third place in Lap 14, and second place in Lap 16.
Two laps later, Tomac blasted past Sexton for the lead, and led the rest of the way to finish the final, 21st lap nearly 3 seconds ahead.
Cooper Webb closed late in the race to finish second ahead of Sexton, Ferrandis and Roczen.
It was Tomac's first win at in a season-opening 450 cc race at Anaheim and the first time he he started the championship series in the lead.
"It took 10 years in the 450 class to get this win. It took me 10 years to figure out how to come here with it. ... I don't know, everything felt right."
After his first win at Anaheim, he gave a lot of credit to his new Yamaha YZ45F, saying he felt "like a whole different guy jumping through whoops."
Heat 1: Tomac wins wire to wire
Tomac and teammate Dylan Ferrandis of Star Racing Yamaha broke to the lead of the first qualifying heat, with Tomac in front with a sub-minute lap, at 59.7 seconds. Ferrandis was right behind, at 1 minute, 0.73 seconds, and Adam Cianciarulo of Kawasaki was in third. Joey Savatgy and Jason Anderson rounded out the top five.
Anderson got past Savatgy for fourth place in the third of seven laps, and Tomac stretched out a 4.564-second lead over Ferrandis in Lap 5, again completing the lap in less than a minute, at 59.989.
Tomac eased off the throttle in the Lap 6, at 1:01.871, and finished the seventh and final lap in 1:02.772 to beat runner-up Ferrandis by 3 seconds, and Cianciarulo by 4.6 seconds. Aaron Plessinger was fourth, and Anderson, fifth.
Heat 2: Sexton wins wire to wire
Chase Sexton, who challenged Tomac for the 2022 Motocross championship, went to the lead in Heat 2. Ken Roczen, now riding for Suzuki, overtook Marvin Musquin for second place in Lap 2, and Cooper Webb gained third place in Lap 3. Malcolm Stewart moved into fourth place in Lap 4, and Musquin dropped to fifth.
Sexton beat Roczen to the finish line by 2.672 seconds. He ran his fastest lap in Lap 1, at 1 minute, 0.163 second.
Qualifying laps: Sexton and Tomac
Sexton was the fastest qualifier Saturday at Angel Stadium with a best lap of 59.785 seconds, and the only qualifier to come in under a minute. Tomac was second, at 1 minute, 0.089 second, and Musquin of KTM, Anderson of Kawasaki and Ken Roczen of Suzuki, rounded out the top five. Ferrandis was sixth.
The track ahead
Tomac and teammate Ferrandis of Monster Energy Yamaha/Star Racing made their maiden trips on the new 2023 Yamaha YZ45F this weekend.
The season starts on the heels of Tomac's best season. He beat Sexton for the championship in the 2022 Lucas Oil AMA Pro Motocross season, 546 points to 539, and he beat Anderson, of New Mexico, for the title in the 2022 Supercross season. Tomac topped off his best year in racing by teaming up with Justin Cooper and Sexton to defeat France for the world title in the Motocross des Nations in September at Red Bud MX track in Buchanan, Michigan.
After a lot of speculation last year that 2023 would be Tomac's final Supercross season, he still is uncertain.
"It's hard to say," Tomac said in Friday's news conference. "I'm not going to say right now if I'm going to be done this season or now. As you get older … you start to enjoy things and enjoy the racing more. … I'm going to enjoy the moment as much as I can."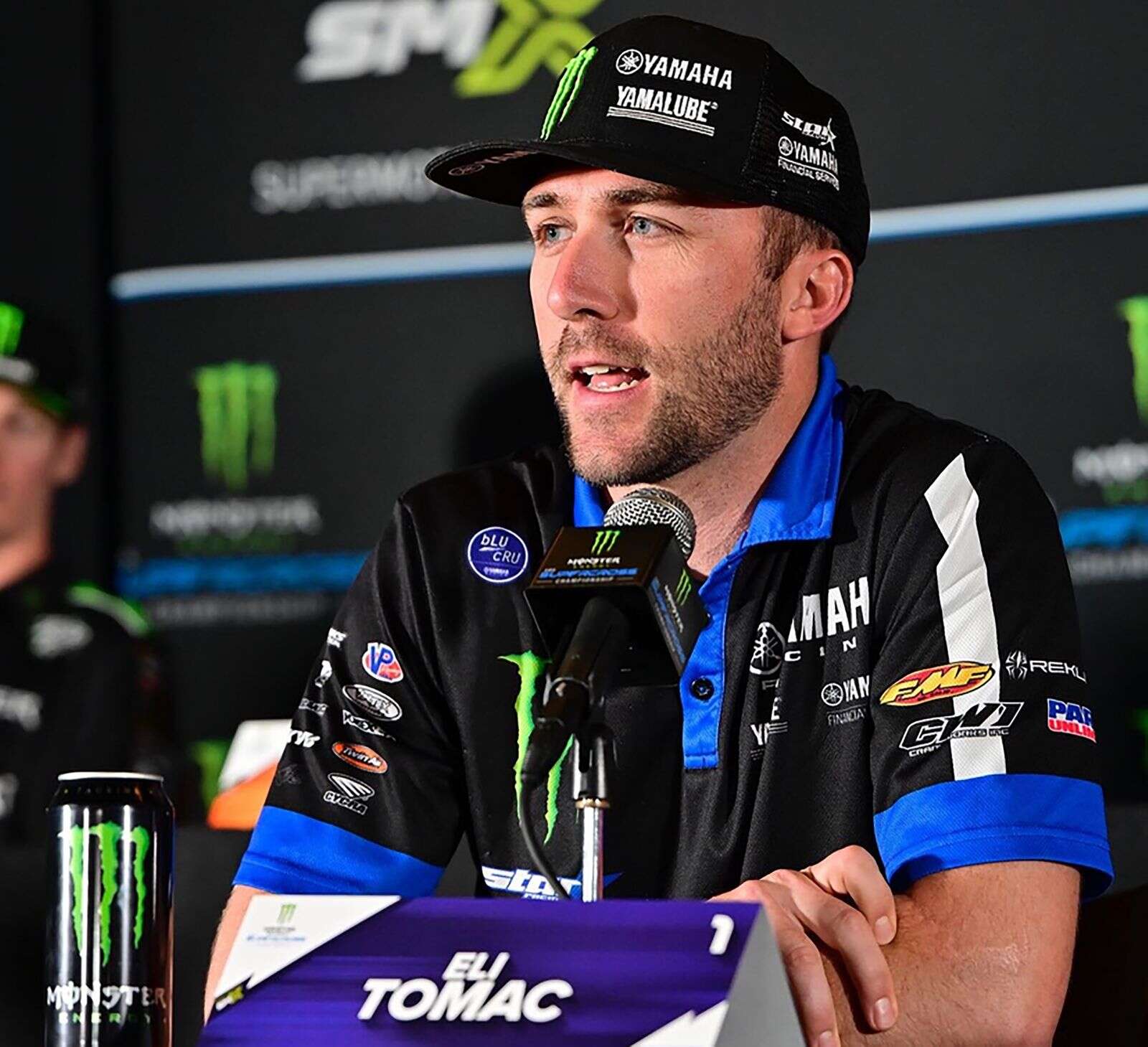 Tomac on Friday said the best thing about the new bike was the weight loss.
"You feel the thing, you know, lean easier in the turns, and you can feel it in the air," he said. That's No. 1 for me."
"I'm excited to just go out there and put what we have to the test – put the '23 through the test, and me being 30 years old to the test. I think I was counting on my hand this morning, this is my 10th time here in the 450 class."
Tomac told Swapmoto Live that he spent about five hours on the bike's frame before taking it to California, and giving it a fresh build there.
Tomac also broke with his usual routine, and instead of staying in Cortez, went to Florida to ride in different conditions and with different riders, and not only on the Yamaha test track.
"You gotta just take it everywhere you can," he said.
Tomac also noted that he signed for the Supercross season this summer and is taking it "season by season." He has not yet signed for the summer AMA Motocross season.
"It's great to be here and um just to be here healthy … and yeah I get to run the No. 1 plate here and get another shot at it so um yeah we're ready to go ready."
Sexton, runner-up to Tomac in the Motocross and the heir apparent, said he learned a lot while chasing Tomac this summer in the outdoors Motocross.
"I think it's definitely a position that I've wanted to be in since I got on a 450, and winning only one race last year wasn't really quite enough for me I guess to be a contender. … I had some mistakes, but outdoors I really learned a lot about myself and how I can deal with things, and racing Eli really taught me something I could have never been taught otherwise, so I'm just looking forward to bringing that in here and into Supercross."
The 17-race Monster Energy AMA Supercross series next goes to RingCentral Coliseum in Oakland. The series concludes May 13 at Rice-Eccles Stadium in Salt Lake City a week after stopping at Empower Field at Mile High in Denver for Race 16 and the only stop in Tomac's home state of Colorado.
This article was republished Jan. 8 to clarify that Eli Tomac had a surprisingly strong start to the 2023 Supercross season.