Bears hold off rallies for 19th consecutive win against Bluejays
DOLORES – In a helter-skelter week at Dolores High School, it seemed only fitting that the homecoming match with Mancos would follow suit.
Lengthy rallies, major momentum swings and a fiery Dolores Fieldhouse crowd marked the highlight of an otherwise tempered Dolores homecoming week, as the Bears on Thursday narrowly edged Mancos, 25-23, 25-23, 27-25 to sweep the season series with the Jays.
The Bears (6-6, 4-1 2A/1A SJBL) entered the contest looking to extend their winning streak over Mancos to 19 consecutive matches, a stretch in which Dolores has only dropped three combined sets to the Bluejays.
Mancos made them earn it.
The Bluejays (5-6, 2-5 2A/1A SJBL) appear poised to make a run at their first winning season since 2014 behind sophomore standout Teya Yeomans.
Dolores turned to their own senior leaders, led by Brown, to bring out the fireworks in the opening set. The Bears overcame a couple of Mancos rallies in the set, but emerged with a 25-23 victory.
It was an indicator of how tight the match would become.
Head coach Gina Hollen's group fell behind in the second set, as well. Mancos junior Riley Cannon opened the set with a fierce serving string, giving the Jays a 6-3 lead.
Dolores would respond with their own run to briefly grab the lead back, but Bluejay junior Shelby Jabour would serve the visitors back in front on a mini 3-0 run.
Then, after the lead see-sawed over the next dozen points, it was Cannon again doing damage from the service line, as the Jays posted a 4-0 run, highlighted by two Yeomans spikes, to take their largest lead of the set, 19-15.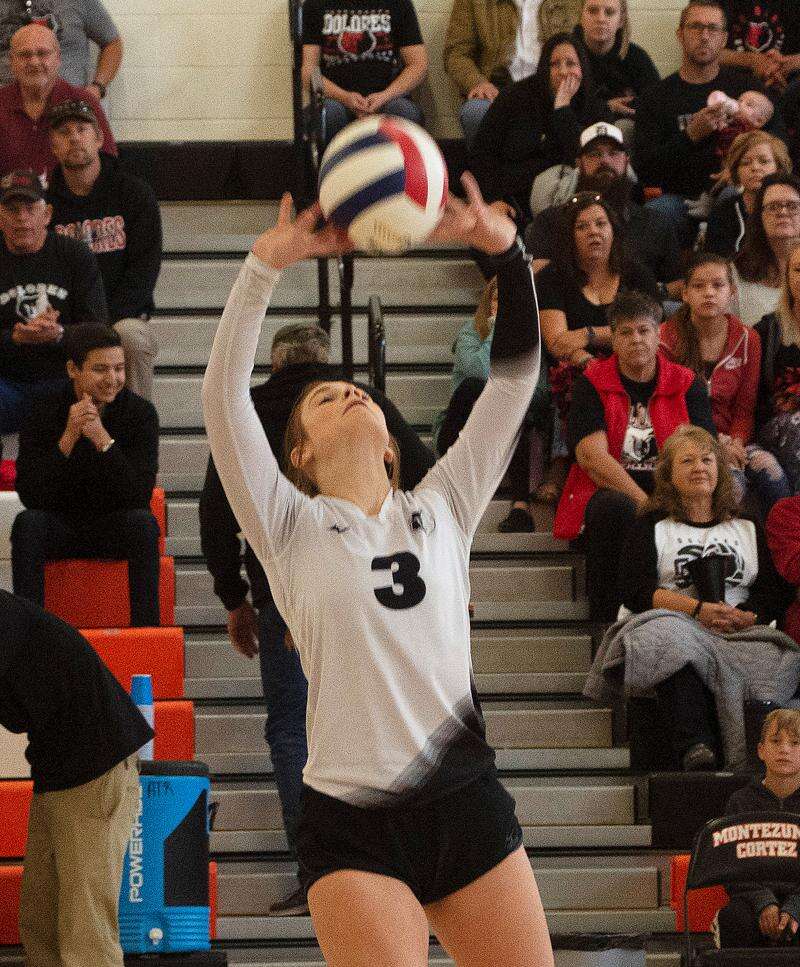 The Bears found the answer, as they often do, in their power-hitting senior Erin Brown, who spearheaded a stretch of six points from the next seven to give the Bears the lead. Senior setter Kamri Willbanks helped lead the charge, offering up appetizing sets for Brown and the Bears to monopolize net play and fire up the Dolores student section.
"We love to play Mancos," said Brown, of the fired-up crowd, "the energy in the gym is always great."
With the Bears within two points of the second set, Mancos sophomore Haylie Higgins gave the Jays life with a kill to draw within 23-22. However, Dolores had one more response, with junior Chandler Smith firing a kill on set point to pull the hosts within one set of a sweep.
Momentum squarely in the black-and-red huddle, it looked like the Bears might run away in the third set. Senior Autumn Gonzales was constantly in motion, keeping plays alive and forcing her opponent to make one more play. Her hustle earned the Bears a point to go up 8-3 in the third set.
Yeomans had the Jays back on level terms a few minutes later, thanks to a 5-0 that would bring the visiting crowd to its feet.
After Mancos briefly took the lead in the set, Dolores answered back with senior Kira Messier and junior Valentina Tarini playing large parts in a series of lengthy points in which players from both teams kept the point alive.
"Kira (Messier) was someone who really stepped up for us today," said Brown. "She's been working hard in practice, and we put in her in a position that she's never played before."
The Bears ballooned their lead to 22-18 on Tarini's serve, and appeared to be on their way to the sweep, but the Jays had different ideas. Mancos junior setter Jessie Wallace extended several plays of her own for Mancos, and came up with a couple timely kills in a rally to put Mancos in front 24-23, now with their own set point to extend the match.
Dolores had one more play, it appeared, all night long, and Brown often had a hand in it. Her kill, using a kind net cord, reversed the fortunes, tying the match up at 25, before Dolores closed out the match two points later, 27-25.
"We had a tough Homecoming week as a school," added Brown, referring to illnesses within the school that left the Bears short-handed, and also had postponed the Homecoming football game, "and so this was our chance to have something exciting for the school. So, the fact that we pulled this one out was really big."
For Mancos head coach Brianna Yeomans-Allison, the Bluejays ability to rally, even against a league power like Dolores, continues to be a place to build for her young squad. "All of our players bring something to the table," said Yeomans-Allison, "and a match like this gives us the belief that we're able to compete against anybody."
In a match where momentum shifted several times each set, Yeomans-Allison recognized just how close her team was to shifting the entire complexion of the match. "We just had a couple of moments where we were unable to capitalize – we put a few in the net – but I think the girls will really build off of this."
Mancos had won three of their previous four matches entering the contest, and appear to be closing in on the league's top three – Dove Creek, Dolores, and Ignacio.
"They're starting to trust our system and trust each other, and I think we can turn right around after this one and get back to winning," added the Mancos head coach.
Dolores hopes to keep their winning ways on their home court, as they host Nucla and Norwood this upcoming week as part of a five-match home stand. They face the Mustangs on Tuesday, Oct. 5, before the Mavericks come to town two days later.
Mancos gets set for a trip to Telluride on Saturday, Oct. 2, before matches with Ignacio and Ridgway on Oct 7 and Oct 9, respectively.