Plewe ties for second to lead MCHS on home course
The Durango High School boys golf team joined Montezuma-Cortez and seven other squads Friday at the Conquistador Golf Course in Cortez.
Putting gave a lot of the golfers trouble, but Jonathon Smith of Pagosa Springs played solid on the greens to win the tournament by three strokes with a 2-under 70.
"That's a good score," said M-CHS head coach Todd Plewe. "He made his putts."
Thayer Plewe of Cortez and JT Timmers of Colorado Academy tied for second at 73.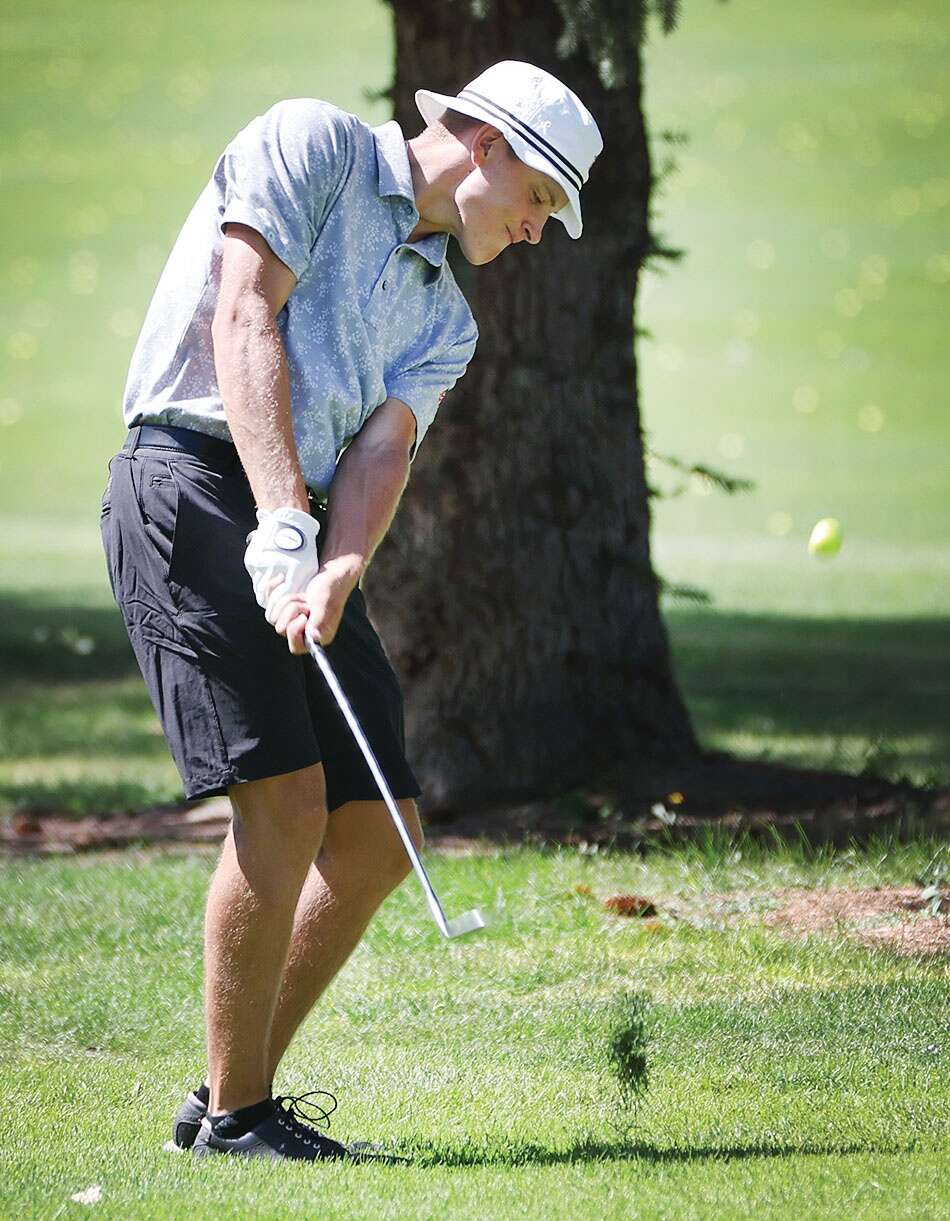 "I feel like I didn't make a ton of putts, but that's how it goes sometimes. It's all about grinding," Thayer said. "If I tighten that up, it will lead to better scores."
Vince Lopez, meanwhile, shot an 81 for M-CHS, Kaden Huff shot an 82, and Airoughn VanGrandt shot his best score at a high school tournament, an 88.
"I made some changes at practice last night and that helped me a lot," Huff said. "My short game was really good — I made some putts, and I hit some chips."
"I didn't make my putts," Lopez said.
"I struggled on the first nine holes, then I started to connect shots and started to think more clearly," VanGrandt said.
"I think they played OK," coach Plewe said. "This course played pretty tough today."
Zach Griswold, meanwhile, shot a 77 to lead Durango.
"He's definitely our No. 1 golfer, and he's a great leader for our team," said DHS sophomore Owen Muraro. "His attitude for the game is uplifting for everyone."
Muraro and Nick Best both shot 85s to round out DHS' team score at 247.
"My putts weren't rolling the way I wanted; I couldn't get the speed," Muraro said.
Bailey Burke and Emmett Arias also played varsity for DHS and both shot 86s.
"Some played pretty good and pretty steady," said DHS head coach Kirk Rawles. "Bailey was pretty steady –he shot a 39 on the front nine."
Eli Holden, who was playing JV for DHS, made birdies on his final two holes to shoot a 79. Rawles said it was "huge" for him to break 80.
Muraro, who's best round in a high school is an 80, said one of his goals is to break that mark this season.
Colorado Academy, meanwhile, had five golfers shoot 79 or better to win the tournament with a 222 team score. Timmers, Corbin Bank (74) and TJ Giordano (75) scored for CA.
Cortez and Montrose tied for second at 236. Gunnison finished fourth with a 241. Durango and Pagosa Springs finished tied for fifth at 247, followed by Telluride (250), Palisade (256) and Alamosa (322).
Durango will be back in action Monday and Tuesday, competing in a two-day tournament at the Bridges golf course in Montrose and then Battlement Mesa in Glenwood Springs.
"The toughest part for me is figuring out which four to take to the next tournament; seven or eight are all pretty close," Rawles said. "The big thing as a coach is how to keep it equitable."
The team has 46 golfers out, and Rawles said he really likes the team's vibe.
"I think they're all excited, even if they don't travel, they're all having fun," Rawles said. "It's a great place for them to go, creating their own contests and competing with their buddies."
"It's fun with a lot of guys – there's more competition and you're spot is never guaranteed," Muraro said. "The pressure is on to compete every week at your highest level."
Cortez, meanwhile, has eight golfers out this year. "Our numbers are a little down, but the boys out are working hard," coach Plewe said. "I'm pleased, especially with our top four. They have put a lot of work in."
Thayer said his personal goal is to win a state title this year after coming close the past few years. Over the summer, he finished tied for 36th out of 158 golfers in the PGA Junior Nationals at Cog Hill in Illinois. He made the first cut down to 60 golfers after two rounds, but missed the second cut by just two strokes.
"It was awesome, the atmosphere felt like a professional tournament," he said. "The pressure was like nothing else. Figuring out how to deal with pressure is a lot of what I did this summer."
His teammates also want to make some noise at state this year. "We want to be contenders," Huff said.
Griswold was Durango's only state qualifier last year, and Muraro said the team is hoping to have a couple more qualify this year.
With state scheduled for Oct. 2, Cortez will play seven tournaments in August to get ready while the Demons will also be busy preparing for the postseason.
"If your swing feels good and you're ready to go, you'll have a good season," Muraro said. "If you're not feeling it right away, it's hard to recover."