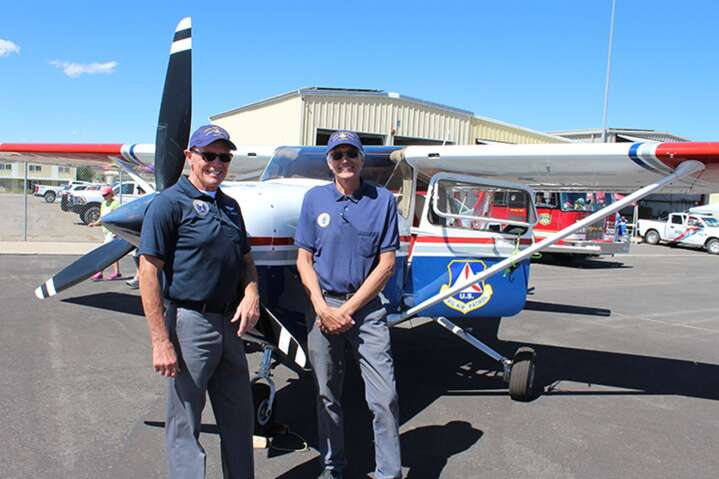 Attendees will also get to experience a plane and car show and food trucks among other activities
On Saturday, Oct. 14, the Cortez Municipal Airport, along with Experimental Aircraft Association Local Chapter 1451 and Cortez Flying Service, will host their third annual Four Corners Fall Fly-in and Car Show during the solar eclipse, offering free entry to the public.
The event, which will begin at 10 a.m. and go to 5 p.m., will give residents an opportunity to view the eclipse from "one of the best spots in Cortez," according to newly appointed Airport Director Jeremy Patton.
Upon arrival, attendees will receive solar eclipse glasses so the sun can be viewed safely during the eclipse. The peak of the eclipse is to take place about 10:30 a.m.
Various small, personal planes will be flying into the airport before the start of the event, and a car show will be set up on the taxiway after the arrival of the planes.
Patton said it is free to enter the car show, and cars will be accepted until the taxiway runs out of space.
"It's the third year of the flying car show, so people with airplanes fly in, and some of the planes will be static displays. And then we possibly could have military helicopters showing up, that's always a possibility," Patton said.
State fire aircraft, Civil Air Patrol, EAA, Pueblo Community College's aviation program, local aviation historians, firefighters, EMS and police will also be present and doing outreach at the event.
Additionally, Colorado Highland Helicopters out of Durango will be present, offering rides to attendees on a first-come, first-served basis during the eclipse for $100 per person. Patton said the A-star helicopter can fit five people at a time.
The airport will also have a certified flight simulator that was acquired through a state grant.
"It'll give anybody the chance to operate it and get a feel of the controls and look at the instruments," Patton said.
Five or six food trucks and a few vendors will also be present, including Yia Yias Concession (Greek food), Coldstone Creamery, Crush Lemonade, a Philly cheesesteak food truck and more.
"We'll have a few vendors set up, several food trucks and a whole row of cars as an additional display," Patton said.
Patton said last year, about three food trucks were in attendance and all sold out because of the large turnout.
They also will offer children's activities, which will include a paper airplane competition in one of the hangars with Powerhouse from Durango and story time with the Cortez Public Library. Durango High School will present experimental aircraft along with other aviation-specific activities.
While this is a free event, Patton said he hopes it will grow to the point sponsors can be added, creating the opportunity to create a scholarship for local students.
"In the future, the goal for this event is to keep it free, but to get sponsors to help raise money," Patton said. "Then we can start doing scholarship opportunities in the future."
Patton also noted that the Four Corners, which is normally a hot spot for eclipse viewing, will be closed on the day of the eclipse, but residents are welcome to come to the airport instead.
"It's going to be one of several great spots in the Cortez area to view the eclipse," he said, "and you're going to have planes, cars, food trucks, kid's activities and they'll be handing out swag and there will be items for sale. It's a really good place to be for the eclipse."
Residents can keep up-to-date on information surrounding the event and see official event information by going to the Cortez Municipal Airport Facebook page.