Governor praises students, Career Pathways program and education legislation
Gov. Jared Polis toured the Mancos Schools campus Tuesday and spoke to an assembly of students about education initiatives and values.
Polis and his staff stopped in Mancos on a bill-signing tour of the state after the end of the legislation session. Dolores and Cortez school district representatives also attended the event.
"We wanted to show the governor the great work going on at our school," said Superintendent Todd Cordrey.
In his introduction, Cordrey noted Polis served on the Colorado Board of Education from 2001 to 2007 and was a U.S. representative for 10 years before being elected governor in 2018.
Polis took the lectern with a hearty "Go Bluejays" then outlined education legislation. He praised the Mancos Schools new Career Pathways program.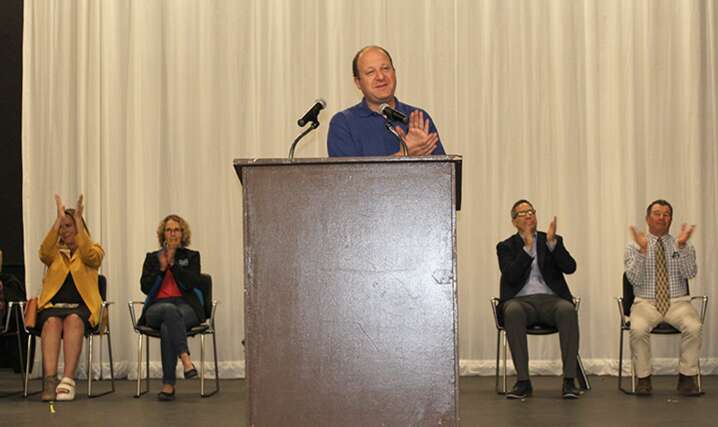 Starting in fall 2023, universal free preschool will be available throughout Colorado, Polis said, and school districts will see increased funding. Mancos will receive an additional $680 per student.
"The state is doing well financially, and we were able to make a record investment in education," Polis said.
For a class of 25 students, that's an additional $16,000. The additional funding can help increase staffing and teacher pay, and revive courses that might have been cut because of budget shortages, like the arts.
A bill signed by Polis reduces barriers for retired teachers to be substitute teachers. Another creates leadership programs for principals.
Polis learned of the Career Pathways program during the tour.
The all high school program begins in the fall, and is unique in the state, Crowley said. It divides the school day into two blocks.
In the morning, core classes are taught toward graduation, and in the afternoon every student in grades nine through 12 chooses from six career pathway courses and programs.
The programs include culinary, business, welding, drones, health sciences and education.
Students will earn career certificates in the various disciplines as well as college credits while in high school. There is no cost to the student. There also will be opportunities for work study and internships.
The program is in partnership with Pueblo Community College and Fort Lewis College, Cordrey said. Professors from both schools, along with Mancos teachers who have additional accreditation, will teach the afternoon courses on the Mancos campus.
"These courses are designed to give students the training for those careers," Cordrey said. "With every pathway we try to have a certificate earned within a semester or a year in order to build a student's resume and get them ready for life after high school."
Students choose pathways depending on their interests, and can switch it up, Crowley said. They will leave high school with certifications and job training. Next year, 130 students will be in the program
"The pathways program will be part of every student's schedule," Cordrey said. "What makes it happen is having the split schedule."
The welding program is very robust. Students can take up to six semesters of different levels of welding skills and earn certificates. Health sciences students will earn certificates in certified nurse assistance, medical terms and phlebotomy, among others. Culinary students will learn cooking skills and how to manage a kitchen. By adding the business pathways, they learn how to run a restaurant.
"Typically an 18-year old has nothing on their resume. Now they will," Cordrey said. "We believe if they get started in something, their natural curiosity and natural drive will take them to the next level."
Polis was impressed.
He noted that Mancos has Colorado's longest-operating high school in the state, beginning in 1909.
"The school continues to lead the way with innovative new programming," he said. "Mancos has a lot to celebrate. Who would have thought that drone navigation would have been a major? You are keeping up with the times."
Polis met with several students after the speech who had questions.
In an interview with The Journal afterward Polis talked about state efforts to support rural areas.
On Monday in Alamosa, he and Colorado Department of Agriculture Commissioner Kate Greenberg announced an agreement between the U.S. and Mexico to expand markets for Colorado potato growers.
As a result, the U.S. has begun exporting potatoes beyond the 26-kilometer border zone that previously marked the limit of their export.
The two countries reached an agreement late last year to expand market access for U.S. potatoes, something that the United States has sought for more than 25 years.
"We're excited about expanding agricultural markets. Whether its Colorado potatoes, beef, lamb or corn, it's about creating a premium Colorado product," he said.
Last year, Colorado exported more than 122 million pounds of potatoes to Mexico, according to Polis' office. Colorado exported $1.4 billion of goods to Mexico, including potatoes, making it Colorado's second-largest export destination.
"Colorado is strategically positioned to lead the nation in potato exports to Mexico, providing new revenue for Colorado potato farmers," he said.
To support rural areas, Polis said the state has a goal to connect 99% of Colorado homes to high-speed broadband internet in the next four years. Currently, 8% of homes, mainly in rural areas, are unconnected.
He said funding has become available from the federal infrastructure bill and the state has allocated matching funds.
"Before we did not have that funding," Polis said. "Congress came together, and now it is a priority."
In Alamosa Monday, he signed a law giving Coloradans a tax rebate of at least $500 for individual filers and $1,000 for joint filers.
Polis also reiterated support for recreation, saying that funding for a Paths to Mesa Verde extending from Cortez to Mancos remained a priority, although the timeline has been pushed back.
The state has had record lottery revenues to fund trail connectivity, and will reduce the cost of an annual state park pass to $29, down from $84, he said.
Polis said he supports solar energy because it can produce energy at a lower cost than coal-fired generation and saves on the monthly utility bill.
He lauded efforts by La Plata Electric Association and United Power to reduce limits on alternative energy sources and to open up the alternative energy market.
Polis added that Colorado is working with New Mexico, Wyoming and Utah to try and become a hydropower hub.
"It could attract hundreds of millions of dollars to Colorado and the other states," he said.
Polis showed interest in the idea of a pump-back hydroelectric power project on McPhee Reservoir.
Pump-back storage systems utilize two reservoirs at different elevations. To generate power, water is released from the upper reservoir to the lower, powering a turbine on the way down that is connected to the grid.
In 2018, two companies expressed interest in exploring building a pump-back hydroelectric power facility at McPhee Reservoir.
The estimated project cost is $1 billion, based on a 2014 study. McPhee could be used as the lower reservoir, with a small reservoir built above Plateau Canyon. According to a 2014 report, it would generate an estimated $100 million per year in electricity sales.
After visiting Mancos, Polis traveled to Durango to sign bills on education, behavioral health, and Native American Tribe inclusion in state programs.
jmimiaga@the-journal.com