Jacob Klopfenstein
Position: Staff reporter
City's position at odds with county commission
Cortez City Council members on Tuesday voted to approve a site development plan for a new Montezuma Combined Courts facility at 865 N. Park St. The building would house four court...
After an injury ends an Olympic dream, faith takes gymnast Charlie Jones to a South American mission, and to a new chapter in Mancos
Lowe filmed 'Alone' in Canadian wilderness
New play emphasizes importance of loyalty, relationships
Little Loves Boutique is bringing a local option for Cortez shoppers seeking maternity clothes and other items for babies and small children. Kayla Maynard has opened the shop at ...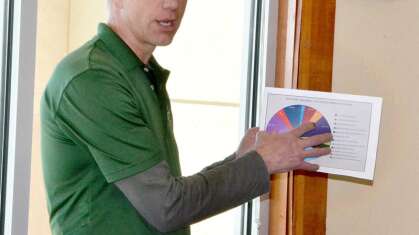 People in Cortez want to see a park on the south side of town, renovations to the south softball complex and expansions to city trails in the city's parks master plan, according to Parks and...
Fourth-graders help first lady Michelle Obama
As the Cortez Quilt Company nears its five-year anniversary over the summer, the company has added yarn to its inventory. "We're very excited to offer it," owner Karen Childress s...
City hopes to fine-tune Internet plan
Five fourth-graders from Kemper Elementary plan to be in Washington, D.C., this morning to help plant the White House Kitchen Garden with first lady Michelle Obama. Students Miles...
Staffers are updating parks master plan