Jacob Klopfenstein
Position: Staff reporter
Pot stores could be open 8 a.m. to 9 p.m.
Board worried about violating grant agreement
Tipton's opponent makes campaign stop in Cortez
Southwest Open School debuted a new kitchen this week. The kitchen contains new industrial-grade equipment, including sinks, a dishwasher and refrigerator. It will be used to proc...
Though several types of noxious weeds were discovered in Cottonwood Park this spring, crews won't spray herbicide to get rid of them — at least not this year, Mancos Administrator Andrea Phi...
Taste of India restaurant has opened at 1013 E. Main St. in Cortez with the promise of "100 percent healthier food." Co-owner and Chef Raju Singh came from Utah to open the restau...
West Slope group says plan could be 'extremely detrimental'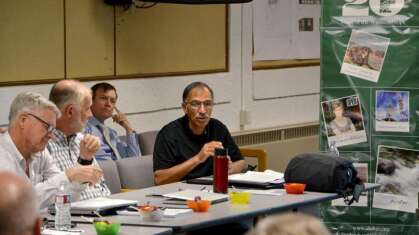 Public officials and private-sector professionals agreed Thursday in Cortez that Colorado needs a consolidated plan for broadband internet infrastructure. Club 20, a Western Slope...
Craft brewery would be city's third
Seattle-trained specialist returns to Southwest Colorado
Simpson touts single-engine Pilatus' safety record
Cortez City Council members on Tuesday approved a site development plan for the new Osprey Basecamp building at 800 N. Park St. The 26,310-square-foot building will become Osprey ...