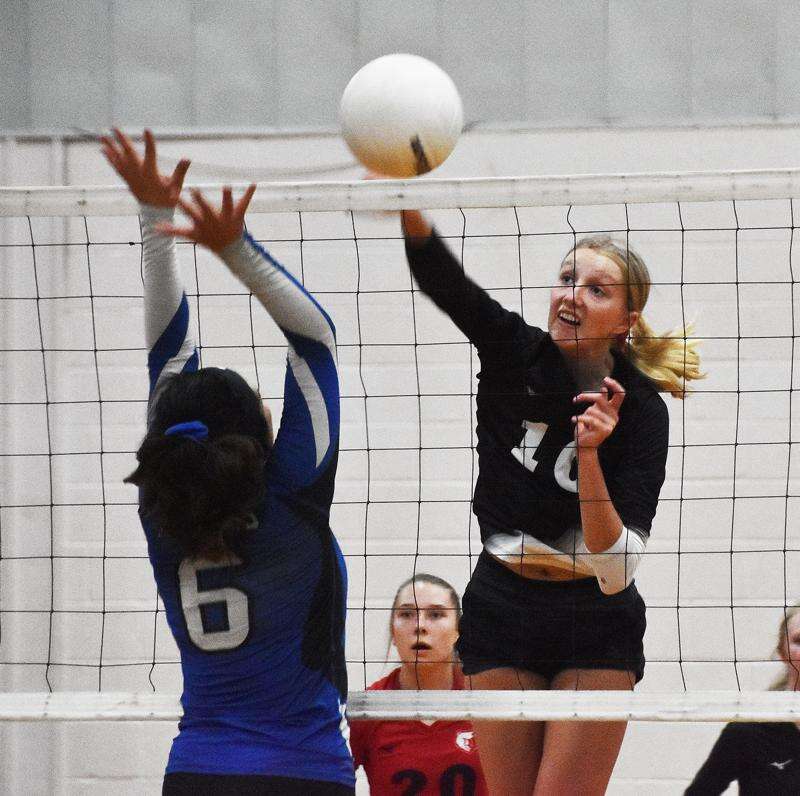 Both volleyball squads aim to factor into 2A/1A SJBL title chase
In a deep 2A/1A San Juan Basin League, victories on the court can be hard to come by. For both Mancos Bluejays and Dolores Bears, the opportunity to challenge for a top spot in the league have both programs excited for their fall campaign.
Mancos head coach Brianna Yeomans-Allison takes the helm of a program that seeks its first winning season since 2014-15, and has a young squad hungry to take on that challenge.
Juniors Jessie Wallace and Shelby Jabour captain the program this fall, along with sophomore Teya Yeomans, looking to help guide the Bluejays to goals of daily improvement and on-court success. "We will definitely be focusing on team unity," said Yeomans-Allison. "We want to challenge each other to improve, and if we do, we'll have a successful season."
Yeomans led the way for the Jays as a freshman, posting team-highs in kills and hitting percentage. "She's dedicated and has a high volleyball IQ," commended her coach, "and she helps support her teammates to put them in the position to make plays."
Wallace will help facilitate the offense from her setter position, relying on strong communication to set up Yeomans and the rest of the Bluejay attack. "She's really worked hard to make the best decision to help the offense," said Yeomans-Allison, "and that she's putting her teammates in the best position to succeed."
Meanwhile, Jabour's competitiveness brings a spark to the Bluejays on every rally. "She goes 100% all the time," said her coach, "so even as she learns a new position this year, she'll keep bringing that same level of energy."
The Bluejays bring an up-and-coming roster along with their three captains to open the season. Six of their first eight matches will be played at home, including their season opener on Tuesday, Aug. 24 against Dove Creek. A week later, the Jays will open league play officially against Ignacio on Aug. 31, and have a couple of weeks before playing their first of two matches against Highway 145 rivals Dolores on Sept. 14.
For the Bears, after another trip to the 2A regional tournament this past spring, expectations remain sky-high.
Dolores senior Erin Brown enters the season on the short list of players vying for Player of the Year honors after a selection to the all-state squad from a season ago. Brown joins a cast of senior leaders for head coach Gina Hollen, who posted a 10-6 mark last season.
Brown's offensive efficiency poses problems for every defense in the league, but the balance that the Bears will look to have this season makes them even more dangerous.
Senior setter Kamri Willbanks has made a habit of finding the right teammate, while classmates Autumn Gonzales, Olivia Cosner, Nayana Wilderson, and Kira Messier aim to provide a variety of options for Willbanks.
The Bears took runner-up in the 2A/1A San Juan Basin League last year, and have visions of climbing one rung higher this year. Dolores opens their season with a stern test at M-CHS on Tuesday, Aug. 24, along with plenty of tough non-league competition before officially opening SJBL play against Ridgway on Sept. 11.