Passing motorist also helped woman into his car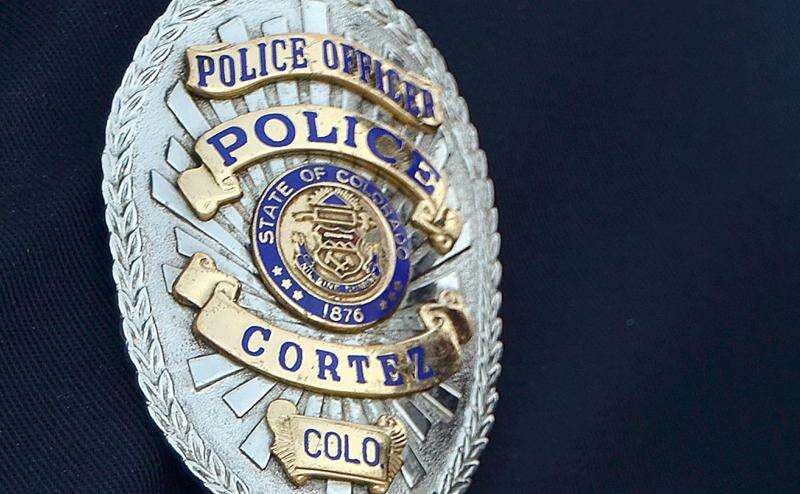 A Cortez woman on a routine walk along Montezuma Avenue earlier this month was allegedly attacked by two dogs that had run loose from a nearby residence.
According to a police incident report, Cortez resident Sharon Peterson, 60, was walking near the 40 block of West Montezuma Avenue on the morning of May 7 when two barking dogs approached her from behind. She attempted to yell at them to go away, but stated to police that the dogs became more aggressive.
One of the dogs, a male brindle and white "pitbull/mastiff type," allegedly knocked her to the ground and bit her back.
A gray female pit bull also looked likely to attack, but Peterson said she managed to yell at the dog to keep it away.
A passing motorist, David Christian, stopped his vehicle in the road, yelled at the dogs and managed to get them off Peterson before helping her into his car.
Christian drove Peterson to her friend's house nearby, where emergency medical services professionals provided care. Cortez Police Department officers Traci Mueller and Karla Ross were the first members of law enforcement to speak with Peterson after the incident.
According to a report written by Mueller, Peterson "was shaking and appeared to be very upset" as she was being treated.
Police observed drool and at least one puncture wound on the left-center side of her back. There also appeared to be teeth grazing marks above the puncture wound. Peterson stated the fall injured her elbow and ribs.
Peterson was later taken to the emergency room for her injuries, where Animal Control Officer Lari Ann Pope took her statement.
Christian told police that Peterson was already on the ground when he stopped his vehicle to assist her. He stated that he needed to get Peterson in the car because the dogs kept coming at them.
Christian told police that the incident was "scary, and it looked like they had her."
The female pit bull's owner was later identified as Monique Wolf. The male brindle and white dog belonged to Wolf's daughter, Gabrielle.
Police contacted the Cortez Animal Shelter and learned that neither dog had been licensed with the city. According to the city website, all cats and dogs within the city limits of Cortez must be licensed.
Wolf told police that a gate had had been left open in her backyard, allowing the dogs to escape.
Colter Buck, owner of Valley to Peaks Contracting, had been working on the roof of the Wolf residence for roughly a year. Buck told police that might have left a gate open at the residence before leaving for the day on May 6. The contractor stated that he and his employees were leaving the front gate open "all the time."
Monique Wolf received citations for having an unlicensed dog and for allowing a dog to run at large.
Gabrielle Wolf received citations for having an unlicensed dog, allowing a dog to run at large, maintenance of animals that disturb the peace and keeping a vicious animal.
Peterson, a retired teacher who has lived at her home in Cortez for 31 years, told The Journal that while her physical injuries were healing, the mental trauma she experienced would be with her for a while.
"The mental anguish that goes with this, the traumatization, is just an amazing thing," she said.
Peterson said that she had been attacked by a dog as a child.
"If I see a loose dog, I turn the other way. The problem with this day was that those dogs, I did not see them at all until they were on me."
Peterson was grateful to Christian and said she was unsure what would have happened to her without his help.
"I just want it to be a safe street again. That's really my goal."
Monique Wolf initially declined to be interviewed for this story, then spoke with The Journal Monday.
Since the incident, the dog owners have taken corrective actions, she said.
Wolf said both dogs have since been registered with the city, and a lock has been put on the gate of the fenced enclosure.
The dog who allegedly bit Peterson, is a puppy, Wolf said, and was scheduled for professional training classes starting this week. The other dog involved, Lucy, is senior age and did not bite the victim.
Wolf said the alleged attack was an "unfortunate accident" and she expressed a "heartfelt apology for the victim. It has shaken us all up."
She said she offered to take care of medical bills of the victim.
The case is scheduled for an arraignment in Cortez Municipal Court at 9 a.m. June 7, said Pam Imm, assistant court clerk.
This article was updated on Monday to include Monique Wolf's arraignment date and her comments about the incident.