2,000-foot-long detachable chair will supplement Alberta Lift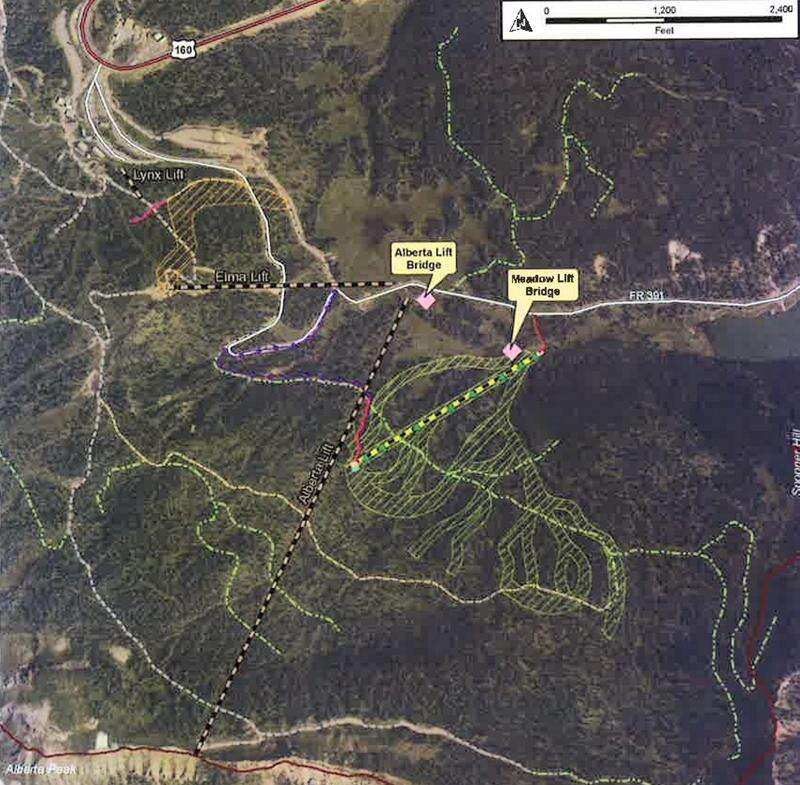 Next season, skiers and snowboarders at Wolf Creek Ski Area could spend less time shuffling back to the Alberta Lift after venturing too far east.
The U.S. Forest Service announced approval of the new Meadow Lift Monday, in a news release.
The new lift will start below the Alberta Lift and run at a 45-degree angle to the larger lift. It will end at tower nine of the Alberta Lift, said Wolf Creek owner Davey Pitcher.
The detachable, high-speed lift will serve both experts and beginners, he said.
More advanced skiers and snowboarders will likely use the 2,000-foot-long lift to get back to the Alberta Lift after coming down from the Knife Ridge, Horseshoe Bowl and Spooner Hill, he said.
"A lot of people like Alberta," Pitcher said.
"A lot of people didn't like having to traverse back to the lift from the bottom."
The new lift will also allow beginners to access some low-angle terrain, he said.
"We wanted to be very careful not to have another lift up on the ridge that would over-utilize the steeper terrain," he said.
Work on the lift will start in April and is expected to finish in the fall of 2018. Pitcher expects it will require all of next spring and early summer to build the lift. The approval process took four years, he said.
The ski area also plans to put in a few new trails that will lead down to the Meadow Lift. Wolf Creek may clear about 30 acres for the new trails, he said.
Wolf Creek's master plan anticipates eventually opening up 900 acres of terrain in the next drainage to the east, which would be served by a low-capacity tram, he said.
"It would be consistent with the terrain in Silverton or Aspen," he said.
mshinn@durangoherald.com