Mountains are on track with snowpack, but valleys remain bare
Snowpack in the high country of Southwest Colorado seems on track with historic averages so far this winter, but a near complete lack of snow in lower elevations and valleys has drawn concern about future water reserves and fire danger in the coming months.
By far, the vast majority of Colorado's water for public use comes from snow dumped high in the mountains, which melts into rivers and streams during the spring and typically ends up in lakes or reservoirs.
As a result, most efforts to track snowpack have been concentrated in high-elevation areas through the use of Snotel sites, which are dispersed throughout the mountains to gauge snow depth and the amount of water contained in the snow.
The data from these Snotel sites are divided by watersheds and presented to the public in terms of the percent of normal averages based on 30 years of records from 1981 to 2010 to compare this year with years past.
As of Friday, for instance, the Animas, Dolores, San Miguel and San Juan river basins were at 100% of this historic snapshot in time.
But the data from Snotel sites tells only one part of the story of Colorado's winter, said Karl Wetlaufer, a hydrologist with the National Resources Conservation Service, which tracks snowpack throughout the West.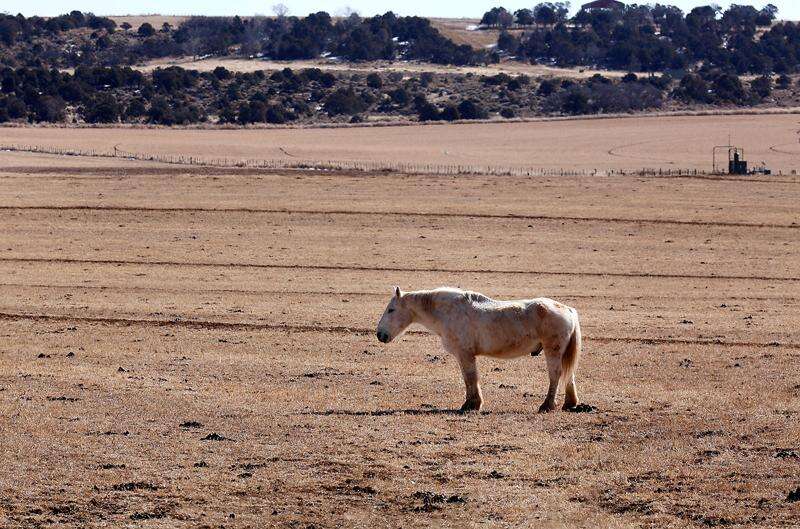 At lower elevations, weather stations are tracking far less precipitation, and Wetlaufer said that can have an impact in predicting spring runoff and the amount of water that will be available in spring and summer.
"Considering that lower elevations cover much more land area, getting snowfall there can make a difference," he said.
While there's still plenty of winter left in Southwest Colorado, conditions so far are raising cause for alarm.
Most storms this winter have tracked north of low lying areas around Durango, so while the high country may show about average snowpack, lower elevations are not getting the amount of precipitation they usually see.
At a few weather stations in low-elevation settings at Durango-La Plata County Airport and in Cortez, records show less than a half inch of precipitation since Jan. 1. That's down more than an inch from the 30-year average.
And as of last week, the U.S. Drought Monitor had the lower areas of La Plata and Montezuma counties listed in a "severe drought" category.
To make matters worse, Wetlaufer said a dry summer and fall caused vegetation and other ground fuels to dry out. So when spring snowmelt does occur, a good amount of moisture will be soaked into the ground before hitting rivers and streams.
"Across the Southwest now, the concern is how much water will have to replenish the soil moisture before it gets into streams," he said. "So even if we have normal snowpack, we're expecting slightly below average stream flows."
Frank Kugel, director of the Southwestern Water Conservation District, listed the inflow forecast predictions for a number of area reservoirs, all expected to come in below normal.
At Navajo Reservoir it is 68%, at Lemon Reservoir it's 73% and at Vallecito Reservoir it's 75%.
With snowpack in the high country about average, the fact that forecasts are coming in below normal is a sign that lower elevations haven't received the snows they typically do, Kugel said. River forecasters are also having to take into account the amount of water that's going to be soaked up by the thirsty landscape.
"Conditions in the high country look impressive, and one would think we're headed to a normal runoff season, but unfortunately, we have to look backwards to our terribly dry summer and early autumn ... that depleted soil moisture," he said.
Kugel said because of the heavy snowfall in winter 2018-19, most water managers are optimistic that the carryover will help reservoirs fill up this year.
"The reservoir storage carryover was good, that's the encouraging part," he said. "And we still have a significant portion of winter ahead of us, and so it's hopeful that things will improve or at least not worsen."
Julie Korb, a Fort Lewis College biology professor who specializes in fire ecology, said it is far too soon to predict whether a lack of snow in low elevations will heighten fire danger come summer.
But, if temperatures continue to remain mild, and winter storms fail to deliver snow, already drought-stricken forests could further dry out, amping up fire danger.
"Fires are all about fuels, because fuels are really what drive fires," she said.
There are so many variables that drive fire danger, though, Korb said. Sometimes, a strong winter snowpack will boost vegetation, and then if a drought strikes in summer, there's more fuels to spark a major fire.
As for now, she said it is a waiting game to see how it plays out.
"Hopefully, winter will kick in, that's my hope," she said. "But time will tell what will happen."
jromeo@durangoherald.com