Hundreds line Montezuma Avenue to honor veterans
Veterans in uniform marched and drove down Montezuma Avenue to adoring waves and cheers during the Cortez Veterans Day Parade.
This year's event, sponsored by the Ute Mountain Ute American Legion Post No. 75, was larger than last year's, said event chairman Mike Brunk.
"This community shows a lot of support for us veterans; it's appreciated" said Tom Reed, a U.S. Navy veteran who served in the Persian Gulf War. He was stationed on the USS Theodore Roosevelt, a nuclear-powered aircraft carrier.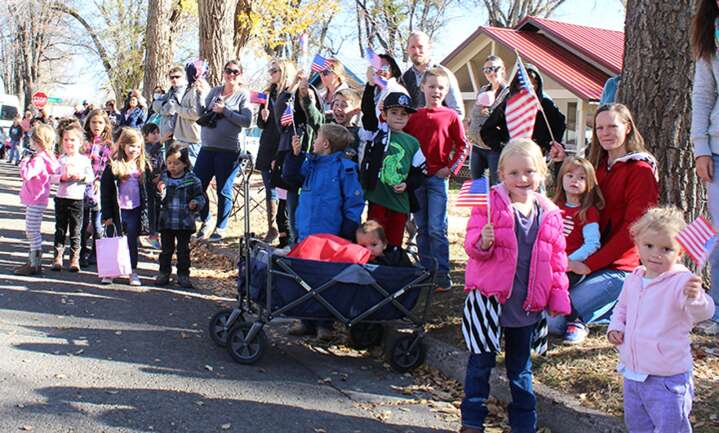 Ute Mountain veterans and color guards participated in the parade along with the Cortez Police Department, Cortez Fire Protection District, Montezuma County Sheriff's Office, Colorado State Patrol, Montezuma County Veterans Affairs and other emergency responders.
The day was especially meaningful for the loved ones of Air Force veteran Bill Robison, 78, who died Wednesday, the day before the parade.
"He was a Patriot. He was an American hero," said Mindy Nelson.
She said he was a beloved part of the community and loved by children – especially to children, as he attended school board meetings and offered them rides in the back of his truck during Patriot rallies on Main Street last summer.
An Army truck was lined with signs and decorations honoring his legacy.
Robison's daughter, Cynthia, rode atop it.
Montezuma County lost another veteran of World War II this year. Joseph Konyndyk, 96, of Mancos, died Oct. 10 at his home.
Konyndyk was the last living crew member of a USS Landing Craft Support ship, an armored ship that helped defend other Navy ships and crew from in the South Pacific. The ship fought in the 1945 Battle of Okinawa, the last major battle of the war, and one of the bloodiest.
"Every veteran here needs our respect," said Jeff Coulon. "We wouldn't be here without them."
Ray Goodall, of Cortez, was in uniform for the parade. He served in the Navy from 1952-1960 as a quartermaster during the Korean War.
"Part of my job was keeping the ship logs and updating and correcting navigational charts," he said. "I'm glad to see people showing respect for veterans. If not for our veterans, our freedoms would go away."
If a young person is unsure what to do in life, "they should look into the opportunities of the military," Goodall said.
The Montezuma-Cortez School District RE-1 middle and high school bands performed this year. They skipped last year's parade because of the COVID-19 pandemic.
About 90 kids from the middle school were present, M-CMS Band Director Andrew Campo said.
They performed a rendition of "Anchors Aweigh," the U.S. Navy song. While rehearsals were halted because of a COVID outbreak and related school closures, the band was sent videos to practice the music, and caught up in the days leading up to the parade.
"We've been working very hard the last three days to make up for lost time," Campo said.
A lot of school groups attended the parade. Battle Rock School bused up 60 students, said teacher Moqui Mustainfury. In the morning, students heard presentations from local veterans.
Veteran Andy Sanchez enjoyed the parade with his family. He served in the Army from 1950-1954 during the Korean War.
"Serving overseas was better than boot camp," he joked. "Guard duty was one of many challenges during the war."
For the past three years, Lanette Candelaria-Mitchell has supported local participation in the "Greenlight a Vet" movement spearheaded by Walmart, which encourages the public to support veterans by replacing a regular lightbulb with one that shines green.
Candelaria-Mitchell embellished a truck – supplied by Candelaria Construction – with patriotic trimmings. The truck's bed was stocked with green lightbulbs to hand out to families, donated by Slavens True Value Hardware, Matthews Electric, and American Electric.
She also orders banners to celebrate each year, although this year's main banner has not yet arrived. So, it will be hung on Main Street Monday through the rest of the month, said her husband, Dave Mitchell.
"Each year we try to add a little more," Mitchell said.
He estimated they've distributed about 1,300 green lightbulbs in the past three years.
Both have family members who have served, he said.
The Veterans of Foreign Wars Auxiliary, representing the family members of Montezuma County veterans, spent hours preparing a truck with portraits of local veterans.
"I think it's important to show our veterans the respect that they don't get every day," said Corina Hampton with the VFW.
Minutes before the parade's start at 1 p.m., the Craig Taylor Flying Service of Pagosa Springs soared over the hundreds honoring veterans on Montezuma Avenue.
Participants
Cortez Police Department.
Ute Mountain Ute Tribe Veterans Group color guard and Ute Mountain Ute American Legion Post No. 75 color guard.
Cortez Fire Protection District.
Colorado State Patrol car and mobile van.
Montezuma County Sheriff's Office Mounted Patrol and Humvee.
M-CHS Band and M-CMS band.
Veterans of Foreign Wars Auxiliary.
Greenlight A Vet.
Escalante Shrine Club.
Clint Williams horse-drawn carriage.
Montezuma County Patriots.
Montezuma-Cortez School District Re-1 truck.
True West Auto Center.
Lighthouse Christian Academy students.
Over the Hill Gang classic cars.
Vista Grande Inn bus.
Craig Taylor Flying Service of Pagosa Springs.