Ute Mountain Roundup Rodeo a Cortez classic
A large crowd packed the stands this weekend to enjoy the variety of events and fun atmosphere at the Ute Mountain Roundup Rodeo in Cortez.
A record 354 contestants signed up to compete in the three-night professional rodeo, held at the Montezuma County Fairgrounds.
Rock and country music blasted through the summer air as contestants competed in bareback riding, steer wrestling, saddle bronc riding, team roping, breakaway roping, barrel racing and a crowd favorite — bull riding.
Staying on a raging bull as it bucked and twisted for the required 8 seconds was elusive for most riders Friday. Only cowboys Corye Daily, of Dublin Texas, and JaCauy Hale, of Ganado, Arizona, rode the 8 seconds needed to earn a score.
Going into Saturday, the bull riding standings had JC Mortensen, of Paulden, Arizona, holding onto the lead with his score of 89 Thursday night — a Ute Mountain Rodeo arena record.
Daniel Lambright, of Divide, Colorado, was in second with a score of 82, and Corye Daily in third place at 79.5.
FINAL RESULTS
Bareback bronc riding
Jade Taton, 82.5 points
Spur Lacasse, 82 points
Logan Patterson, 81.5 points
Evan Betony, 80.5 points
Steer wrestling
Chase Black, 3.7 seconds
Zack Jongbloed, 4.2 seconds
Nick Guy, 4.4 seconds
Bill Claunch, 5.0 seconds
Tie-down roping
Westyn Hughes, 7.9 seconds
Stetson Vest, 8.0 seconds
Clayton Smith, 8.1 seconds
Colton Kofoed 8.1 seconds
Saddle bronc riding
Leon Fountain, 81.5 points
Reed Neely, 78 points
Creighton Curley, 78 points
Ross Griffin, 75 points
Breakaway roping
Lakota Bird, 2.8 seconds (tie)
Bailey Bates, 2.8 seconds (tie)
Codilynn McPherson, 2.9 seconds
Justine Doka, 3.6 seconds
Team roping
Erich Rogers/Paden Bray, 4.4 seconds
Quinn Kesler/Caleb Hendrix, 4.8 seconds
Rhen Richard/Max Kuttler 5.5 seconds
Wyatt Lacey/Tye Reddell, 6.0 seconds
Barrel racing
Molly Otto, 17.26 seconds
Katie Drosihn 17.33 seconds
Leia Plummer, 17.54 seconds
Shali Lord, 17.56 seconds
Bull riding
JC Mortensen, 89 points
Daniel Lambright, 82 points
Corye Daily, 79.5 points
JaCauy Hale, 70 points
In women's barrel racing, Molly Otto, of Grand Forks, North Dakota, also set a new Ute Mountain Rodeo record, sprinting to a finish in 17.2 seconds.
Going into Saturday, Otto held the overall lead in the event. Leia Plummer, of Bosque Farms, New Mexico, was in second place with 17.54 seconds, and Shali Lord in third with 17.56 seconds.
Otto's flawless guidance of her five-year-old horse, Chewy, to maneuver the clover leaf pattern during the Friday evening performance gave her just the boost she needed.
"Things just haven't been clicking lately, so it felt amazing to go out there and make a good run," said Otto. "We've been hauling hard, and I've been awake for 36 hours now, but I can count on my horse because Chewy loves to work and just amazes me every time."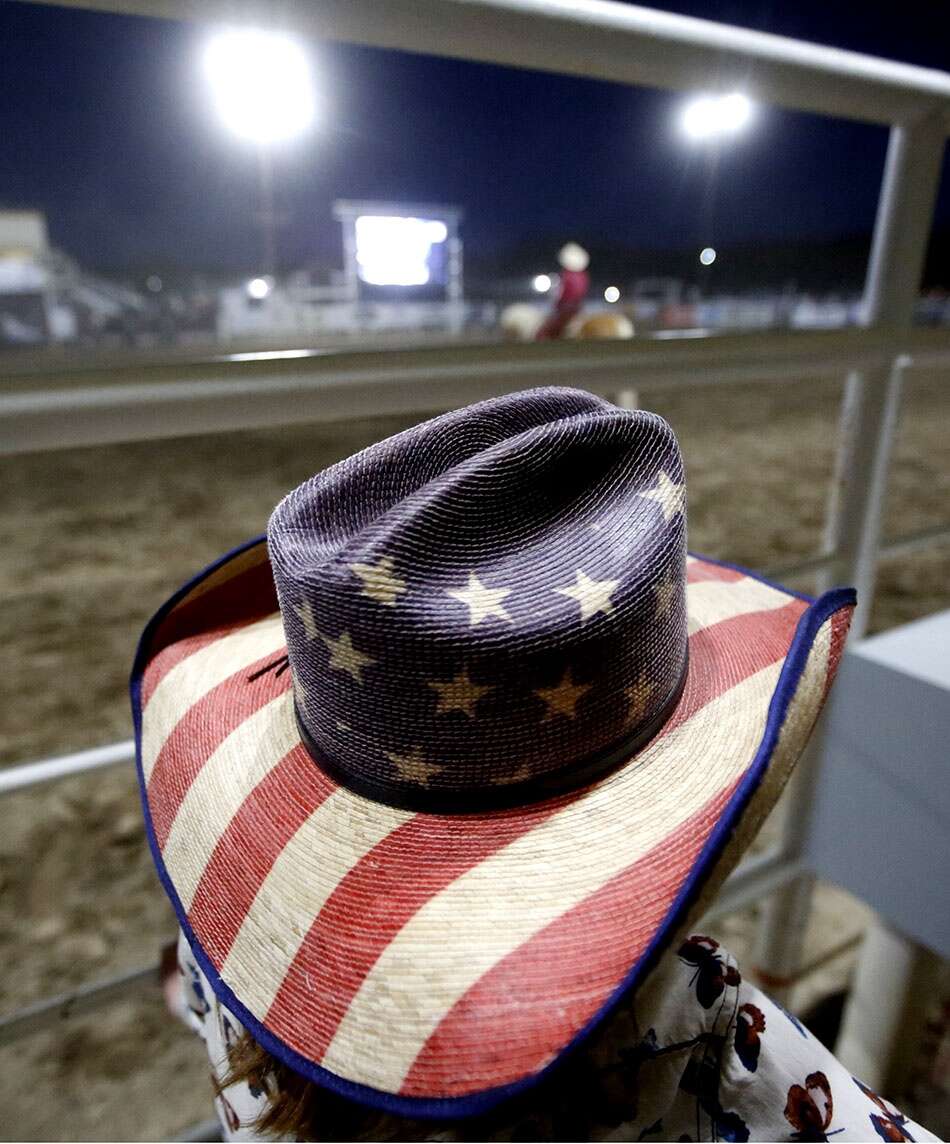 The Team Roping leader board also changed after Erich Rogers of Roundrock, Arizona, and Paden Bray from Stephenville, Texas, roped their steer in 4.4 seconds. Rogers is a 10-time Wrangler National Finals Rodeo qualifier and the 2017 World Champion Team Roping Header. Though Bray is only 22 years old, he already has an impressive resume. Rogers and Bray have been roping partners since 2019 and have been on a winning streak.
Before the event, contestants enjoyed Montezuma County hospitality, relaxed in the chow tent, and were in good spirits. A few took the time to speak with The Journal about their events and jobs.
Professional bull rider Jess Davison, of Cheyenne, Wyoming, competes in 60 to 75 rodeos per year, and enjoys the Cortez event.
For him rodeo "is a way of life, an adrenaline rush." At age 26, Davison has ridden professionally for eight years, and plans to keep up the sport while he is still young.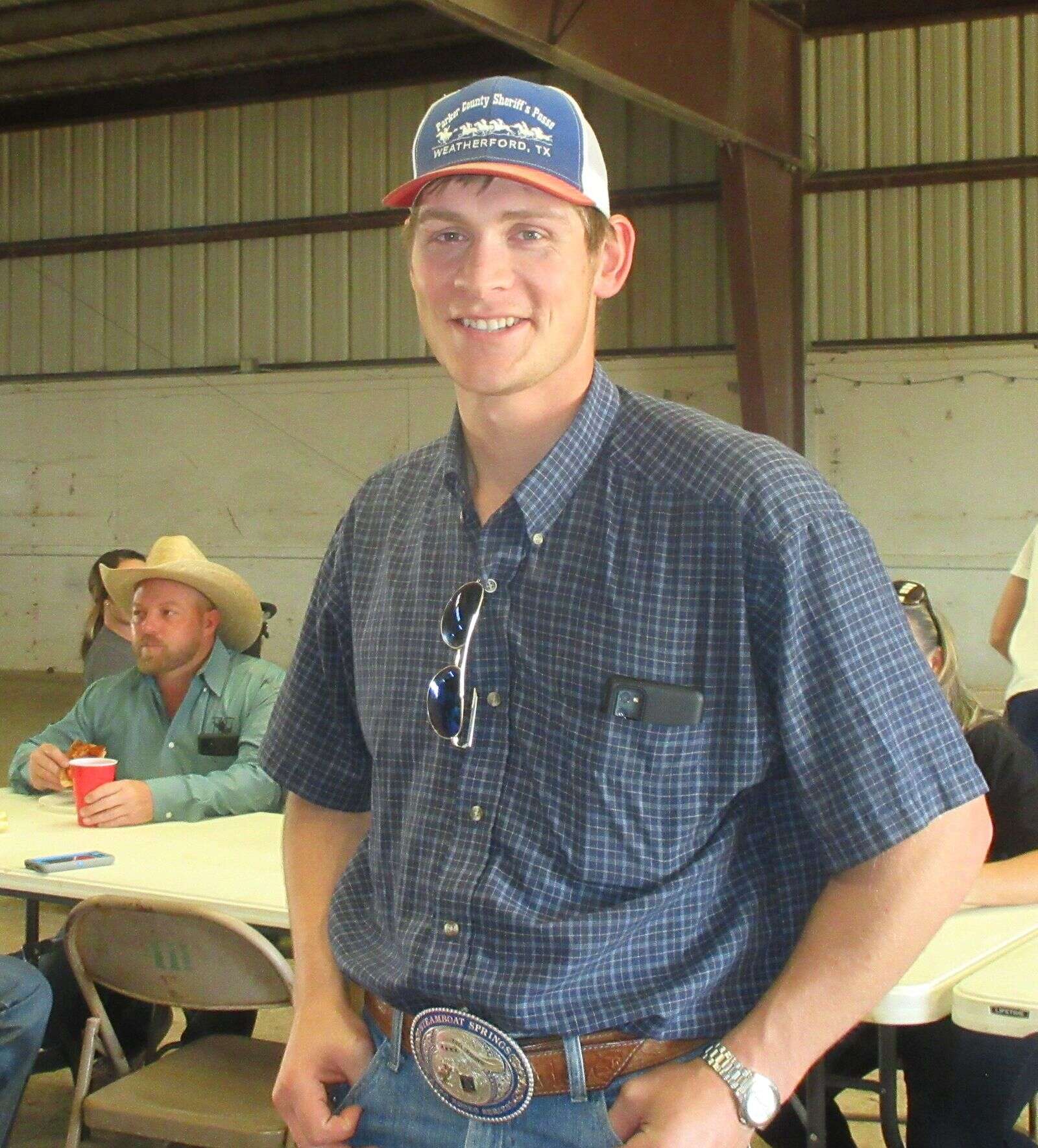 He held on for 5 seconds Friday before being thrown off. The challenge and "enjoyment of "conquering the beast" keeps him motivated.
He's got the scars from previous battles with the bulls including broken rib, forearm, and scapula, torn knee tendons, and a few concussions.
"Bull riders have a high pain tolerance," he says matter-of-factly.
The traveling and the crowds are also nice perks, Davison said.
"Bull riding is great entertainment for the crowd, it is something not many people can do," he said. "When they are out there cheering, it is a whole lot of fun for us."
Bullfighter Zach Dezol, of Elbert Colorado, was there to help keep bull riders safe after they get bucked off and scramble away from the animals that weigh 1,500 to 2,000 pounds.
During the ride, two bullfighters on foot distract the bull and lead it away from the rider. They actually reach in and raise the head of the bull in the midst of the violent bucking so it does not see the rider on the ground.
Meaner bulls will try and go for the fallen rider, Dezol said.
"It is our job to get the bull to follow us, and not the rider," he said. "Sometimes the ones with attitudes will go after us too."
Dezol has been a bullfighter for eight years, and was previously a bull rider. The people of the rodeo and excitement of the event have him hooked.
"It's an adrenaline rush. What I love is that as bullfighters we work 15 or more bull rides in a night, whereas the bull riders are done in 8 seconds or less," Dezol said.
Popular women's event goes pro
Women's breakaway roping is gaining as a sport and became a sanctioned PCRA event in 2021.
The move to the professional ranks is much welcomed by competitors, and means money won by the women will count toward world standing and allow them the opportunity to qualify to compete at the "super bowl of rodeo," the Wrangler National Finals Rodeo in December.
In breakaway roping, a calf is released from the chute with a head start, and the horse rider chases and lassos the calf around the neck. The rope "breaks away" from the rider, which stops the timing clock.
"The popularity of the sport has shot through the roof. It used to be youth to collegiate level, now it is at the professional level," Gaskey said.
Kaylee Billingsley and her mother, Leigh Ann Billingsley, have been competing in the sport for decades, and were contestants in the Ute Mountain Roundup Rodeo.
Kaylee, 22, competes in rodeos year-round across the West, and it is her full-time job.
When all goes right, the event is over in a few seconds. The key for a good run to "stay calm cool and collected" and rely on your roping skills when the calf is released.
To have breakaway roping reach the professional rodeo level "means the world to me," Kaylee said.
It used to be getting out of college level, all that was available for women at the professional level was team roping and barrel racing, now there is a third event, she said.
Kaylee also plays another big role at the rodeo. It's not very often you'll find a woman behind the bucking chutes, but she also does the flanking of the bucking horses during the performance as well.
Flanking is the tightening of the strap around the horse torso just before it is released into the arena.
The tension of the strap is an incentive for the horse to start bucking for the cowboy rider. There are a lot of PRCA rules for flanking; for example, the strap is fleece-lined to protect the horse, and has a quick release.
It is like wearing your belt a little too tight, Kaylee said. "It does not hurt you, but it is a little uncomfortable. It makes the horse kick out."
"Flanking requires timing, and finesse," she said. "You don't want it too tight, or too loose."
Each horse is a different size, and exact measurements are taken to set the flank.
Having a woman do the flanking for bucking horses is rare in rodeos and sometimes gets a reaction from the cowboy.
"Rodeo is a male-dominated sport, and some guys think, 'Oh, a girl is flanking my horse, she's not going to do a good job,' but I prove them wrong," Kaylee said. "It is my job, and I take pride in doing it well."
Kylee's mom, Leigh Ann Billingsley, competes in breakaway roping.
"I love that I can go with my family. Both my daughters rope," she said. "It's really nice that the event being included in the PRCA."
The family has long history in the rodeo. Leigh Ann's Dad was a professional rodeo clown and bullfighter, and her grandmother and her sister and brothers rode saddle bronc in the 1920s.
Saturday night finals
The final performance of the Ute Mountain Roundup Rodeo on Saturday, along with a tribute to military veterans. The rodeo had a sold-out crowd, and many other fans showed up for the Tanner Usrey concert, according to Gaskey.
Rodeo fans got their fill as competitors vied for a piece of the $32,000 purse.
Utah's Chase Black made the fastest run of the rodeo in steer wrestling with his 3.7-second run and won the rodeo by half a second. He had help from his father, who also is his hazer – a second rider who keeps the steer running straight.
"He's my No. 1 one hazer," Black said. "I trust him. I know he's always going to be there."
Saddle bronc rider Leon Fountain, ranked 20th in the PRCA world standings, earned a champion's pay with his 81-point ride on Honeycutt Rodeo's Shack Dragger, whom rodeo announcer Jody Carper described as having "more twist and turns in it than a pretzel!"
Other notable contestants from the Saturday performance included:
Colton Kofoed, who earned a third-place check after his 8.1-second run in tie-down roping.
Rhen Richard and Max Kuttler, who stopped the clock in the team roping with a 5.5-second run, for third place.
Barrel racer Katie Drosihn, who rode her pattern in 17.33 seconds to finish second.
Breakaway roper Codilynn McPherson, who roped her calf in 2.9 seconds, for third place.
jmimiaga@the-journal.com