Former Colorado governor highlights outdoor industry for Public Lands Day
Alpacka Raft, of Mancos, is a perfect example of a business tapping into the Colorado's outdoor recreation economy.
Just ask U.S. Sen. John Hickenlooper.
On Friday, the Colorado Democrat dropped in to tour the business, famous for creating rafts so lightweight and sturdy that they can be backpacked into the wilderness to float remote rivers and lakes.
Hickenlooper, a former Colorado governor and a presidential candidate, was on a tour of the state to celebrate Colorado Public Lands Day on May 15.
The high-tech, yet casual manufacturing plant in the heart of downtown Mancos is a small-town Colorado plant with big ideas and an energetic staff that talks river-running and outdoor gear while building their boats. Friendly dogs lounged about and happily greeted newcomers.
Hickenlooper said he was impressed by the technology and asked questions of workers on various factory machines.
Alpacka Raft design engineer Dustin Partridge led the tour. He explained how the rafts are built, the use of radio-frequency weld technology, materials, seam and stitching techniques, and the variety of models.
The lightest raft weighs in at 3.25 pounds. The larger models range between 5 and 13 pounds. The fabric is made in the USA.
Cargo hulls on the rafts with water- and air-tight zippers allow gear to be stored inside a portion of the inflated raft.
"That is pretty slick," Hickenlooper said.
Hickenlooper, an early entrepreneur during the 1990s boom in Colorado microbreweries, swapped business stories with Alpacka co-founder and lead boat designer Sheri Tingey.
"If you knew how hard it was going to be at first, you might have never done it," Hickenlooper recalled, "but then you would miss out on all the success that comes later."
Tingey said company sales boomed during the pandemic, as people bought boating gear and flocked to the outdoors to escape the pandemic.
"I'm impressed. The boats are really beautiful," Hickenlooper said.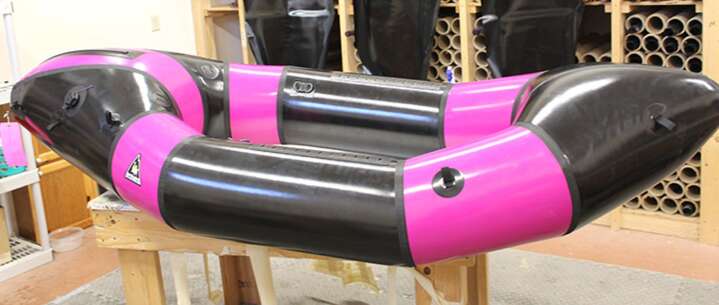 When asked if he planned to tour some local craft brewpubs in Montezuma County, Hickenlooper, a craft beer connoisseur, smiled and said he would like to, but was limited on time. Earlier in the day, he rafted the Animas River in Durango. After visiting Mancos, he headed to Towaoc to meet with the Ute Mountain Ute Tribe.
The senator's staff was eager to check out Fenceline Cider, a popular Mancos hangout with cider made with local apples, and planned to possibly wrap up the day there if time allowed.
jmimiaga@the-journal.com