Ballantine Communications sees mission-driven opportunity in Aztec, Bloomfield and Farmington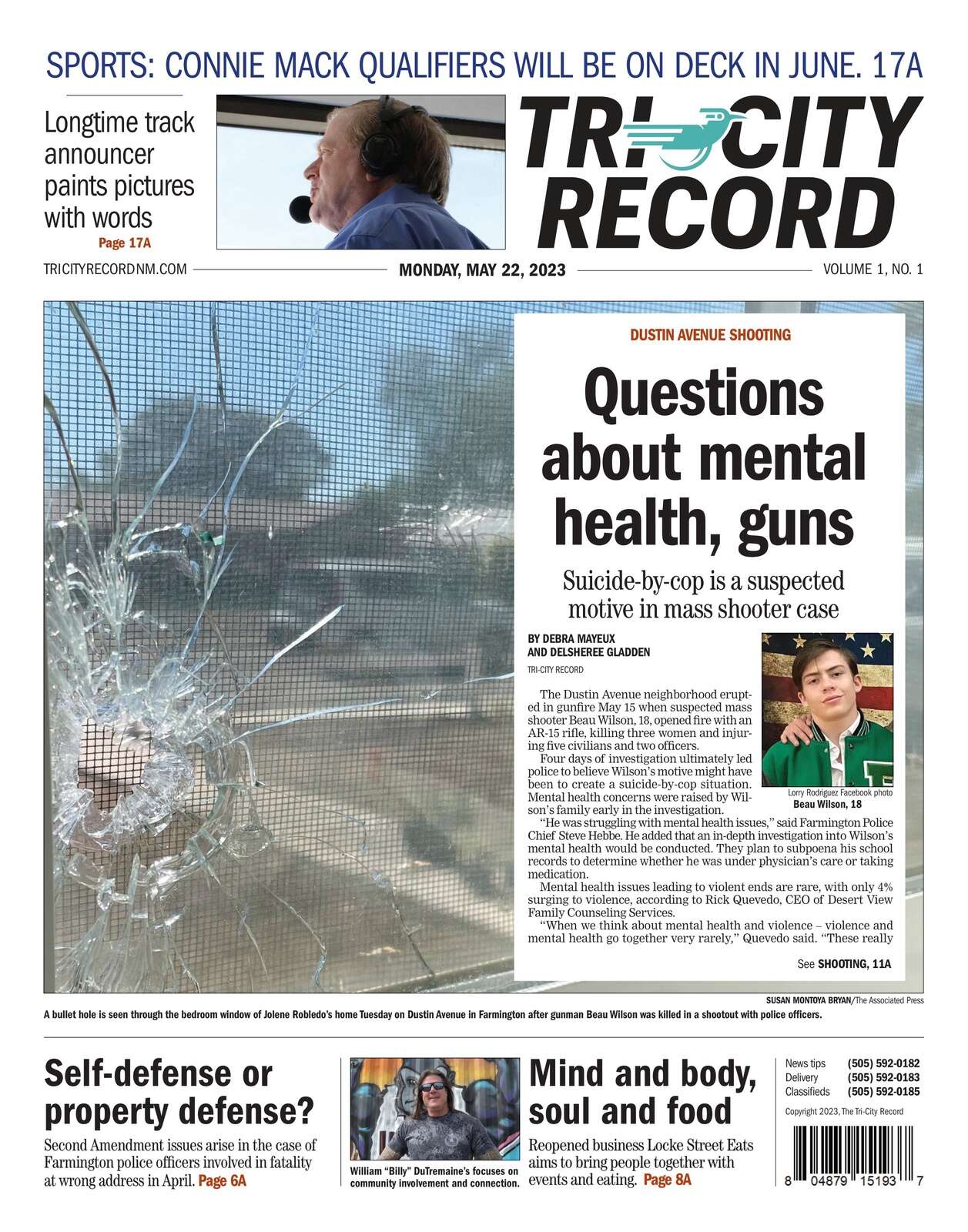 The Fourth Estate extended its reach into northwest New Mexico this week with the launch of the Tri-City Record, a daily website and five-day-a-week printed newspaper.
Ballantine Communications Inc., owner of The Durango Herald and The Journal in Southwest Colorado, started the publication as a mission-driven effort to fill a gap in local news reporting created after the Farmington Daily Times was acquired by media giant Gannett in 2015.
The startup newspaper might come as a surprise to some industry watchers as the number of print media outlets have slowly dwindled in recent years.
A report from Statista about local news agencies in the United States revealed that 2,514 weekly publications closed or merged with other papers between 2004 and 2022, and dailies dropped from 1,500 to fewer than 1,250 during that period.
But that hasn't deterred Ballantine Communications from putting its footprint in New Mexico.
Ballantine CEO Carrie Cass said the move was made to bring local journalism back to that area. With Ballantine's long history serving Southwest Colorado and Farmington through The Durango Herald, she said it was a great opportunity for the company to expand.
"Their paper doesn't have sufficient local news to provide the residents with the kind of information they deserve, so we need to fill the gap," Cass said.
The Herald has been reporting from its office on Farmington's Main Street since 2019.
Tri-City Record Publisher David Cook spent a year conducting community outreach to figure out what readers in northwest New Mexico were looking for.
He said residents and community leaders both told him the region lacked reporting on local issues.
The newspaper prints Monday through Friday and publishes daily online at www.tricityrecordnm.com. It will cover topics relevant to the greater San Juan County region, including economic development, water, education, sports, and city and county governments in Farmington, Aztec, Bloomfield, Kirtland, Shiprock and the Navajo Nation.
In total, the paper will serve a population of about 70,000 people.
The initial print distribution of 5,000 copies will be available at more than 75 central locations at no charge. It will increase to 7,500 copies soon, and home and business delivery is planned, according to a news release.
Cook said the news outlet won't favor one medium over the other.
"One of my slogans as a newsman is that I don't care how people digest the content, I care that they digest the content," Cook said. "I don't prioritize medium. I prioritize that everyone has access to it."
Cook's statement rings especially true when it comes to the paper's subscription model, which intends to be free for an indefinite period of time until the company figures out its readership market.
However, Cook intends to keep one of its mediums free; it has yet to be decided whether it will be offered through the print or online product.
Cook is trying to avoid obstacles readers may encounter when trying to access news from the Tri-City Record.
"We're definitely playing it by ear and sort of responding to the community, but there will always be a way to access the news for free no matter what," Cook said.
Cook is also the publisher and owner of the Aspen Daily News but has ties to the Four Corners as he is a Fort Lewis College graduate.
Ballantine Board Chairman Richard G. Ballantine said Cook's knowledge of the area was among the reasons the company selected him to be the publisher of the newspaper.
"We appreciate seeing what he's been doing in Aspen and really competing unusually with five-day-a-week print papers, and he's been doing that quite successfully," Ballantine said.
Ballantine added that going to print five days a week is an experiment that the company is looking at but the print schedule could help with the paper's initial visibility.
Ballantine said the newspaper will benefit northwest New Mexico communities from a journalistic perspective, but also an employment and business standpoint.
"It'll make it possible for Durango businesses to advertise for employees," he said.
Often, workers who live in Farmington commute to Durango for employment either as a result of job openings or higher wages. However, there are also workers from Durango who commute to the Tri-City (Farmington, Aztec and Bloomfield) area when job openings in La Plata County are scarce.
New Mexico's minimum wage sits at $12 per hour while Colorado's is at $13.65 per hour. That often creates an incentive for workers to cross the state line to find employment.
He said regional business stories will allow prospective employees to see what job markets are like for a better all-around picture of the region's economic landscape.
"Normally, publishers only talk about the news coverage they can provide," Ballantine said. "I think you need to remember that a good local newspaper has a local economic function for small businesses and service providers that's very critical."
tbrown@durangoherald.com