Colorado governor discussed saving people money and reducing crime
Gov. Jared Polis on Thursday delivered the final State of the State address of his first term, focusing mostly on the ways in which his administration and fellow Democrats plan to drive down the cost of living in Colorado.
Polis also discussed his plans to combat rising crime and gaps in children's mental health care, while briefly delving into his climate and environmental priorities.
Here are the biggest lines from Polis' speech along with an examination of why they are so notable:
1. 'If it isn't clear, saving Coloradans money and keeping our state affordable is my top priority this session.'
About a third of the governor's speech Thursday was spent on ways he feels he has or can save Coloradans money.
That tracks with what Democratic leadership at the Capitol focused on Wednesday as the lawmaking term began. House Speaker Alec Garnett said affordability was also his top issue at the Capitol this year.
It makes political sense. Polling has shown Democrats' numbers slumping across the nation amid rising inflation. Members of both major parties say they hear from voters that the cost of living is a top-of-mind issue.
"We promise to use every single tool at our disposal to save hardworking Coloradans the money you need to live the life you want," Polis said.
The governor said he plans this year to push through affordable housing initiatives and fee relief, including by delaying implementation of programs backed and passed by Democrats in recent years. "My administration will work with both parties to continue cutting taxes and fees wherever we can," the governor said.
Republicans argue that Polis and Democratic state lawmakers are responsible for rising consumer costs and find it ironic that they are now so focused on bringing them down.
"He identified a lot of the right problems," said state Rep. Colin Larson, a Ken Caryl Republican. "It's just that he failed to acknowledge that he created them."
State Sen. Dominick Moreno, a Commerce City Democrat, worries that the governor's proposals won't benefit the right Coloradans.
"I think the key is, how can we target assistance to the people that actually need it?" said Moreno, who is vice chairman of the Legislature's powerful Joint Budget Committee. "Some of the proposals I'm seeing are a lot more broad-based. It would provide relief to, frankly, businesses and folks that don't need it, didn't have any impact during this pandemic, maybe even made record income and profits throughout it."
Moreno said he wants to better tailor affordability measures to help "the people who need it the most: the low-income folks, the restaurants that were decimated during the pandemic."
2. 'Because our revenues as a state are strong, families will also receive a refund'
The governor celebrated how revenues exceeding the Taxpayer's Bill of Rights limit on government growth will mean Coloradans are forecast to get refund checks and an income tax reduction for the next several years.
That position clashes with some of his fellow Democrats, who are exploring how to keep some of the excess and direct it toward priorities such as education. It also bucks the general Democratic opposition to TABOR, a Republican mainstay in Colorado that liberals complain has led to fiscal issues in the state for nearly three decades.
It was also interesting to hear Polis celebrate in his speech the 2020 passage of a ballot measure slashing Colorado's income tax rate.
The governor said the move "is saving families about $100 per year on average, while helping businesses hire more and pay more." But most Democrats opposed the ballot measure.
Another Republican-backed, income-tax-reduction measure is headed for the 2022 ballot.
3. 'I've never been one to shy away from ambitious goals, which is why I want to spend the next five years making Colorado one of the top 10 safest states in the country.'
The governor first introduced this objective last week during a Colorado Sun event ahead of the 2022 lawmaking term. It's a lofty goal given that Polis says the state is in the middle of the national pack when it comes to the state's crime rates.
The objective is yet another nod to political realities heading into the November election, as Republicans accuse Democrats of being weak on crime.
Senate Minority Leader Chris Holbert, R-Douglas County, said crime is just another area where Democrats are shifting their stance to meet changing public perception.
"They have pushed very hard to let people out of jail, out of prison, be softer on sentencing," Holbert said. "Now, it seems like their focus is trying to, again, retreat from where they've been."
After Polis' speech, the County Sheriffs of Colorado, Colorado Association of Chiefs of Police and Colorado Fraternal Order of Police released a joint statement thanking the governor for his focus on public safety but called on the Legislature to focus on "sustainable, renewable funding."
4. 'Data and common sense tell us that preventing a crime does more to keep people safe than solving a crime after it's committed.'
This is an area where Democrats and Republicans disagree on how to tackle the crime wave in Colorado.
While the GOP is pursuing some stiffer policies, Democrats want to invest in behavioral health and housing as ways to improve public safety. The idea is to create a social and economic environment where people are dissuaded from breaking the law.
But there are some exceptions.
"We also know that there are times when the swift arm of justice is the best solution," Polis said, "which is why I look forward to legislation to strengthen penalties for drug dealers peddling fentanyl in our communities."
State Rep. Leslie Herod, a Denver Democrat who has worked extensively on criminal justice reform issues in Colorado in recent years, said she thinks the governor's approach is correct.
"We can't go back to the punitive policies of the 90s," Herod said. "Instead, we need to prevent crimes of desperation before they happen, which means bringing down the cost of living, ensuring that people can live in their homes and feed their children. But we also need better trained officers and more mental health first responders in the field in our communities."
As for Republicans blaming Democrats for rising crime, "we know that that's not true," Herod said.
"There's not one single bill they could point to say that is what has caused crime to go up." she said. "COVID or economic climate, depression and despair is the reason why crime is up. And we have to address that. This is not a political talking point. This is people's lives."
5. 'Building safer, healthier communities also means improving our air quality and meeting the climate crisis head on.'
The governor mentioned the word "climate" in his speech only three times. Environmental protesters outside of the Capitol, urging Polis to take more action to address climate change, could be heard throughout his speech.
The activists held signs that spelled out the message, "OUT OF TIME."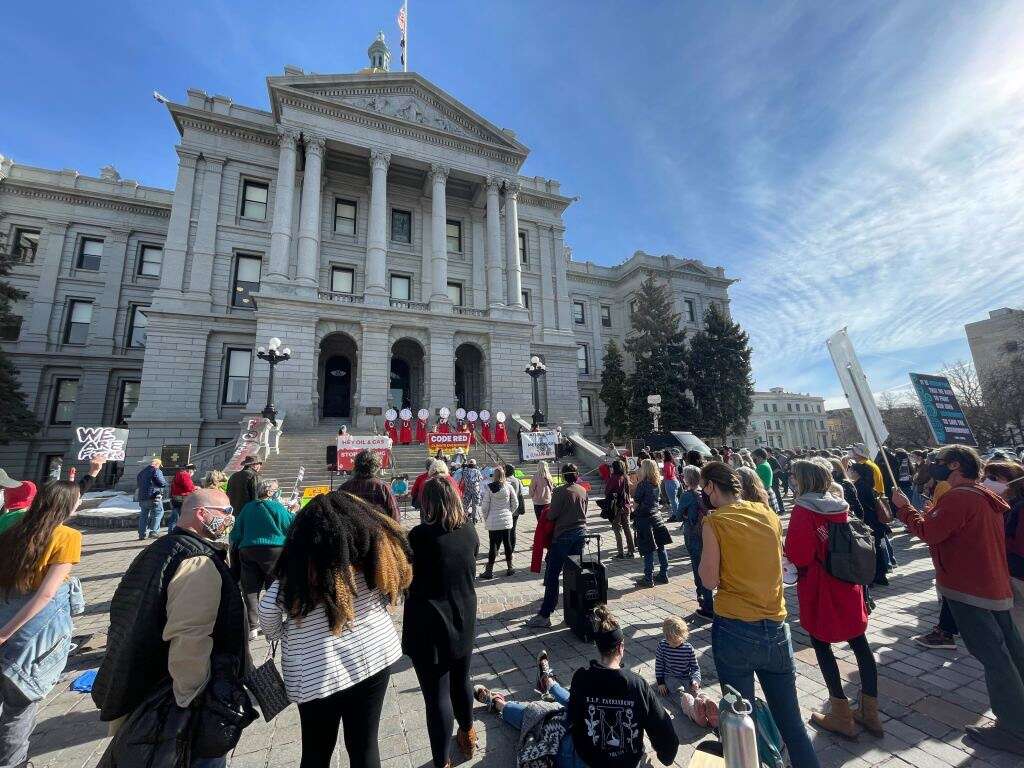 Some fellow Democrats, like state Rep. Emily Sirota, a Denver Democrat, wanted to hear Polis focus on the issue more.
"The state is literally on fire. The world is on fire," she said. "There should be more attention paid to the climate emergency. I think that we can both do that and help save people money."
Garnett, the House speaker, said Democrats will definitely be focused on climate and environmental issues at the Capitol this year.
"I think climate is a priority," Garnett said, noting that cleaning up Colorado's air will be a particular emphasis in 2022. "You'll see us leaning in on that and trying to figure out the best way forward."
Polis said at a news conference after his speech that "we look forward to engaging with legislators in an aggressive way to reduce emissions."
6. 'We are tougher than anything thrown our way'
Colorado's resiliency was also a big theme in the governor's speech as he noted the recent wildfire in Boulder County, the Table Mesa King Soopers shooting, and a gunman's recent rampage through Denver and Lakewood. He also nodded to the state's COVID-19 deaths.
"Today's speech was really about the Colorado people – the need to rise to the moment," Polis said at his news conference.
Polis said during his speech that "we are tougher than anything thrown our way. I've seen it myself." He thanked those who have stepped up during crises over the past year, saying they embody the "Colorado spirit."
This is how the governor ended his speech: "The state of our state, just like the people of Colorado, is strong, it is steadfast, and, in spite of everything, we are boldly moving forward."
7. 'I don't know about you, but I'm feeling 2022'
Polis often injects his nerdy humor into his speeches, and his 2022 State of the State address was no exception. He referenced Star Trek by giving a shout out to certain Democratic lawmakers whose work, he said, will help communities "live long and prosper."
He also sprinkled in music references, invoking lyrics by pop singer Taylor Swift to describe his optimism: "I don't know about you, but I'm feeling 2022, everything will be all right, because we know what we gotta do."
And the governor wrote his own version of Paul Simon's hit song from 1975, "50 Ways to Leave Your Lover," saying, "there must be at least 50 ways to save Coloradans money."
Reacting to the governor's pop culture references, House Majority Leader Daneya Esgar, D-Pueblo, noted she's "more of a Paul Simon fan, not quite into the Taylor Swift thing, but you know, I thought it was quirky. It was the governor."
While the pop culture references did get some laughs, Polis mentioned Taylor Swift twice compared to his three uses of the word "climate." That raised some eyebrows.