27-year-old man in stable condition
A 27-year-old man who was speed flying, a form of paragliding, crashed Friday morning on Smelter Mountain near downtown Durango.
The man, identified as Sean Englund, was complaining of severe back pain, according to other paragliders who were first on scene to check on his condition.
During a brief interview Friday afternoon from Mercy Hospital, Englund said he has been paragliding for five or six years and speed flying for two or three years.
"I am a skilled pilot," he said. "I have flown across Mexico, all across the U.S., in Canada. So I'm proud of my skill, and it's just the nature of the sport. Sometimes you win, sometimes you lose."
He did not want to discuss his injuries, saying he didn't want an article that reflected poorly on the sport.
Jeremiah St. Ours, a longtime local paraglider, said four people launched one after another Friday morning. Because of the line of sight, no one saw the crash occur, but they each saw Englund on the ground as they sailed overhead.
St. Ours said he was able to achieve enough lift and circle around to communicate with Englund from the air.
"I said Sean, are you OK? And he said 'I'm hurt.' And I said what hurts?" St. Ours said. " … He said 'I'm broken.' And I said an ankle, a leg, an arm? And he said 'No, my back.'"
The crash was reported at 7:49 a.m. by a driver who witnessed the crash while driving on Camino del Rio, said Chris Burke, spokesman for the La Plata County Sheriff's Office.
The crash occurred more than halfway up the mountain on a steep slope with thick oak brush and a deep ravine running up the length of the hillside.
First responders used chain saws to clear a path for rescue workers to bring the man down.
St. Ours said the other three paragliders landed safely and immediately ran up the mountain to check on Englund.
"He was obviously going into shock. He was in extreme pain, but he was conscious and lucid," St. Ours said.
St. Ours said speed flyers use smaller "wings" than paragliders, which make them faster and more maneuverable. But it also means they don't get the same loft as paragliders.
"We're going to try and analyze things, but apparently he misjudged his depth and had an impact with the ground at some point," St. Ours said. "Whether it was first with the wing or first with his body we don't know. But his wing is pretty torn up. All of his gear is pretty torn up."
Grady James, another paraglider, said he launched about five minutes after Englund.
"I flew over the top of him and yelled down," James said. "I said, are you OK? And he said 'no.'"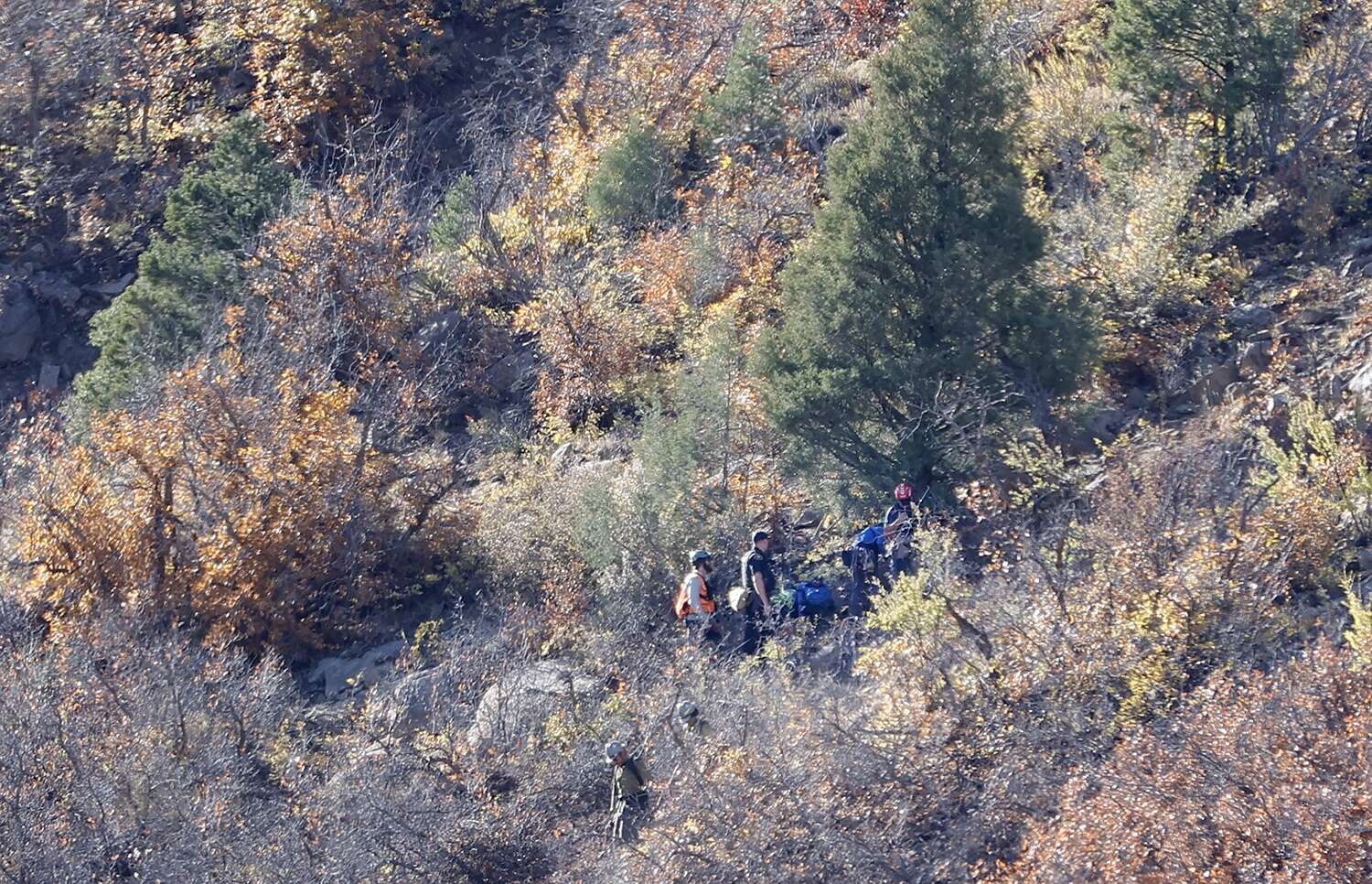 James said he ran up the mountain to the crash site. Englund asked James to give him space, so he backed up. James believes Englund didn't want the attention, similar to a young boy who might eschew attention after stubbing a toe.
"I determined that he was talking and he was wiggling his toes," James said.
About 20 rescue workers responded, including members from La Plata County Search and Rescue, the Sheriff's Office, the Durango Police Department and Durango Fire Protection District. They used ropes and pulleys and a stretcher to bring Englund down the mountain.
Residents have used Smelter Mountain for paragliding for decades. Officials went back and forth on whether it was a legal activity in the 2010s, but in 2018 Colorado Parks and Wildlife gave its blessing to the activity at that location.
St. Ours said Friday's crash is the first and only crash he is aware of since 1988, the first year he launched from Smelter Mountain.
"It's just a one in a million kind of accident," he said. "In all these years, we've never had an accident until today."
Englund said he is also a professional highliner, which involves traversing suspended ropes at high distances. He belongs to several organizations and has certifications related to his high-altitude sports, he said.
"I'm very safety-oriented and very driven toward being on the safe side," he said. " … I think safety is a huge thing."
shane@durangoherald.com