Drought mixed with solid monsoon makes for stunning fall colors
It's that time of year when the days start getting shorter and the plant life puts on a grand finale of colors before going dormant for the winter.
Luckily, residents of Southwest Colorado can enjoy front row seats to that final performance of the year.
This year, a combination of drought and recent monsoonal moisture ought to bring out stunning colors in our local foliage.
"When you get those extremes, it tends to bring out the brighter colors of the foliage, when you have a dry period and then you get some good rains during the summer," said Mark Miller, meteorologist with the National Weather Service in Grand Junction. "It tends to make it a heartier foliage."
The reason behind this color display has to do with trees not getting as much light during the shorter days.
"The loss of light stops photosynthesis," Miller said. "Once that process stops, the green goes away and reveals all the colors that would otherwise be masked by the chlorophyll, which is green."
While the leaves have just started changing in higher elevations, Miller said we're heading toward peak foliage colors in the next couple of weeks.
Whether its hiking, biking, driving or fishing, there is no wrong way to enjoy the fall colors.
Some key spots highlighted by national forest and state park workers include:
Hikes
Purgatory Flats down to Cascade Creek is an easy-to-moderate hike that has groves of aspens to enjoy.
Chicken Creek Trail in Mancos State Park is an often overlooked but beautiful area to get out for a fall hike. It is quiet in the fall, making it a great place for wildlife and bird viewing.
West Mancos Overlook and the Big Owl Trail are good short hikes that have more intense colors later in the season.
For a nice fall hike or horseback ride, the U.S. Forest Service recommends Opal Lake in the Pagosa Springs area of the San Juan National Forest.
Drives
U.S. Highway 550 from Durango to Silverton is a great way to see the colors for those who might have trouble with a hike.
Andrews Lake and Andrews Lake State Wildlife area near Molas Pass are great places to see the colors and get out and stretch if you're making a drive on Highway 550 between Durango and Silverton.
The Forest Service said the Continental Divide from Molas Pass east will have great colors.
Another suggested drive is Archuleta County Road 400 and Forest Road 645, which is known as Four Mile Road, north of Pagosa Springs.
The Plumtaw, also known as Forest Service Road 634, is another recommended fall drive northwest of Pagosa.
Forest Service Road 631 is a scenic fall drive up to Williams Creek, north of Chimney Rock.
Other recreation activities
Mountain bikers who don't mind traveling a little farther out of town might enjoy the fall sight of the Salt Creek Trail between Dolores and Rico with tons of aspens.
For fishing, Twin Spruce Ponds in the Dolores area off Colorado Highway 145 provides relaxing backdrop colors for anglers.
Stoner Mesa is a motorized trail North East of Dolores that is also popular with mountain bikers, and features great fall views.
San Juan National Forest and Colorado Parks and Wildlife both stressed safety when heading out to see the seasonal colors.
Some leaf peepers could encounter wildlife.
John Livingston with Colorado Parks and Wildlife urged people to give animals space.
"With moose and elk in the rut during mating season, they can be more territorial, and we always encourage people to stay back from those animals," Livingston said. " Give them some space, and let wildlife be wild."
Livingston urged people to use the zoom function on their cameras, and make sure pets are leashed.
"Those animals see a dog as a predator and as a threat, so you want to make sure your dog's on a leash," Livingston said.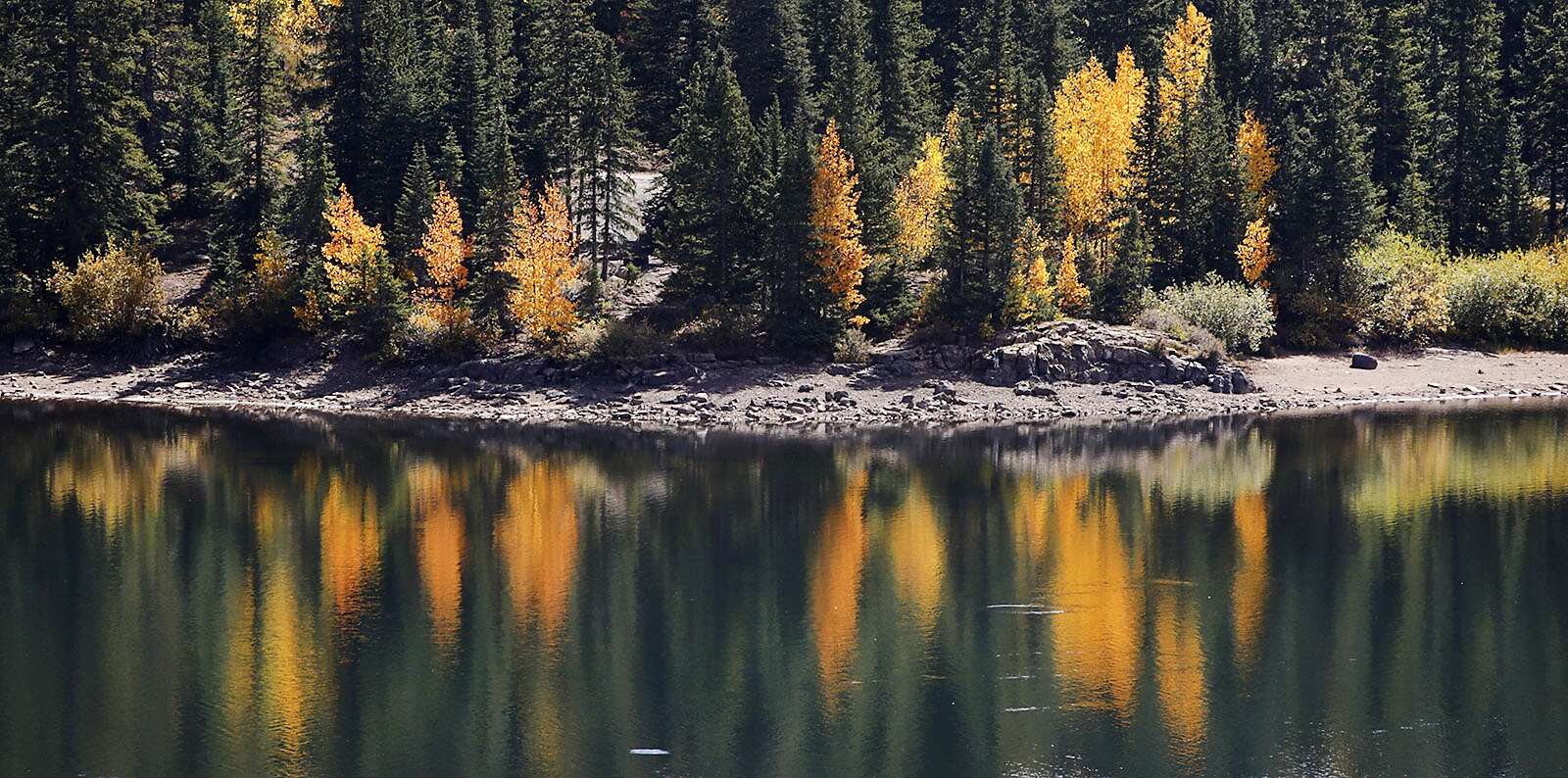 Johnathan Erickson, forest recreation manager for the San Juan National Forest, hopes visitors will recreate responsibly.
"There's just been so much use on public lands recently, it helps so much when people go out with the mindset to take care of themselves," Erickson said.
He said it's important for those heading into the wilderness to be prepared.
"An innocent day out can turn into quite the adventure if we're unprepared," he said. "We're on that transition into winter, and especially if people are traveling on some of these scenic roads they can lead to places where people may choose to go in that are a little more rugged."
Miller also noted the fire danger is increasing because of dryer weather.
"Heading into the fall and even in early winter, you get more jet stream disturbances which tend to be a little bit farther south," Miller said. "We certainly could be looking at some fire weather concerns over the coming weeks."
The San Juan National Forest maintains a Fall Color Report that gives a percentage of foliage change by different areas throughout the region. To view the report, visit the San Juan National Forest webpage www.fs.usda.gov/sanjuan and click on Fall Color Report along the right side of the page.
Fall Color Report as of Monday
Durango to Purgatory: 0%
Purgatory to Coal Bank: 0%
Coal Bank to Molas Pass: 5%
Molas Pass to Silverton: 30%
Silverton area: 50%
Silverton to Red Mountain Pass:30%
Red Mountain Pass to Ouray: ~50%-60%
Dolores to Rico: 10%-15%
Rico to Telluride: 10%
Telluride to Ouray (Dallas Divide): 15%
Missionary Ridge: 5%
Mancos Area: 0%
La Plata Canyon: 0%
Pagosa Springs: 0%
Source: San Juan National Forest
njohnson@durangoherald.com