Winners were LaVonne Heaton and Tim Lanier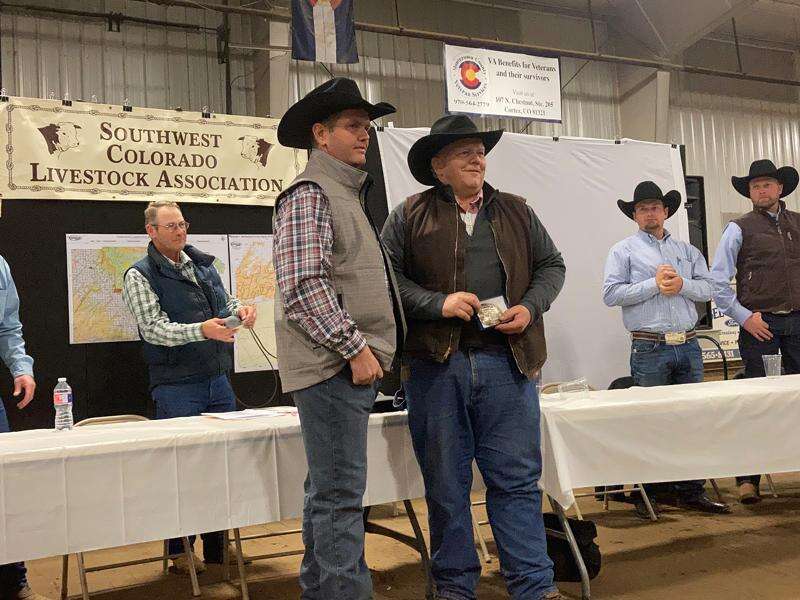 The Southwest Colorado Livestock Association presented the Cowbelle and Stockman of the year awards Saturday evening at the Montezuma County Fairgrounds indoor arena. The winners were LaVonne Heaton and Tim Lanier.
The annual steak dinner and award presentations followed a morning of reports from Montezuma County commissioners and other local, state and national government officials who handle land and wildlife issues. The afternoon consisted of a potluck luncheon and business meetings.
Shortly before dinner,the Southwestern Cowbelles raffled their annual brand quilt. There were also live auctions for items ranging from a bottle of whiskey to a Navajo rug.
LaVonne Heaton was named the 2021 Cowbelle of the Year. Born in Cortez, Heaton's family moved south of the city when she was in the third grade to raise hay and run a dairy farm. After her education in Cortez, Wheaton went on to beauty school in Sante Fe, New Mexico, according to her bio.
She met and married her husband, Al, in 1974, and the couple made their home in Dove Creek. Al ran a custom combining service, cutting wheat from Central Oklahoma, through the Texas Panhandle, on to east Colorado and back home to Southwest Colorado. LaVonne cooked lunch for the crew and was a truck driver herself, hauling wheat or beans from the fields.
After awhile, the couple no longer desired life on the road and decided to raise a family. The Heatons now have six children and eight grandchildren.
When the opportunity to put together a cattle ranch came up, they seized it. The Heatons owned and operated the East Pines Ranch for the next 30 years. LaVonne helped in working the cattle, calving, branding, weaning and shipping. She was also the chief cook and bottle washer as the couple moved into agricultural tourism, welcoming guests to the ranch and educating them on the beef industry.
"Being a rancher's wife requires wearing many hats," Heaton was quoted as saying.
She even found time to cook for the school lunch programs, grow a large vegetable garden and raise a flower garden every year.
Heaton is a longtime member of the Southwestern Cowbelles, having held the office of treasurer for two years.
"I really didn't expect this," Heaton said Saturday night. "I'm very proud to be a Cowbelle."
Stockman of the Year
Tim Lanier was announced 2021 Stockman of the Year.
According to his bio, Tim Lanier was born in Germany in 1956, while his father was in the service. While still a baby, the family returned their farm in Pleasant View, which his grandfather homesteaded in 1917. They mostly grew pinto beans and cleared more land to farm. A young Tim pushed his small blue wheelbarrow, already trying to help as his father and grandfather built the barn.
Lanier attended Pleasant View Elementary School. In middle school, he enjoyed sports and played the trombone in the band. In high school, Lanier joined the rodeo club, wanting to travel the rodeo circuit, ride bulls and wrestle steers. In summer, Lanier would sometimes sneak out of the house with his cousins and ride cows in the corral after dark.
After graduating high school, he worked on the family farm before embarking on a two-year mission to Louisville, Kentucky, for The Church of Jesus Christ of Latter-day Saints. After his mission, Lanier attended Ricks College in Idaho, earning an associate degree in farm crops management. It wasn't long before he bought farmland and a herd of cattle.
He met his future wife in college, and the couple got married in July 1978. They now have five children and 20 grandchildren.
Lanier's first herd of cattle were Salers, which he had for several years. He has enjoyed going to the National Western Stock Show for many years.
Lanier's been active in the community as well. For years, he was an EMT for the Pleasant View Fire Department. He served on the Montezuma-Cortez Board of Education for 12 years, four of them as president. For the past 30 years, Lanier has been on the Farmers Telephone Co. board of directors. He currently serves as president.
He was a bishop in The Church of Jesus Christ of Latter-day Saints for six years.
In 2017, Lanier received news that he had Stage 4 prostate cancer that had metastasized to his bones. He had surgery to put a metal rod in his leg was able to return to work. He has undergone radiation and chemotherapy.
Upon receiving the honor Saturday night, Lanier was humble.
"I have a great love for the people of this area," Lanier said. "I wouldn't want to live anywhere else."
The crowd was treated to music from The Vanishing Breed to finish the evening.
anicotera@the-journal.com