National Weather Service warns of driving impacts; up to 16 inches of snow expected in mountains
A significant winter storm is expected to snap Southwest Colorado's unseasonably dry spell with the delivery of cold, wet conditions beginning early next week, according to the National Weather Service.
The storm offers a "major adjustment from what we've been experiencing so far in 2022," the weather service said.
Sunday afternoon, the weather service issued a winter storm warning through Tuesday afternoon for La Plata and Montezuma counties. A warning is issued when a storm is occurring, imminent or likely.
Cortez is expected to receive about 6 inches of snow, said Ben Moyer, forecaster with the National Weather Service, on Saturday. Durango is expected to receive 6 to 10 inches.
Higher elevations in the Southern San Juan Mountains could receive 16 inches of snow.
The NWS station in Grand Junction predicts the storm will enter Southwest Colorado Monday morning and continue through Wednesday, with a slight chance of snowfall on Thursday.
Moyer cautioned that the forecast could change as the storm approaches.
The current forecast shows a 20% chance of snow showers after 11 a.m. Monday in Cortez, and a 40% chance in Durango, with that number rising to 50% at night in Cortez and 60% in Durango.
Snow showers are likely Tuesday and Wednesday, with patchy, blowing snow forecast between 10 a.m. and 2 p.m. in Cortez Wednesday and slight chance for more snow Thursday.
The weather service issued early caution for potential road impacts.
By Thursday evening, conditions will be mostly clear, with a low of 2 degrees in Cortez and 4 degrees in Durango.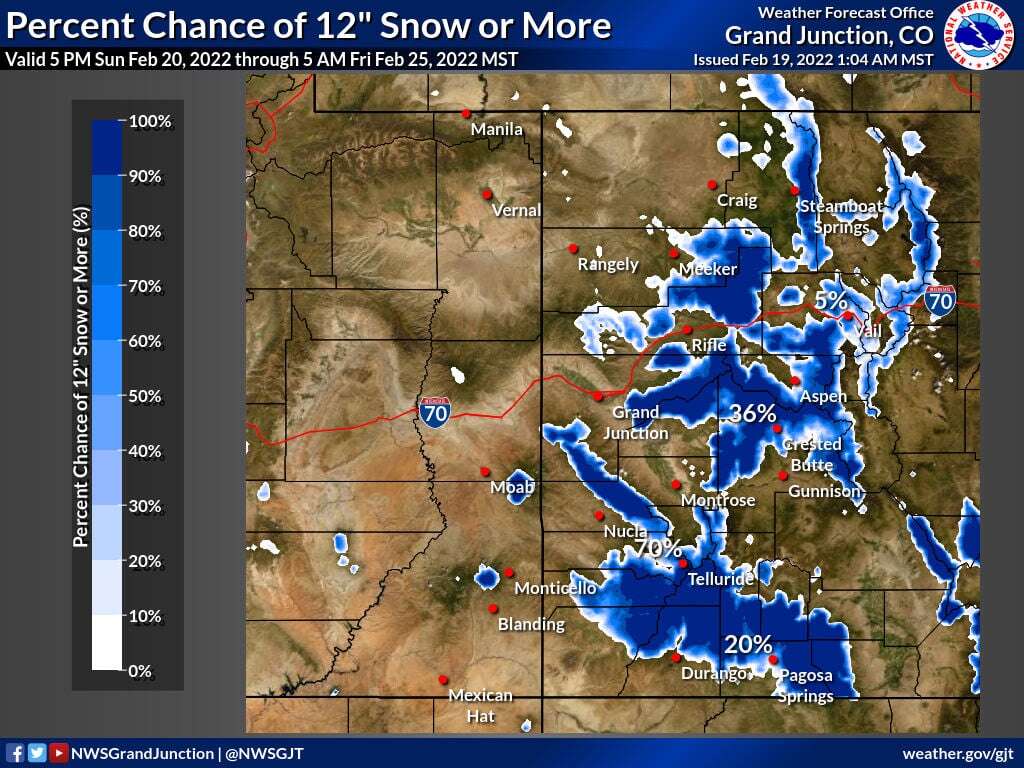 Snowpack for the San Miguel, Dolores, Animas and San Juan River Basins is at 87% of its median normal levels, according to Feb.19, according to the SNOTEL report from the Natural Resources Conservation Service Colorado.
Currently, the Southern San Juans face moderate risk of avalanche, according to the Colorado Avalanche Information Center.
Current ski area reports
Purgatory Resort reports 2 inches of snow in the past three days. Eight of 12 lifts are open and 101of 105 trails are open. Purgatory reports a 41-inch snow base.
Hesperus Ski Area reports 4 inches of snow in the past three days and a 20-inch base. All 26 trails are open.
Telluride Ski Resort reports 5 inches of new snow in the past three days. Telluride reports all 17 lifts and 126 of 148 runs open.
Wolf Creek Ski Area reports 6 inches of new snow in the past three days. Snow is 89 inches deep at the summit and 80 inches at midway.
Silverton Mountain reports a 76-inch base, and it received 9 inches of new snow in the past three days.