Several groups, organizations now offer special programs for individuals with sensory issues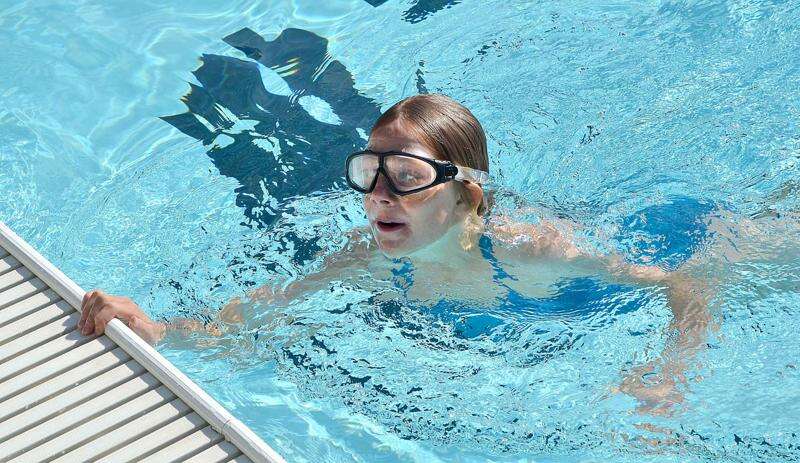 This summer, Bloomfield Aquatic Center will offer sensory swim sessions for autistic individuals or those struggling with other sensory issues or special needs.
Sensory issues may co-occur with autism or ADHD, but do not cause them, according to medical experts. Sensory issues exist on a spectrum. Individuals may be sensitive to sights, sounds, smells, tastes, touch, balance, awareness of body position and movement or awareness of internal body cues and sensations.
According to Autism Speaks, managing sensory issues expends a great deal of energy and can make it difficult for a person to function in everyday situations. Constant movement or an abundance or stimuli can overload the system of a person with sensory issues.
Accommodations that limit sensory input are helpful to individuals with sensory issues, which is a focus of new sensory swim sessions at the Bloomfield pool. Fewer swimmers, and sessions with families who understand sensory issues, will hopefully provide a more calming and relaxing swimming experience for swimmers with sensory issues.
Monica Nez of Aztec initiated the program by contacting the Bloomfield Aquatic Center to request that a time be set aside for anyone with special needs to comfortably enjoy the facility.
"My son likes water and it's hard to go around other kids. So I contacted like the local swimming places and I asked them if they did anything like that," Nez said in a phone interview.
Nez contacted Marnie Martin, Bloomfield Aquatic Center coordinator, and asked if they would consider setting aside specific times for individuals with special needs. Martin agreed to allow Nez to pick three dates and times over the summer.
Sensory swimming session will take place from 11 a.m. to noon June 10, July 8 and Aug. 5 at The Bloomfield Aquatics Center, 201 E. Blanco Blvd. Public swimming begins at noon.
Nez has an 11-year-old with severe autism and ADHD, and a 3-year-old with moderate autism.
Nez said swimming is "something they enjoy and it's good for them … to get out and be around other kids." She said she would love for her children to become more comfortable in the water and to learn to swim.
Nez said she shared the program with other agencies who work to spread awareness and seek support for those in the community with sensory issues.
Several other area businesses and organizations have recently joined the effort as well.
Fly High offers special sessions for those with sensory issues from 9 a.m. to 11 a.m. each Saturday. Admission for parents is $5 and $6.50 for children, with one therapist admitted free. Additional family members or caretakers are also $5.
Jessica Dick will lead a sensory art night from 5 to 6:30 p.m. Wednesday, May 24, at Farmington Municipal Schools building, 3401 E. 30th St.
Dick will guide the group through making a beginner-level clay pinch pot. Dick holds a bachelor's degree in psychology and a master's degree with a double major in art therapy and counseling. She is also an artist who practices in multiple types of media. Participants are invited to bring a snack to share.
For more information on sensory issues-related events, contact Nez at (505) 716-8936. For more information on the swimming sessions, call The Bloomfield Aquatic Center (505) 632-0313.