Biologists suiting up selected birds to track locations, behavior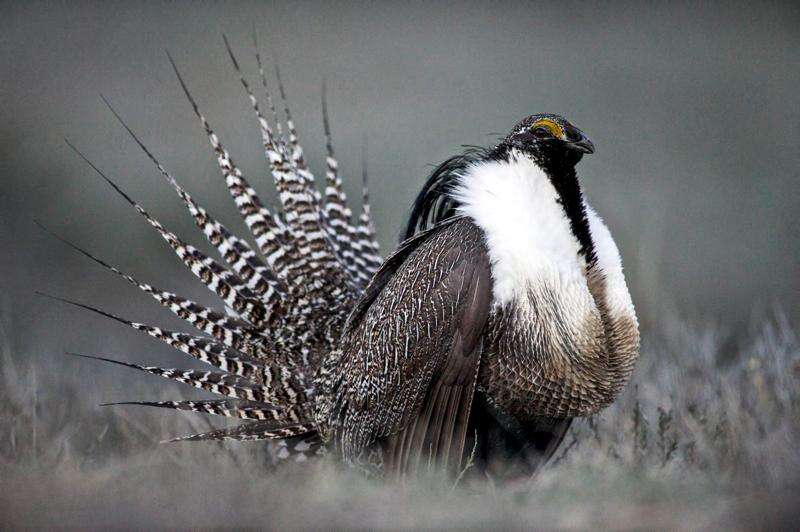 A select group of the Gunnison sage grouse are going backpacking.
The chicken-size bird is famous for a bizarre mating display put on by males in the spring. The species is struggling to hang on in southwest Colorado and southeast Utah and was recently listed as threatened under the Endangered Species Act.
To keep tabs on their whereabouts, wildlife biologists are fitting birds with GPS backpacks as part of a pilot program with the BLM and Colorado Parks and Wildlife (CPW).
Four GPS backpacks were purchased for $4,000 apiece through a grant from the National Fish and Wildlife Foundation.
A male and a female have been fitted with backpacks in Dry Creek Basin, in San Miguel County, said Nathaniel West, a wildlife biologist with the BLM's Tres Rios office.
Unofficial estimates of that population is around 50 birds, 29 of which were translocated from the more stable Gunnison Basin population.
The plan is to deploy two more in the Monticello-Dove Creek area.
"It has been extremely difficult to find birds in the Dove Creek area because the population is so small, so we have not been successful there," West said.
The location of the two birds with GPS backpacks are uploaded to a satellite four times in a 24-hour period. The data is then downloaded onto a website for study.
"It is real-time data, with locations within 1,000 meters. We can see where they are during lekking time, and where they are roosting at night," West said.
The tracking devices also allow researchers to see whether the birds are using specific range habitat that has been improved for them.
But the limited scope of the pilot study means it won't reveal comprehensive data on the isolated population.
"To get more detail, we will need more backpacks," West said. "Then we can get a better view of which habitat is being used, and which is being avoided."
The ground-dwelling birds have low nest success and are susceptible to predation by coyotes, cougars, bobcats, raptors, and ravens. Smaller, more isolated populations of grouse such as around Dove Creek and Crawford are more at risk from predators because they can't absorb their impact.
Ravens can be a concern for smaller grouse populations, West said. On a recent trip to Dry Creek Basin, he witnessed large flocks of ravens.
"Research shows that territorial, nesting ravens will go look for grouse, follow them, predate multiple nests and cache the eggs," West said.
Locals have pushed for wildlife agencies to increase predator control as a solution for protecting the grouse.
But Renzo DelPiccolo, a Montrose CPW manager, reported that a recent two-year experiment to aggressively control predators at Miromonte Reservoir on behalf of grouse did not show improvement for their population.
"We did not see the success we would have liked, and could not say that predators are the smoking gun," he said. "It was a lot of effort and money with no real results."
Livestock grazing and grouse can coexist, officials said, but it takes cooperation with the ranchers and increased monitoring to insure the bird's key habitat areas (such as leks and sagebrush) are protected.
Biologists are gathering rangeland data in grouse habitat to determine total vegetative production over a five year period.
"The plan is for a landscape-wide assessment, and a management description for each area," West said.
Wildlife officials reported that $30 million has been spent protecting the sage grouse in the last 20 years.
jmimiaga@cortezjournal.com