BHS standout also scores CHSAA salute
Few involved with high school soccer expect to see a first-string goalie be lost for extended time because of injury.
Unfortunately for the Bayfield girls' squad, life this spring without McKenna Noonan, a collision casualty during BHS' April 25 trip to Pagosa Springs, proved most challenging. The Wolverines lost four of their final five matches and were effectively played out of the postseason picture before it was fully framed.
Noonan, however, made a definite impression on the 3A Southwestern League's coaches, and the impact of her absence magnified her importance as Bayfield (7-7 overall, 4-2 league) finished behind Montezuma-Cortez (9-5-2, 4-0-2) in the SWL title chase. Noonan, a first-year junior, was recently named the circuit's Goalkeeper-of-the-Year – winning the award over Emily Tibbitts of Alamosa, Sofia Haymaker of PSHS and, most importantly, M-CHS' Aubrey Rutherford.
"She just played like an absolute rock star and intimidated other teams to the point where they asked me how long she's been goalkeeping for us. And I said, 'This is her first year,'" said BHS forward Sydney Rey. "When she came in, she came in running; from the start I was just so impressed with her ability to act like she's played, let's say, club (soccer) her entire life."
"It's so amazing that we get to have another opportunity with her next year; I'm so excited to play with her," she said.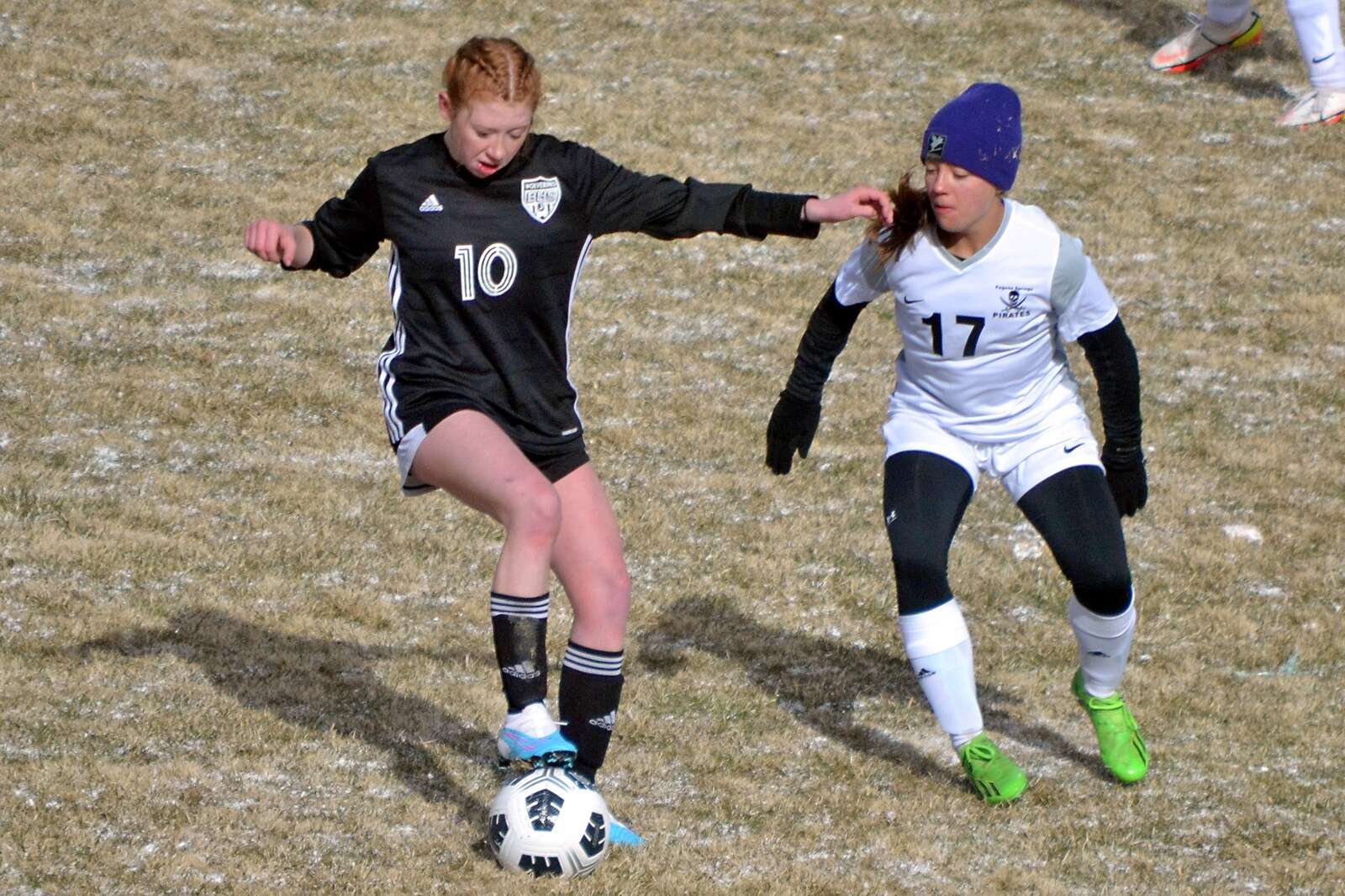 And Noonan will in all probability have three of BHS' four First Team All-League field players returning to help shield her in 2024: seniors-to-be Genesis Barrera and Anna Vasgird plus junior-to-be Rey. Rey was not only voted the league's Player-of-the-Year but also Second Team All-State in Class 3A.
"I was so excited when I heard about it this morning; I mean, it's a great honor to be told I'm … all-state in general," Rey said. "I think it's super cool that since freshman year I've went from Honorable Mention to … Second Team, but I'm hoping junior year I'll go to First Team, you know?"
"I'm very grateful for it though," she said. "I couldn't have done it without my teammates, my coaches and people in general like my family and my supporters."
Now-graduated senior Abria Thayer was also a First Team All-SWL pick, joining M-CHS sophomore forward Jordlan "Jordi" Mahler (Honorable Mention All-3A), junior midfielder Anna Jenson (Second Team All-3A), senior midfielder/defender Jayden Thomason and junior defender Grace Darrin. Senior defender/midfielder Ava Pargin and freshman defender/midfielder Jeidy Moreno‐Echavarria represented Pagosa Springs (3-10-1, 0-5-1), and senior Regan Zook AHS (8-6-1, 2-3-1).
Montezuma-Cortez's Reese Smith was named the league's Coach-of-the-Year after guiding the Panthers to a second consecutive Class 3A State Tournament appearance. Given the No. 27 seed in the opening Round-of-32, M-CHS' season ended with a 2-1 overtime loss at No. 6 Delta. DHS – which had prevailed 2-0 at M-CHS early in the season – then eliminated Brighton-based 11-seed Eagle Ridge Academy 5-0, but then fell 2-0 to No. 3 Manitou Springs in the Great Eight.
MSHS (19-1 overall) advanced all the way to the grand finale in 2023, but lost 3-0 to top-seeded Broomfield Jefferson Academy (18-2), the 2022 state runner-up.
M-CHS senior forward Sophia Shepard and sophomore midfielder Emily Howell were named Second Team All-League, while senior Abby Wubben, freshman sister Jayden Wubben and senior Annahi Molina were selected from Alamosa. PSHS senior midfielder/defender Vida Maes was also chosen, as was Bayfield junior Preslie Wagner – another weapon the Wolverines will rely on next year in pursuing the SWL title.
"I think we can do it; we were very close my freshman year, and even closer this year," Rey said. "I'll bet you (that) next year … we're going to show who Bayfield really is."
Ignacio players praised
Though unable to wrest a victory away from any opponent in 2023, Ignacio rarely could be counted out. And when the 2A Intermountain-South's All-League Team was released the Bobcats (0-15 overall, 0-6 league) were justly represented.
Senior Trinity Strohl was a First Team choice, but lost the Goalkeeper-of-the-Year vote to Crested Butte Community School senior Mara Pennie – who helped the league-champion Titans (10-7, 5-1) reach the 16-team state tournament's quarterfinals. IHS senior Trinity Crane and senior-to-be Willow Schulz were both Second Team selections.
"I think they did a great job," head coach Alisha Gullion said about her All-Leaguers. "I definitely know that the younger players looked up to them a lot; they were strong leaders. I think their hard work is what really inspired the rest of their teammates."
CBCS junior midfielder and First Team All-League pick Leigh Harpel was chosen Player-of-the-Year, and skipper Heather Culley received Coach-of-the-Year.