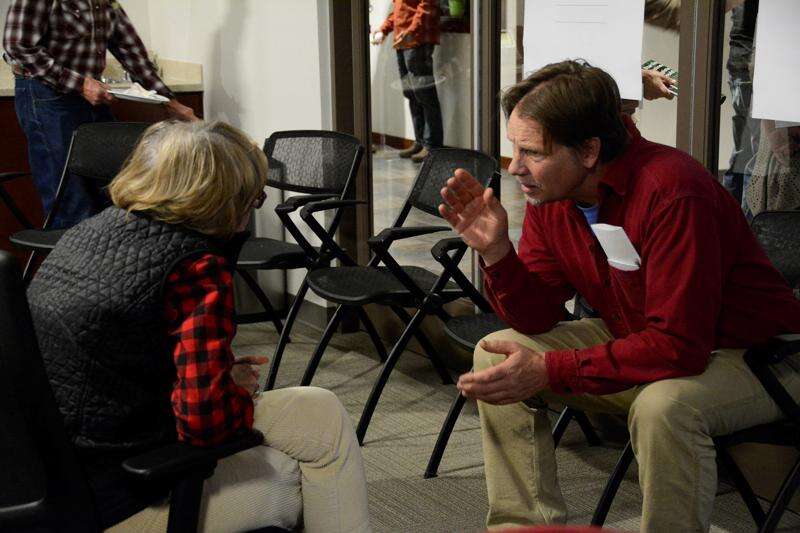 In Tuesday's municipal elections, Cortez voters approved a measure to extend and reduce the sales tax that funds the Cortez Recreation Center, and voted in board members for local towns, including a new mayor for Dolores.
Cortez voters approved Ballot Issue 2A, with a vote of 1,009 to 465, which allows a modified sales tax to continue funding the rec center past its planned sunset date of Dec. 31, 2021. The sales tax will be reduced from the current tax rate of .55 percent to .35 percent.
In Cortez, eight candidates, including two incumbents, ran for five open seats on the City Council.
Incumbents Orly Lucero and Jill Carlson were both re-elected, receiving 972 votes and 760 votes, respectively.
Voters also elected new council members Michael Lavey with 633 votes, Gary Noyes with 630 votes, and Sue Betts with 624 votes.
Dolores voters elected Chad Wheelus for mayor. He received 154 votes to Jerry Whited's 119. Wheelus will serve a two-year term.
The winning candidates for the four positions on the Dolores Town Board are: Tracy Murphy, 139 votes; Jennifer Stark, 127 votes; Melissa Watters, 113 votes; and Val Truelsen, 106 votes.
Mancos voters re-elected two incumbents along with two new board members. Incumbents Cindy Simpson and Fred Brooks were re-elected. Simpson received 124 votes, and Brooks received 136. Voters also elected new board members Betsy Harrison with 176 votes, and Brent McWhirter, with 168.
Funding continues for Cortez Recreation Center
Voters overwhelmingly showed their support to continue a sales tax to operate the popular recreation center in downtown Cortez. Currently, 5.5 cents out of every $10 spent at a Cortez business goes to support the rec center, but it was due to sunset. Voters approved a measure that will reduce the tax to 3.5 cents per $10 starting in 2022.
The current sales tax was approved by voters in 2001, and helped fund the rec center's construction. The debts the city incurred during construction will be paid off in 2021, but Deb Berger, treasurer of the Citizens for Recreation, said the building will still need the extra revenue after that.
"The rec center was never designed to be self-supporting with just the fees," she said. "It needed to be supplemented with sales tax."
Joye McHenry, the rec center supervisor, said its average annual expenses total about $962,500, while its average annual revenue is about $517,000 without the sales tax, based on estimates from the past eight years. Starting next year, the city plans to undertake several major repairs on the building, like replacing the heating, ventilation and air conditioning system and repaving the parking lot.
McHenry also noted that the building's personnel costs are going up with the increased state minimum wage.
Since it was passed, the 0.55 percent sales tax has brought an average of more than $1.2 million to the rec center annually, out of which $690,000 has gone to loan payments every year.
Town boards reshaped
The winning town board members are a diverse group.
In the Cortez City Council election, Lucero had the most votes at 972. Lucero previously served as Cortez mayor and also serves on the Cortez Fire Protection District, Renew and Hospice of Montezuma. Carlson, with the second-highest tally, has served on the City Council for two years and is a local attorney. Lavey is a Navy veteran and serves on the Cortez Parks and Recreation Board, and on the board for the Good Samaritan Food Pantry.
Gary Noyes, 40, is a Shamrock Foods delivery driver, and said he ran for the council because he loves the community and small towns.
Retired police officer Sue Betts was also elected to the council. She said she wanted to make a difference, and to make sure Cortez stays a nice place that future generations may call home.
In the Mancos Town Board election, Betsy Harrison earned the most votes, at 176. She has been involved with the Mancos Chamber of Commerce, Mount Lookout Grange, and Mancos Valley Resources. Newly elected board member Brent McWhirter earned the second-highest tally, 168 votes. He is the owner of the Moose and More ice cream shop in Cortez.
Incumbent Fred Brooks, a retired medical professional who serves on various community boards, was re-elected.
Trustee Cindy Simpson, 55, an occupational safety specialist for the Colorado Department of Transportation, also won a second term.
In Dolores, longtime local Chad Wheelus was voted in as the new mayor, and on his birthday.Wheelus has lived in Dolores for 25 years and has been a teacher at Southwest Open School for 20 of them. He is an advocate for outdoor recreation and helped establish trails at Boggy Draw and the 12 Hours of Mesa Verde race.
He promised to work with the new town manager and move forward on playground plans recommended by the Dolores Parks Committee. He said being an experienced teacher has given him many skills that translate well to town governance, such as communication, leadership, researching and critical thinking. He has a systems mindset and says he is not easily swayed by misleading arguments or information. He emphasized that it is up to the community to decide on the town's direction and management, not a single board member. Maintaining town infrastructure would be a top priority for him if elected. Providing spaces for the public to play creates a healthier community, and advocating for access to public lands is important for visitors and residents. He also wants to help develop a clear vision for the town and accentuate its outdoor recreation strengths.
Tracy Murphy was elected to the Dolores Town Board with the most votes, at 139. She is a museum curator at the Anasazi Heritage Center and serves on the Dolores Parks Committee, which is working to develop a new playground for Joe Rowell Park. As a board member, she successfully lobbied that meeting agendas and town information be placed on the town website. She says she is skilled at building consensus and as a board member would advocate for reviewing the land use code and trails plan.
Local educator and counselor Jen Stark was elected to the Dolores board with 127 votes. She has worked for town governments and has a master's degree in public administration. She worked in the planning department for the Town of Rico, and is familiar with the process of governance. She has been a strong advocate for improving town transparency in providing public documents and posting meeting agendas.
Also elected was Melissa Watters. As an environmental engineer and teacher, she offers academic and technical expertise to the board. She says she is adept at researching complex issues and has good writing and communication skills.
She tends to take a long-term vision, then create plans to accomplish those goals step by step. Economic development is another goal of hers, and so is maintaining the unique character of Dolores. She says the town's parks, river, lake and recreation assets are an economic engine for the town because they attract people to visit and spend money. She wants the town to partner with the Chamber of Commerce and Montezuma Community Economic Development Association to maximize business opportunities.
Val Truelsen was re-elected to the Dolores board. He owns the Ponderosa Restaurant in Dolores and owns and operates a local sawmill. He has been involved in Dolores town government since the 1960s, and has helped guide town projects that improved the sewer and water systems and town parks.
He says the primary duty of the Town Board is to maintain the quality of existing infrastructure, and the second is to promote economic development. He says outdoor recreation is a big draw for Dolores and should be advertised more.