Defense attorneys expected to begin calling witnesses Friday
After nearly three weeks of testimony from family, law enforcement, forensic experts and animal behavioral specialists, the prosecution rested its case Thursday in the trial of Mark Redwine, who is accused of killing his son, Dylan Redwine.
The father is charged with second-degree murder and child abuse resulting in the death of his 13-year-old son. Prosecutors said in opening statements that Redwine killed his son in a fit of rage after Dylan confronted him about sordid photos, which showed Redwine eating feces from a diaper, while dressed in a diaper and women's clothing.
Defense attorneys say it is possible Dylan was attacked and killed by wildlife in the rugged mountains surrounding the father's home north of Vallecito Reservoir, 21 miles northeast of Durango.
Redwine has pleaded not guilty.
The trial hit a small snag Thursday when 6th Judicial District Judge Jeffrey Wilson announced one of the 16 jurors had a fever and will not be attending further proceedings. The judge indicated the juror had been vaccinated against the coronavirus, so there was little reason to suspect he had the virus. He also noted other jurors appear to have been vaccinated because they were not wearing face masks in court. He asked jurors if they had any issues with proceeding, and no one indicated a concern.
FBI Agent John Grusing testified Thursday that he was recruited by the La Plata County Sheriff's Office in November 2012 to assist with the investigation because of "trouble rectifying" Redwine's statements after his son's disappearance.
Grusing first went to speak with Redwine at his home, and tried to be nonconfrontational with Redwine in an effort to encourage him to share as much as possible, he said.
Grusing also represents the Behavioral Analysis Unit of the FBI in Colorado, which is a department that uses behavioral analytics in investigating violent crimes.
Redwine was asked to give a written "free narrative" of the moments leading up to his son's disappearance, which is an interview tool that gives people a chance to explain what has happened without interruptions, Grusing said. The method can reveal if a person is hiding something, he told jurors.
"A person is normally vague when he or she does not want us to know about a certain time," he said.
Redwine took 20 minutes to complete the form, Grusing said, and the statement was "fairly detailed." The full statement was also read aloud to the court.
Redwine described picking up his son at the airport Nov. 18, their activities that night and Redwine's actions the morning of Nov. 19. He also explained contacting Dylan's friends after he discovered his son wasn't at the Redwine home and eventually reporting his son missing at the Bayfield Marshal's Office.
In addition to telling law enforcement Dylan may have gone fishing, Redwine told Grusing that Dylan may have run away, which the agent found doubtful.
"I was not taking a confrontational role with Mr. Redwine, but I did not understand why Dylan would go from Colorado Springs to Vallecito, and then if he had problems with Elaine, run away from Elaine while he's at Mr. Redwine's residence," the agent testified.
That is when Redwine told Grusing about the sordid photos Dylan and Cory Redwine discovered on Redwine's computer during a 2011 vacation to the Midwest.
Elaine Hall, Dylan's mother, told Grusing in a separate interview that Dylan was not looking forward to the trip, and Dylan sent her a sad face via text message when he arrived in Durango.
While law enforcement executed a search warrant on Redwine's home Nov. 29, Grusing stayed with Redwine, hoping to speak with him about what was happening.
"I wanted to see what his reaction was – to know that the FBI was searching his house," he said.
Grusing took Redwine to the local FBI office in Durango to talk during the search warrant. During the car ride, Grusing mentioned police were searching for evidence of blood, hair fibers and saliva in the home. Redwine said Dylan had a cold sore on his lip that was "oozing blood."
When Grusing told Redwine he would confirm that detail with Dylan's mother, Redwine changed his story and said Dylan was hit in the face when they were tossing a Nerf football. That was the first mention of blood, Grusing said.
"Both stories, the defendant was changing what had happened to Dylan to meet what he thought would be evidence," Grusing said.
Later on, Redwine mentioned the possibility of Dylan being attacked by a bear. The agent said he was unsure if Redwine or himself brought up the possibility of Dylan being attacked by an animal. Redwine became "animated" during the conversation, Grusing said.
"I just found it odd, being a dad myself," Grusing said.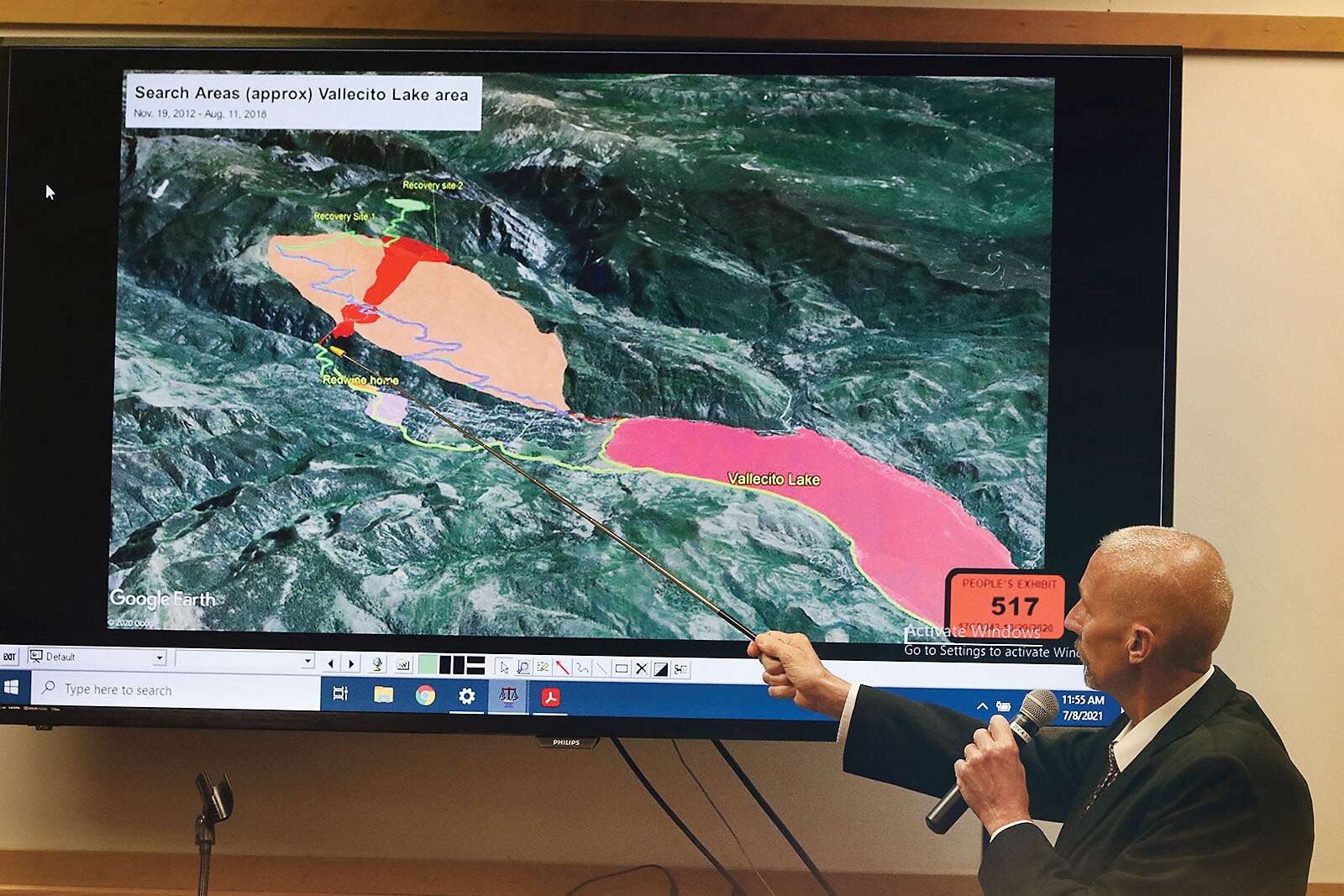 Grusing grew skeptical of Redwine's stories, and told Redwine he needed to cooperate with law enforcement and that "the truth would come out somehow."
"The defendant leaned forward and his shoulder slumped and his head went down, and we just let him think for a while," Grusing said. "He (Redwine) eventually said, 'I've got to think about myself.'"
As Grusing questioned Redwine, the lead investigator on the case moved forward with what would become a yearslong search for the boy in the Vallecito mountains.
A few human remains and personal possessions were found in June 2013, and the boy's skull was found in 2015, but other than those, nothing more was found in the rugged region, La Plata County Sheriff's Office Lt. Jim Ezzell told jurors Thursday.
Ezzell explained search efforts and presented aerial drone footage of Mark Redwine's home, the first site where remains and possessions were located, and where the boy's cranium was discovered.
Ezzell said there's a "high probability" that remains or belongings are still in the area because of the vastness and rough nature of the terrain.
Early on in the investigation, before Dylan's remains were found, Ezzell said Redwine was scarcely involved in searches for his son. Redwine joined search efforts on Dec. 8, 2012, but he didn't take part in other searches.
The defense team has noted Redwine attempted to organize his own search with a separate search dog and handler, but Ezzell said the canine unit was "not reliable."
Defense attorneys are expected to begin putting on witnesses at 8 a.m. Friday.
Kaela Roeder is an intern for The Durango Herald and The Journal in Cortez and a 2021 graduate of American University in Washington, D.C.