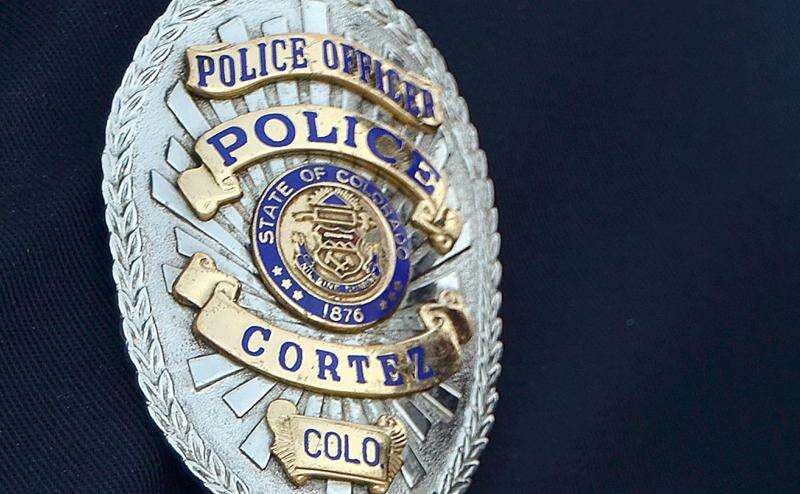 Thursday, Jan. 12
10:35 a.m., A man in the 800 block of North Park Street was arrested on a warrant.
2:01 p.m., A man in the 700 block of West Seventh Street was arrested on four warrants.
2:02 p.m., A man in the lower 100 block of South Elm Street was arrested on four warrants.
4:01 p.m., A man and a woman sitting between the shelves at the Cortez Public Library, 202 N. Park St., were cited for trespassing. The man and the woman previously had been indefinitely trespassed from the library.
8:11 p.m., Staff at Bridge Shelter, 735 N. Park St., reported that they could not stop an intoxicated man from driving off. He was pulled over in the 2400 block of Road G. 2 after crossing the fog line. He failed roadside maneuvers and was arrested on a warrant and on suspicion of drunken driving, driving an uninsured vehicle, driving without a valid license and failing to drive in a single lane.
11:43 p.m., A man who reportedly was shouting in the parking lot of the Bridge Shelter, 735 N. Park St., was arrested on a warrant. During the arrest, metal straws, glass pipes and two vials of an unknown substance were found on him. He was cited for possessing drug paraphernalia.
Friday, Jan. 13
3:35 a.m., A man was arrested on suspicion of felony menacing after allegedly threatening people with a gun in the 500 block of North Beech Street before driving off. An officer pulled over a driver in an alley near Main and Beech streets and held at gunpoint to ensure he was not carrying a gun. A gun and ski mask were found in the passenger seat. He said he had visited his girlfriend at a house on Beech Street, and was punched by a man. The woman who made the report stated the man had tracked a girl's phone to the house, and when asked to leave, pointed a gun and threatened to shoot. The woman stated she pushed the gun down, and the man drove away, revving his engine. Two men at the house stated the driver arrived in a ski mask and was told to leave. He returned 10 minutes later and one of them fought the man, making him leave.
2:01 p.m., A woman reported that she attempted to buy a dress on Facebook Marketplace on Jan. 9. and that after she sent the money through PayPal, the seller blocked all contact with the woman. The woman believes there are other people this seller has tried to scam and that the seller uses multiple account to achieve this.
10:26 p.m., A man in the 800 block of Chestnut Street was pulled over for expired tags. The man stated he had been drinking and was not in a condition to drive. He was cited for drunken driving, driving and uninsured vehicle, driving with an suspended license, possessing open alcohol containers in a vehicle and displaying expired tags. The officer returned the man to his home.
Saturday, Jan. 14
8:36 a.m., Two women at the Days Inn, 2604 E. Main St., reported a car key, a phone and an ID were stolen by a friend. The friend and the two women had stayed at Days Inn the night before, and the friend was missing in the morning.
10:27 a.m., A man riding a scooter east in the 600 block of East Montezuma Avenue was arrested on a felony warrant.
12:48 p.m., A woman in the 100 block of South Elm Street called 911 over an argument about a purse but hung up. Officers went to the residence for a welfare check and arrested her a warrant.
1:15 p.m., A man in the 2800 block of East Main Street was pulled over for trying to drive through a funeral procession. The man was arrested on three warrants.
1:59 p.m., A man refusing to leave The Pie Maker, 17 N. Harrison St., was arrested on a warrant.
2:17 p.m., A woman who had been trespassed from Walmart, 1835 E. Main St., reportedly was urinating between a car and a motor home in the store's parking lot. While an officer cited her for trespassing and indecent exposure, another officer spotted a man with a warrant and arrested him.
Sunday, Jan. 15
9:25 a.m., A woman reported that on Jan. 13, she accidentally left a $100 bill in the change dispenser at the self-checkout line at City Market, 508 E. Main St. Surveillance footage showed a man and woman appeared to take the money, pay for their items with different money and leave the store.
11:30 a.m., A man driving a snowplow truck in the Walgreen's parking lot, 1671 E. Main St., backed into an SUV parking near the entrance of the building. He said he should be protected by snowplow laws but was assessed a municipal penalty for unsafe backing.
12:07 p.m., An officer working on a snowplow collision at Walgreen's, 1671 E. Main St., questioned a suspect in a shoplifting incident. The store manager requested the man to be trespassed and brought the officer inside to review the footage. The man ran across the street, and the officer tracked his footprints in the snow to the back door of a home in the 1600 block of Downey Street. The man, found inside, was arrested on suspicion of interfering with an officer.
12:12 p.m., A van parked in the 500 block of North Chestnut Street on Jan. 9 was found with a broken rear window. The man who reported the damage did not know who might have thrown the rock.
Monday, Jan. 16
7:29 a.m., Two women were reported arguing in the 1300 block of Animas Street. One had warrant for failure to comply. She claimed the warrant was not valid, and her court case was scheduled for later in the month. The officer could not verify the information because of the holiday and arrested her.
10:47 a.m., A woman who had been cited with indecent exposure Jan. 14 in the Walmart parking lot, 1835 E. Main St., was seen wandering the lot and looking into cars. She told an officer she was looking for her husband, who had abandoned her. The woman's husband drove up to the officer and stated she had left their vehicle while it was at a nearby laundromat, and added that she has issues related to her mental abilities. The woman was arrested on suspicion of trespassing. While in custody, she claimed to have had several strokes.
11:51 a.m., Officers went to Oak Meadow Trailer Park, 405 W. Seventh St., to attempt a felony warrant arrest. A woman answered her door, but when informed she was under arrest, went to her kitchen and asked that officers leave. She was allowed to make a phone call, then was arrested.
8:06 p.m., A man driving a car on Colorado Highway 145 tried to turn onto East Empire Street but slid over the sidewalk into a fence. The fence received minor damage. The car appeared undamaged.
Tuesday, Jan. 17
2 p.m., A man who reportedly tried to steal two bottles of cooking wine from City Market, 508 E. Main St., was stopped, then fled with a sports drink. When approached outside the Dolores State Bank, 744 E. Main St., he tried to run but was blocked by an officer in a patrol truck. The man was incorrectly identified as a person with warrants. While handcuffed, he resisted being placed in the patrol unit, denting the side. Another officer correctly identified him and persuaded him not to resist. The man was arrested on suspicion of resisting arrest, obstruction, theft and violating a protection order that bars him from possessing or consuming alcohol.
3:31 p.m., A man in the 1300 block of Mesa Verde Street called 911, asked for police and hung up. A woman was sitting in the roadway when officers arrived, and a man was standing in the driveway yelling at her and their mother. The man said he put the woman in a chokehold because she tried to hit him. The woman said he hit her in the mouth and choked her. The mother stated she saw the chokehold but no punch. Meanwhile, another woman barricaded herself in the house with a dog and refused to leave until officers grabbed a fire extinguisher. She was arrested on a warrant, and the man was arrested on third-degree assault.
3:23 p.m., A man reported unconscious with a bottle of alcohol outside the Cortez Recreation Center door, 425 N. Roger Smith Ave., was cited for possessing an open container.
4:58 p.m. Two men reportedly shoved a man to the ground and kicked him in the roadway at South Pine and Fourth streets, leaving him with a bloody face and possible concussion. He could not recall the appearance of one attacker and could only provide general details of the second, but he pointed to a house in the 400 block of West Fourth Street where he said they lived. A man at the house denied being involved and did not match the description. No other leads were available.
The Journal