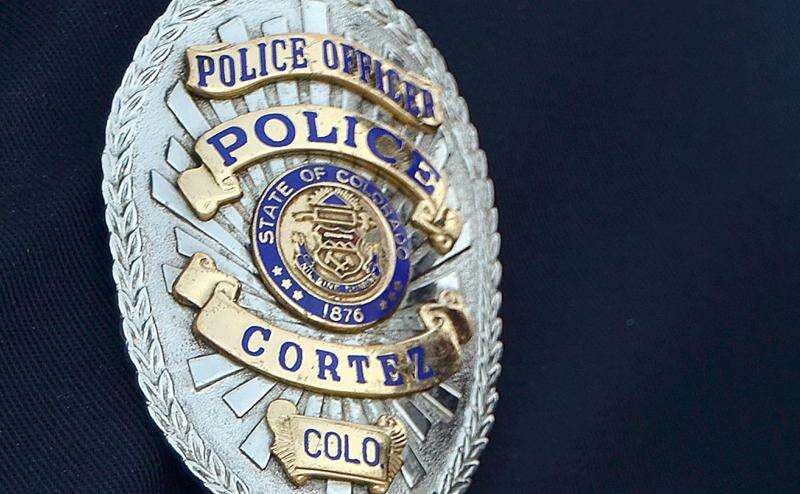 Thursday, Dec. 22
11:00 p.m., A man was arrested for a warrant at the Montezuma County Combined Courts, 865 N. Park St.
2:13 p.m., A man who attempted to leave Walmart, 1835 E. Main St., with a jacket with tags still on it was a stopped by an employee and was found to have a toy that he reportedly did not purchase. He was given an indefinite trespass order and was arrested for a warrant.
3:20 p.m., A woman was clearing a man's belongings out of her house in the 700 block of Birch Drive when she found credit card information of a woman she knew on a piece of paper. She contacted the woman, who shared that she did not give the man her credit card and that there were 59 fraudulent charges on that card. This information was reported to the police, who were unable to contact the woman whose info was taken.
3:59 p.m., A report for damaged property was made at Beals, 2200 E. Main St., as water had leaked from a rooftop heating and cooling system that caused the roof to fall in. The rooftop units were damaged and also tagged with spray paint. No suspect exists at the time of the report. The total estimated damage is $100,000.
5:58 p.m., An officer served three warrants to woman in custody of the Montezuma County Detention Center, 730 E. Driscoll St.
6:24 p.m., A woman living in the 400 block of South Linden Street reportedly trashed her neighbor's house by egging the house and cars, breaking a shared fence, scattering food waste and feces in the yard, leaving cryptic Christmas cards in various locations, trying to grill food on a grill with no gas and switching off electrical breakers. She barricaded herself in her home but was arrested sometime the next day for two warrants and on suspicion of hazardous waste violations, criminal mischief, criminal trespass, resisting arrest and failure to leave premises at request of an officer.
Friday, Dec. 23
6:52 a.m., An employee of Walmart, 1835 E. Main St., was reported to be drunk and unwilling to leave the personnel office. An officer arrested the employee on suspicion of violating a protection order that restricts him from possessing or drinking alcohol.
Saturday, Dec. 24
2:40 p.m., A man driving a truck with camper in the bed and a woman driving a car were backing out of opposite parking spots at City Market, 508 E. Main St., when they rear-ended each other. The woman reported the man had left before giving his insurance information. The man arrived at the police department, 608 N. Park St., at the same time the woman was finished speaking to an officer. He claimed to have shared the insurance information and that he left to report it at the department as the woman was making accusations. At the time of the report no action has been taken as the office was waiting on surveillance footage.
Sunday, Dec. 25
12:21 p.m., A sealed box of prescribed fentanyl patches was found near the flagpoles at Veterans Park, 830 E. Main St. The box was collected and marked for destruction. The woman who was prescribed the patches is deceased.
Monday, Dec. 26
9:21 a.m., The property owner of a house in 400 block of South Chestnut Street gave permission to the police to search his property for man who had warrants. The man was found at the house in a closet hiding under a trash bag. He was arrested on five warrants and served a summons associated with one of the warrants.
7:52 p.m., A man in the 700 block of Jordan Place was issued a municipal penalty assessment for unsafe backing after he admitted backing into the side of a parked truck.
Tuesday, Dec. 27
3:29 a.m., A man at The Bridge Shelter, 735 N. Park St., reported he was choked by a man who had accused him of stealing something. An officer did not find the incident on the security footage. The accused man was put into custody of the Montezuma County Detention Center, 730 E. Driscoll St., on a felony hold for second-degree assault.
11:45 a.m., The U.S. Postal Service reported that one of the keyed mailboxes at Seventh Street Mobile Home Park, 600 S. Washington St., had its lock drilled out and the mail taken. The owner of mail admitted to losing his key and drilling out the lock in order to access important pieces of mail. He was advised any incoming mail would be held until he paid the replacement fee for the lock.
1:53 p.m., A manager of Safeway, 1580 E. Main St., reported four people had shoplifted food and drinks and asked for them to be trespassed. A man and a woman were issued summons on suspicion of trespassing as they had previously indefinitely trespassed from the Safeway. The other person and the other woman were served indefinite trespass notices. The woman who was served the trespass notice went back into the store after the police left and was reported attempting to shoplift. She was arrested on suspicion of trespassing and shoplifting.
Wednesday, Dec. 28
10:00 p.m., A woman in the 300 block of North Edith Street reported that she noticed someone had been in her vehicle that she had forgotten to lock the night before. She reported that three phones charges, a bag of change and Glock 43 handgun were missing from her car.
2:44 p.m., An argument between two woman outside Walmart, 1835 E. Main St., escalated to one of the women throwing the other to the ground and punching her in the face multiple times. The woman who threw the other was arrested on suspicion of assault.
7:51 p.m., A man driving a truck in the 800 block of East Montezuma Avenue slid into a light pole, knocking it down. He was issued a municipal penalty assessment for careless driving.
The Journal