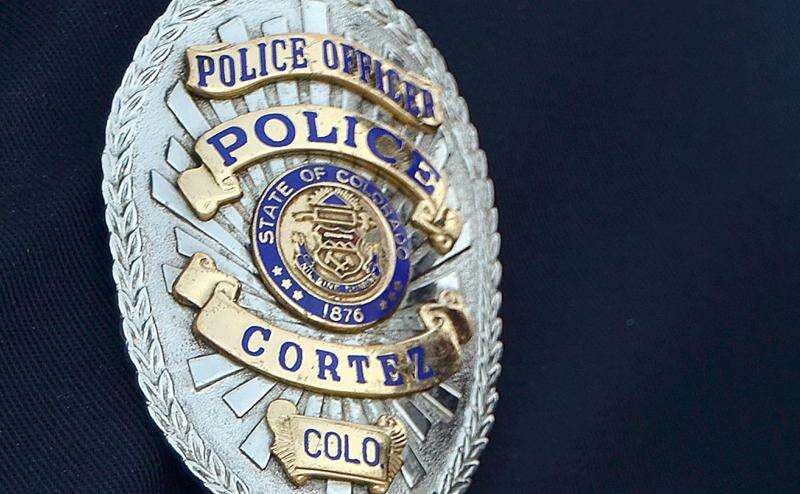 Thursday, Oct. 21
8:49 a.m. Two chain saws apparently were stolen from a storage unit on the 1200 block of Main Street belonging to Asplundh Tree Expert Co., as reported by an employee. Low-quality surveillance footage showed two men walking to and from the storage unit. There were no other leads or suspects.
12:48 p.m. A police officer was dispatched to the 1400 block of North Mildred Road after a woman claimed that her ex-boyfriend stole her gun four months ago. Text messages seemed to reveal that the ex-boyfriend had sold the stolen gun. Later, the woman notified police that she had gotten her gun back, and the case was resolved.
1:33 p.m. A woman was issued a Cortez Municipality Penalty Assessment for failing to yield at a stop sign after she collided with the passenger side of another vehicle crossing the West North Street and North Pinon Street intersection.
Friday, Oct. 22
7:17 a.m. A scooter was reported stolen outside of a home on the 200 block of East Seventh Street. There were no leads or suspects.
7:59 a.m. A man reported property damage to his vehicle on the 700 block of North Chestnut Street. The vehicle's passenger side rearview mirror was hanging down the side. There were no leads or suspects.
4:04 p.m. A man in a Jeep scraped the driver's side door of a woman's Mercedes while he was trying to park at the Walmart on the 1800 block of East Main Street. The woman was not in the car at the time of the accident. No citations were given.
Sunday, Oct. 24
10:09 a.m. A woman reported an electric bike and charger theft outside of her residence on the 200 block of South Washington Street. There were no leads or suspects.
10:33 a.m. A stolen vehicle was reported on the 500 block of South Madison Street. Upon making police contact, the alleged male thief resisted arrest. The Montezuma County Detention Center refused to accept the theft suspect into custody, and he was released. The vehicle owner told police that he was giving a couple a ride and upon drop-off, the couple pepper-sprayed him, pulled him out of his car, threw him in the dirt, and stole his wallet, phone and keys. The vehicle owner's grandson helped police identify which items in the car belonged to his grandfather, including his debit card and keys. Other items were discovered in the vehicle, including two syringes, a small scale, pepper-spray, a gun, and a small bag with a white crystalline substance consistent with the appearance of methamphetamine. The vehicle was returned to the owner with more than $500 in damage. Police are seeking warrants for the couple's arrest.
3:47 a.m. An officer responded to reports of a fight on the 2200 block of East Main Street after a woman allegedly threw rocks at another woman's back and vehicle. The altercation occurred after a verbal altercation between the two women, and a man who asked the apparent victim for money. The alleged female attacker fled the scene, and officers have requested a warrant for her.
5:40 p.m. Over the phone, a man reported from his home near the 12000 block of County Road 22 that his wife was swindled out of almost $500 from an apparently fraudulent financial company. The man told police that after his wife was hired virtually by the company, she received a $1,500 deposit from a Wells Fargo account. She was then instructed to send a $400 Apple gift card to the person who interviewed her, and her husband did so. Once the gift card was sent, the $1,500 deposit was removed from her card, and she was not contacted again. There were no leads.
5:51 p.m. A woman was issued a penalty assessment for careless driving after she rear-ended another vehicle at 700 N. Park St. She told police that she was on her phone and did not see the other vehicle slow down to turn.
7:49 p.m. A woman reported her car stolen from the 700 block of Stratton Drive after her boyfriend failed to return the vehicle to her. The vehicle was later run by the CCIC database near Albuquerque but was not contacted by law enforcement. The officer requested a warrant for the man involved.
Tuesday, Oct. 26
10:20 a.m. A woman reported a stolen debit card after it was allegedly swiped from her pocket at the Dollar Tree at 215 S Sligo St. The next day, there was unauthorized activity on her card, resulting in a total of $290 in fraudulent charges. The suspect was spotted on surveillance cameras using the card at the City Market on the 500 block of Main Street. The suspect is known by police for previous fraudulent activity.
The Journal